If you've fooled with iTunes more than a time or two, you're aware of its Radio entry—an area of the program where you can listen to a variety of streaming Internet radio broadcasts. While having access to over 500 free and easily streamed music- and talk channels is a boon in anyone's book, iTunes' offerings are a little limited. Try to tune in your favorite "real" radio station—the broadcast channels you listen to in your car or on the kitchen radio—and you're bound to be disappointed. Worse yet, iTunes provides no way for you to record those streams.
I've recently discovered a service that provides access to over 37,000 broadcast and streaming music- and talk stations from around the globe— RadioTime. Without paying a single penny, you can tune into a load of stations offered by the service, and play them through either Microsoft's Windows Media Player or Real Networks' Real Player.
For an annual fee of $39, you can schedule and record these programs, effectively turning your computer into a TiVo for broadcast and streaming radio. If you've attached a compatible radio receiver such as Griffin Technology's $70 Radio Shark to your computer, RadioTime subscribers can tune it through the RadioTime client as well as record its output.
The RadioTime site is organized in an understandable way. If you haven't signed on for a subscription you'll be offered a tour of the service. Skip the tour if you like and enter call letters, location, or genre into the Search field; click Search; and results appear on a succeeding page. From here, click a green triangle to listen to a streaming broadcast. Some stations stream in both Real and Windows Media format, which is convenient as one variety often sounds better than another. A new feature of RadioTime filters out streams you can't use. For example, if you don't have Windows Media Player installed, you won't the option or the play button will be grayed out.
Those with subscriptions get much more. Once you've paid up you'll see a home page that lists well-travelled channels and programs—much of it talk and news content, though you'll find some music stations mixed in. Along the right side of this page you'll see short lists of popular programs—NPR offerings, for example—as well as popular stations—BBC Radio 4 and KCRW, or instance. Next to each show is the green triangle for listening to a show's stream. Click the Red button next to the entry to create a recording of the stream.
This recording can be a one-time affair, a recording that lasts the length of the program each time it airs on that station, or a customized recording that allows you to schedule exactly when you want the program to be recorded. The RadioTime client (a separate application you install on your Mac or Windows PC) will record your programs automatically. And it can record multiple streams simultaneously, so you needn't worry about scheduling conflicts unless you're trying to record multiple local programs through a radio tuner such as the Radio Shark.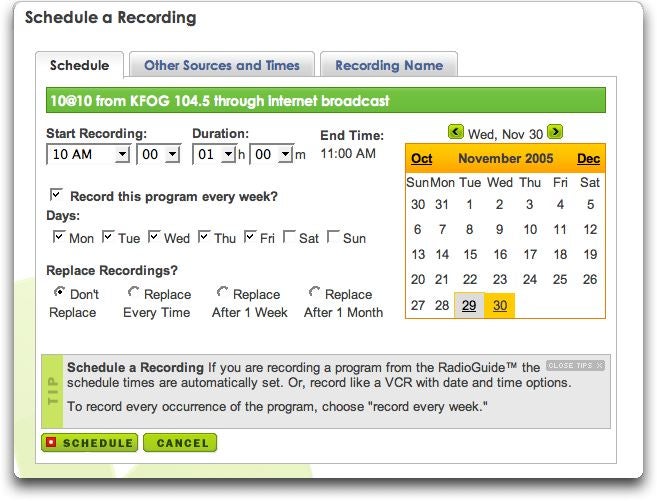 RadioTime offers other program sources and times when available. For example, if you live on the west coast and wish to listen to NPR's Fresh Air the minute it's broadcast, choose a feed from the east coast rather than your local station.
After a program has been recorded, it's automatically added to a custom RadioTime playlist in iTunes.
With over 37,000 stations offered by the service, it would be easy to become overwhelmed with choices. RadioTime lends a hand by offering a browser that lets you view stations by Genres—Adult Contemporary, Opera, and Comedy, for example. You can also browse for stations by their location—if you want to hear what's blasting through the Top 10 in Aruba, this is your way in.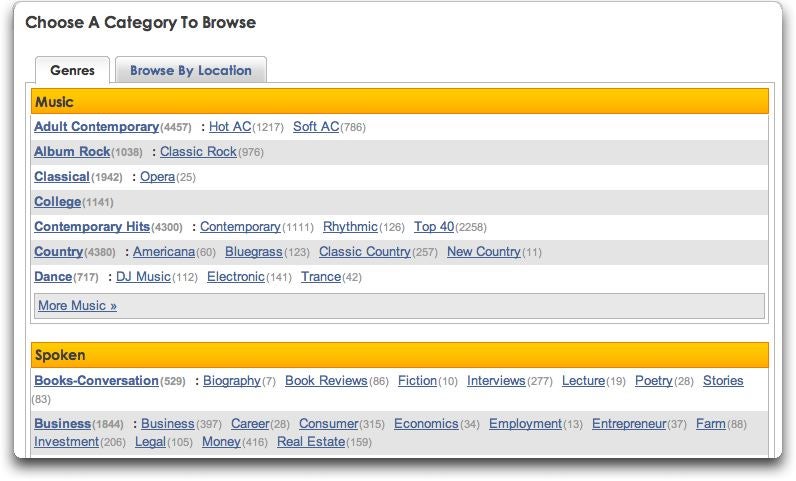 Once you find stations you like, you can add them to your favorites. Within the favorites page you can view a list of stations or programs presented in a TV Style grid. If you like, you're welcome to organize your favorites into folders.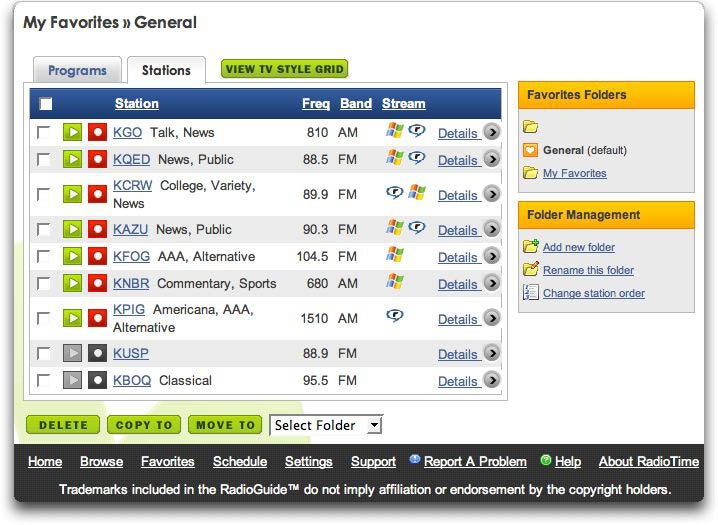 For the most part I've been pleased with RadioTime. I've had issues where some stations refuse to play because their links are either outdated or inaccurate. And on my Power Mac G5 I've found stations that stream Real Player files to be more reliable than those that stream in Windows Media Player. This is due, in part, to the clunky nature of the version of Windows Media Player available to Mac users (version 9 versus Windows Media Player 10 for Windows PCs).
If you're seeking more from Internet radio that what's offered by iTunes, RadioTime is worth a listen.