With this year's Game Hall of Fame inductions now complete, we can close the books on 2005 and start looking ahead to the coming year in games. Game publishers are keeping their cards close to their vests and haven't made a lot of announcements about what to expect. Still, there's plenty to be excited about in 2006.
Black and White 2
No one does "god games" like Lionhead Studios' Peter Molyneux—he's the guy who created games like Populous and the original Black & White. And once again, Feral Interactive has teamed up with Lionhead to bring a game to the Mac.
It's unusual for Lionhead to turn its attention to a sequel, but it's welcome here: Black & White 2 is indeed a unique game, putting you in the role of a god who derives his power from the worship and appreciation (or fear) of his believers. How you rule is up to you (hence, Black & White). And you can populate the landscape with giant creatures that do your bidding.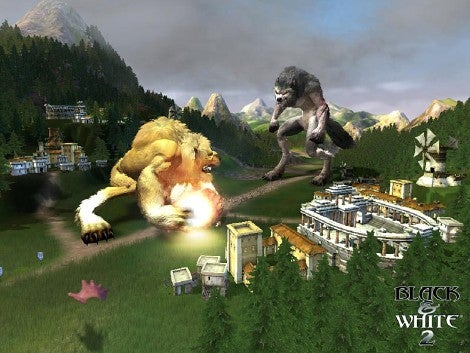 If you're familiar with the original, unique things you'll find in this sequel include the ability to wage massive wars, sieges and battles as well as the ability to use new Epic Miracles like volcanos and earthquakes. You'll also enjoy new creatures, research and creation of new weaponry and defensive structures, realistic weather systems, and much more.
Close Combat: Red Phoenix
While 2005 saw the release of Close Combat: First to Fight, some gamers experienced with Atomic's Close Combat series were a bit disappointed. While First to Fight featured psychological modeling, a hallmark of the series, it was a first person shooter—something of a departure for this series, which has, in the past, featured more of a real-time strategy game feel.
Well, 2006 will bring us Close Combat: Red Phoenix, a return to form for the series. Like its predecessor, it'll be published by Destineer (coming to the Mac from Destineer's Mac division, MacSoft ). In 2005, Destineer bought Atomic Games, the game series' original developer, which should mean more Close Combat goodness in the future, if this new title works out well.
World of Warcraft: The Burning Crusade
World of Warcraft has been a monster worldwide hit since its release—it's rewritten the rules of how a massively multiplayer online role playing game can be. Blizzard's equal-handed support of the Mac and PC has been a feather in the game's cap as well. Like most games of this type, World of Warcraft requires you to a pay a monthly maintenance fee to play, since it's online—you're playing on Blizzard's network of servers, with hundreds or thousands of other World of Warcraft enthusiasts.
A multitude of races, each with different strengths and weaknesses, character classes, professions and skills, as well as hundreds of different quests and entire continents to explore, have made this a game a pastime of millions who are happy to pay each month to keep coming back for more.
Now Blizzard has announced The Burning Crusade, an expansion pack for the original game that promises to extend the World of Warcraft experience even more. You'll gain access to new races (like the Blood Elves, a Horde-aligned group with an ancestral link to the Alliance's Night Elves), new professions, new quests, and an entire new continent to explore. What's more, experienced World of Warcraft players will be able to continue to gain new experience, raising their Level 60 characters to Level 70.
Civilization III and Civilization IV
It's deja vu all over again: Aspyr Media is bringing Civilization III to the Mac, years after MacSoft's conversion of the game. What's different in this release is that Aspyr has ported Civilization III: Complete, which includes the game's expansion packs and multiplayer Play the World expansion, which didn't make it to the Macintosh the first time around. Because of the weird way these things work, the game had to be ported to the Mac from the ground up (again), but, oddly, the same Mac programmer (Brad Oliver) who worked on the original is doing this version too.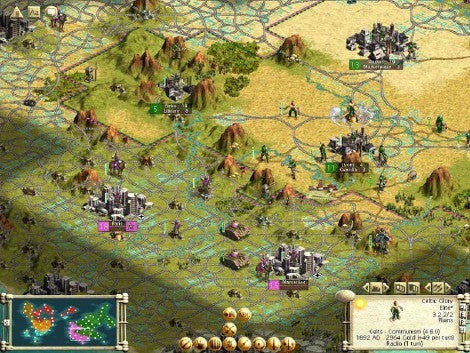 What's more, Aspyr is bringing Civilization IV to the Macintosh—the latest and greatest installment of this landmark turn-based strategy game in which you rule a civilization through its history, expanding its borders, harvesting its natural resources, creating works of art, architecture and culture, raising great armies, invading your neighbors, or establishing diplomatic relations with them.
It's been a few years since we've seen a new Civilization game, so you can count on it looking better and fancier than ever. But there are myriad gameplay improvements too, especially in the area of accessibility and ease of play. You have more civilizations, more units and better improvements to explore, a faster pace, new technologies, new civic options and much more.
WingNuts 2
It seems like it's been in development forever, but the new year will finally bring us WingNuts 2, the sequel to the fast and furious arcade shooter from Freeverse Software. Like the original, WingNuts 2 is a loving homage to the classic arcade coin-op title Time Pilot, in which you pilot a futuristic aircraft and blast massive squadrons of enemy aircraft to smithereens.
But wait, there's more
This only scratches the surface of what's to come in 2006. We expect we'll hear some more tantalizing game announcements at January's Macworld Expo in San Francisco, and there's a lot more that we haven't covered here. As always, we encourage you to visit Macworld 's Game Room for the latest news, reviews and info from the world of Mac games.