Playlist forum visitor, ChrisH, has made it clear that not everyone is up-to-speed on how smart playlists go about their job. With that in mind I thought I'd take a moment to shed a little light on the inner workings of these playlists. He writes:
My daughter uses iTunes to listen to music on her computer in her room. In particular, she likes to go to sleep with music playing. Since I don't like her music playing all night long, I made her a smart playlist that randomly picks 15 songs out of her music collection. The playlist is set for live updating. Thus, she should be able to get a new 15 songs every night. Unfortunately, that playlist is static—it doesn't update.

It was my assumption (yes, yes, I know!) that a smart playlist would update itself every time iTunes is started. That's not the case, apparently. Does anyone know what action(s) cause a smart playlist to update? Corollary question: Why doesn't this smart playlist do what it is supposed to do?
Smart playlists update when something compels them to—some action either meets or denies a condition that you've created in the smart playlist.
In the case of your daughter's playlist, you've told it only to pull together 15 songs from her library. In its heart of hearts, it feels it's done everything you've asked of it and the playlist won't change because you haven't also added a condition that instructs it to refresh the playlist with new material after those songs have played.
To create such an instruction, add a condition along the lines of "Last Played is not in the last 2 weeks."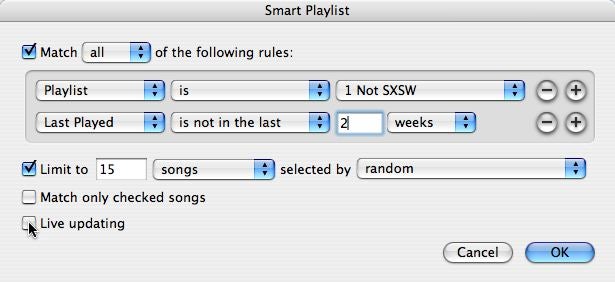 But there's a catch. If you do this, iTunes will play a song in the playlist, immediately boot the track out of the playlist after the song has finished playing, put a new song in its place, and then play that next song. With this constant playing and replacing, the playlist will never stop.
The workaround is to turn off the Live Updating option in the smart playlist. That way, it will play through the 15 songs and then shut up. When your daughter wants to refresh the list the next night, just switch on Live Updating to refresh the list and then switch it off again so iTunes doesn't play forever.
You can also tackle this one by using a program that automatically shuts off iTunes after it's played for a certain length of time. Daniel McCoy's free iTunEcho, for example, is a Macintosh program (compatible with Tiger) that operates as an iTunes wake or sleep timer. Just enable iTunEcho's Sleep Timer option, tell the program how long you'd like iTunes to play, click Start Timer, and turn out the lights. iTunes will stop playing when it's been instructed to. (If you want it to, iTunEcho will quit iTunes when the timer runs out.)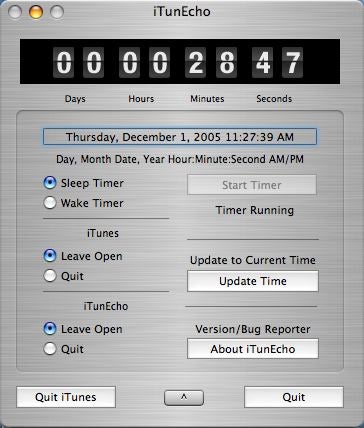 Solewood Software's Pause is another free sleep timer application for the Mac.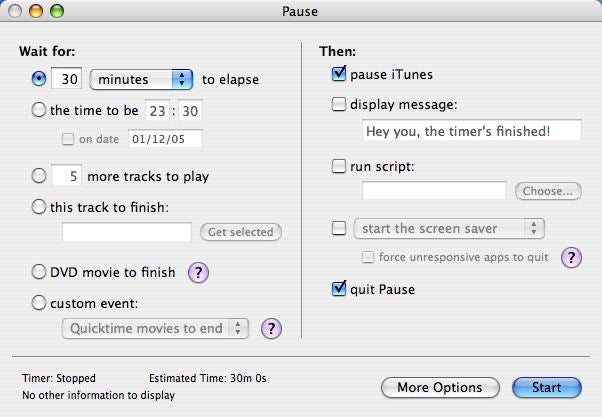 When using these timers, continue to employ the smart playlist I suggested earlier and leave Live Updating on so that the playlist will be refreshed as each song is played and replaced in the playlist (since it will play and replace tracks as it goes, you can ask it to fill the playlist with a very few tracks). The timer will take care of switching off iTunes.