This article is an excerpt from Mac OS X Tiger Killer Tips , by Scott Kelby (2005; reprinted by permission of Pearson Education and New Riders).
Tucked inside Tiger's Applications folder is a slew of free apps. Mail and Safari get all the attention, but an often overlooked application—the humble Address Book—can also save you time every day. Here are Scott Kelby's tips for making the most of Address Book.
Merge two records
If you have two contact entries for the same person (it happens more often than you might think— at least to me), you can have Address Book merge the two.
First, press Command-1 to make sure that Address Book is set to Card And Columns view. Then use the Search field to find the person's two contact cards. Click on the first in the Name column. Hold the shift key and click on the second to select them both. Choose Card: Merge Selected Cards, and the two shall become one.
If any of the information is redundant (repeated phone numbers, and so on), just press Command-L to go into Edit mode. Highlight the duplicate information and press delete. When you leave Edit mode, the duplicate info and the duplicate field will be gone.
Get directions to the office
Now this is really cool—Address Book can automatically get a map and local directions to a person's physical address. Just click and hold on that person's address field (not the address itself, but the field title before it) and choose Map Of from the pop-up menu. Address Book will go online (if your Mac is connected to the Internet) and get a map and directions to the location for you (see screenshot).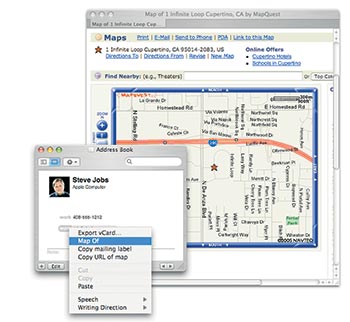 Find Your Way Need directions? Let Address Book do the work for you.
Chat Someone Up
If you're getting ready to send somebody an e-mail message, wouldn't it be better to get an answer right away than to wait for a reply to your message? Address Book can help, because when you look up an e-mail address, if the person is using iChat and available for chatting, you'll see a little green dot next to his or her picture. (Consider that a green light for chatting—your buddy is online and available!) All you have to do is click on that little green circle to bring iChat to the front, and then you can ask the person on the other end if he or she will accept a chat from you.
Run a quick search on a contact
If you're looking at a contact card in Address Book, and you want to quickly find an e-mail or a file that the contact sent you, just go to the Actions menu (that's the little button with a gear on it in the upper left corner of Address Book), and you'll see the word Spotlight followed by the person's name. (For example, if you were looking at my contact information, you'd see Spotlight: Scott Kelby.) If you choose that, Address Book runs a Spotlight search for all instances of that name on your computer (not just within Address Book, since chances are there's only one instance anyway, and you're already looking at it).
Share your Address Book
Let's say you want to share your Address Book. For example, I share my Address Book with my executive assistant, the wonderful and highly amazing Kathy Siler. We work on a lot of projects together, so when she makes a contact card that we both need, rather than sending it to me via e-mail, she just adds it directly to my Address Book herself.
Here's how: Go to Address Book: Preferences and click on the Sharing icon. This brings up a Sharing panel; if the person in your Address Book whom you want to share your information with has a .Mac account (necessary to make this work, by the way), his or her name will appear in the list here.
To let this person edit your Address Book, select that name and choose the Allow Editing option. Now your coworker or friend can open Address Book, go to File: Subscribe To Address Book, and enter your .Mac e-mail address. Then, as long as your friend is connected to the Internet, he or she will be able to access your Address Book (from the Group column) and make entries and changes directly to it.
Enter vCards fast
Virtual Business Cards (vCards) are becoming so popular that they now have an industry-standard format. Luckily, Address Book not only supports it but also makes it easy for you to enter vCards. If you've received a vCard via e-mail, just drag and drop it from the e-mail message right into Address Book.
Tiger makes it much easier to get a vCard out of Address Book. Just go to the contact you want; when you're there, if you look up in Address Book's title bar, you'll see a little rectangular icon right before the words Address Book. That's a miniature vCard. There are two ways to use it. First, you can hold down the option key, click on the card, wait just a second, and then drag it to your desktop. You get a freestanding vCard for the contact you had highlighted in the Name column. Attach this to an e-mail message, send it to friends, and so on. Second, if you don't hold down the option key, but rather just click and drag the card to your desktop, you'll create an alias to that Address Book contact entry.
Make Your Own vCard
I know, I know, you want to be all trendy and hip, so here's how to make your own vCard. (Note: the first step in being trendy and hip is to not use the word hip. ) Here's how: set up your own personal card the way you want it, and then choose Card: Make This My Card. This will change the icon for your personal contact card to a silhouette of a person rather than a square photo icon, letting you know which card is "your card."
If you've got a lot of contacts and want to get to your card fast, choose Card: Go To My Card. If you want to send your card to somebody via e-mail (to show you're trendy—and that other thing), choose Card: Go To My Card and then File: Export vCard. Save your vCard file someplace convenient for quick access (mine is on my desktop), and send it as an attachment to any e-mail message.
You can also drag and drop your card's silhouette icon right from Address Book onto Apple's Mail icon in the Dock; this opens a New Message window with your vCard attached.
Hide your privates
If you're sending someone your vCard, you might want to limit how much information you share. If this contact is a business contact, for example, you might not want to reveal your private e-mail address (having one of these is all the rage right now, thanks to spam) or your home phone number.
Luckily, you can decide which fields you save in your vCard and which you keep private, by choosing Address Book: Preferences and clicking on the vCard icon. Choose the Enable Private "Me" Card option. Then go back to your vCard in Address Book and click on Edit, and a series of blue check boxes will appear. Your vCard will include the information in any fields with check marks, so remove them from fields you want to keep private. It's as easy as that.
I can with iCal
Here are two bonus iCal tips that can help you take care of business.
• Get a Phone Reminder If you're like me, you sometimes need extra reminders about appointments, birthdays, meetings, and so on. iCal can send an e-mail message to your cell phone reminding you of that important meeting (provided, of course, that you have a cell phone that accepts e-mail).
In Address Book (not in iCal), put your phone's e-mail address in the card you've designated as My Card. Then go to iCal and double-click on a date to create a new event (something like "Fight with a PC user—playground 10:00 a.m."). In iCal's Info panel, click on the Alarm pop-up menu and choose E-mail. Choose your cell phone's e-mail address from the list and specify how long before the appointment you want the reminder sent. You're good to go.
• Add Live Web Links to Your Calendar If you're leaving yourself a note to check a Web site, you can embed a live link to that site right in your iCal header. (Sure, you could always embed a URL in a note, but the header appears in the calendar itself.) For example, let's say your message would have been " New Ricky Martin CD comes out today. Visit CDnow.com to order." Add angle brackets around CDnow and include the full Web address, like this:
<http://www.cdnow.com>
. Now you can click on that header from within iCal's main calendar to go directly to that Web page (if your Mac is connected to the Internet).
[ Scott Kelby is the editor in chief of Layers and Photoshop User magazines, as well as the president of the National Association of Photoshop Professionals. ]