It's that time of year again: the holiday gift-buying season. A time when many people are out looking (or desperately searching) for gifts for their friends and family. If you've got an iPod owner on your gift list, we're here to help: We've asked Playlist staff and contributors for iPod-related gift suggestions for our readers. We'll be presenting those recommendations this week, one or two categories per day:
Monday: cases
Tuesday: speakers & headphones
Wednesday: general accessories
Thursday: auto accessories and miscellaneous
In addition, on Friday we'll be announcing Playlist's 2005 Plays of the Year—our picks for the best iPod-related products of 2005. So be sure to visit us each day. (You can also browse our Product Guide and Featured Reviews sections for much more product info, or purchase Playlist's own book on accessories, Your iPod Life , from your local bookstore or online retailer.)
And so, without further ado…
The cases
Cases are likely the most popular iPod accessories. For some people, that's because they want their shiny player to remain pristinely scratch-free. Other people need to protect their iPod from crushing blows during their extreme sports outings. And some just want a case that looks hip. Whatever the reason, we've got some unique case recommendations for you.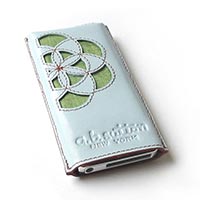 A.B. Sutton nano slip . Comparing a standard iPod case to one from A.B. Sutton is akin to comparing a cookie-cutter apartment by the Interstate to a custom-designed Frank Lloyd Wright cottage that overlooks the sea. Sure, both will keep the rain off your head, but only one will do so in a style that's all your own. This slip-in designed case will cushion and protect your iPod nano while still providing access to all the controls. Choose from more than 40 different colors of leather for the exterior, 70 different silk prints to cradle the interior, plus custom trims and thread colors for accenting. And for a little bit extra, A.B. Sutton will even monogram the leather exterior in one of six fonts; or you can choose a star-burst design to adorn the back ($50; $65 with monogramming; A.B. Sutton). -MATHEW HONAN
A.B. Sutton Video Pocket Book . A.B. Sutton's Video Pocket Book is every bit as elegant as the new iPod. Like Sutton's nano case, above, the Pocket Book provides more than 40 leather and 70 silk designs for customers to choose from—as well as monogramming in custom fonts—ensuring that your case will be one-of-a-kind (or at the very least, one of a small few). The fold-over case snaps shut to completely protect your video screen when you're on the go. Unsnap the clasp and the leather book-style holder opens wide to reveal a lined interior pocket that swaddles your business cards in luxurious silk, and, of course, the video screen so that you won't miss a moment of Desperate Housewives during your morning commute ($138; $153 with monogramming; A.B. Sutton). -M.H.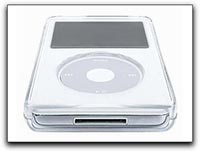 Agent 18 Shield cases . Most people I know use a case for their iPod. But the most common case question I get is, not surprisingly given the iPod's famously good looks, "Is there a case that protects my iPod without covering it up?" Actually, there are a good number of such cases, but one of my favorites is Agent 18's Shield line. Available in versions for nano, 5G (video), 4G, shuffle, and mini iPod models, each Shield protects your iPod behind clear, sturdy plastic that still lets you show off your iPod's natural features. The shuffle version includes a belt clip; the mini version allows you to use your mini's belt clip or arm band without removing the mini from the case, and the mini, nano, and full-size versions all leave your iPods top and bottom jacks and buttons fully accessible ($13 – $25; Agent 18). -DAN FRAKES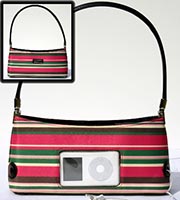 Delarew Designs Delapod . Score one for innovation: Rather than trying to match a case with a handbag, why not try a handbag that is an iPod case in and of itself? Delarew Design's line of Delapod handbags sport discrete, see-through pockets designed to hold iPods—including 4G, 5G (video), mini, nano and shuffle models. The exterior clear vinyl pocket allows you to see your iPod and access its controls, while a lined interior pocket cradles it and protects it from harm. Another discrete opening allows you to jack in a pair of earbuds. There are six different bag styles to choose from, all of which come in a variety of colors so you're sure to find an option that suits your own sense of style ($49 – $92; Delarew Designs). -M.H.
Difusi nanoValet . There are many cases available for the different iPods and I have tried many of them with varying degrees of satisfaction. I'm not really one for taking a shiny black iPod nano and wrapping it in a bright purple sleeve. I prefer something that matches the classy look of the iPod itself. The case I have been most impressed with so far is the nanoValet from Difusi. The case is made from soft leather and provides access to all of the iPod nano's ports and buttons; when the front flap is closed the iPod is completely protected. Although I prefer the black, the nanoValet also comes in red, white and lime ($30; Difusi). -JIM DALRYMPLE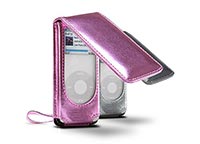 DLO nano Fling . Want to add some bling to your iPod nano without breaking the bank? DLO's nano Fling cases take the form of a traditional "flip" case but add a shiny metallic finish—pink or silver—that screams, "Check. me. out!" A handy matching wrist strap keeps your iPod secure; an elastic loop on the back of the case can hold your earbuds or even a tube of lipstick; and when you open the Fling's flipcover, you get a handy pocket mirror good for everything from fixing a contact lens to touching up makeup to Jennifer Garner-like morse code signaling ($30; DLO). -D.F.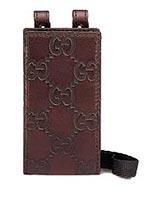 Gucci Guccisima for mini . Gucci's newest design for the iPod mini is the last word in opulence. The Guccissima's elegant leather exteriors and precious metal hardware are very bit as fashionable as one of the company's handbags, and will help your iPod to look as at home on the red carpet as it does on your desktop. Choose between a chocolate leather case with chocolate leather trim and silver hardware or a gold leather design with gold leather trim and light gold hardware. Both are embossed with the company's signature "GG" logo ($215 – $230; Gucci). -M.H.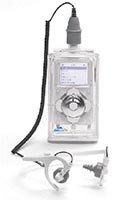 H2O Audio SV iP4G / iP3G / iMini . Take your iPod in the pool? Don't even think about it. Unless, of course, you've got it safely protected in a waterproof case from H2O Audio. These clear plastic cases for the iPod mini, 3G, and 4G offer submersible waterproof protection in up to 10 feet of the wet stuff. A waterproof headset with silicon earplugs makes this the perfect accessory for anyone who has ever dreamed of taking their iPod along for laps in the pool, wild river-rapid running, or a morning in the foamy ocean surf. Waterproof controls allow you to access all of your iPod's navigation functions, including the scroll wheel. Surf's up. ($150; H20 Audio). -M.H.
iSkins . Ask any longtime iPod owner to name a company that makes "skin" cases, and chances are the answer will be iSkin. For years, iSkin has been making a variety of silicone cases for every iPod model, and the company shows no sign of slowing down. A quick glance at iSkin's current lineup reveals the eVo for 3G iPods; the eVo2 for recent models; the iSkin mini for the iPod mini; the two-color, two-layer iSkin Duo for shuffle and nano iPods; and the crazy swirls of the iSkin Wild Sides for 4G and photo iPods. All cases include a clear screen protector (except cases for the shuffle) and either a belt clip (full-size and mini models) or a lanyard (shuffle and nano models); you can also buy optional Click Wheel protectors that fit iSkin cases. With each model available in various patterns and colors (including some that glow in the dark!), iSkin offers something for everyone ($20 – $35; iSkin). – JENNIFER BERGER & D.F.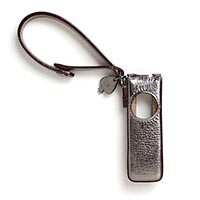 Kate Spade Broom St. iPod shuffle case . If you're looking for an urbane iPod case that goes well with your suit and shoes, Spade—who offers several fashion-forward designs for the diminutive device —- brings to iPod cases the same sensibility that made her handbags a hit: classic style with a cool metropolitan flair. If the white plastic and nylon lanyard of the iPod shuffle isn't your idea of haute couture, the Broom St. iPod shuffle case gives Apple's micro-player an elegant leather case and adjustable strap with gold hardware—a touch of panache—to help you keep it handy and protected. With seven color choices, it should be easy to find one that matches your favorite handbag ($32 – $45; Kate Spade). -M.H.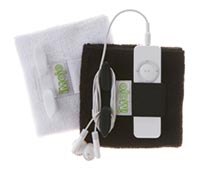 iMojo shuffle Sweats . The iPod shuffle is perhaps the most popular iPod for exercising, but if your workout clothes don't have pockets, where do you put it? My favorite method is iMojo's shuffle Sweats: a traditional terry-cloth sweatband that includes an elastic band to hold your shuffle securely in place. Worn on your forearm, the iMojo puts your iPod within easy reach (and view) and includes a pair of silicone "cleat wraps" around which you can wrap excess headphone cable—useful for keeping those cables from getting caught on gym equipment. And since shuffle Sweats are actually sweatbands, they're machine washable—how many iPod "cases" can make that claim? Shuffle Sweats are also inexpensive: You get two (both white, both black, or one of each) for under $20 ($19; iMojo). -D.F.
PixelGirlShop Retro Computer Limited Edition case . Long, long-time Mac user? The Retro Computer case, available for full-size and mini iPods in grey or black, is for you. The case itself is a fairly standard "flip case" design, but what makes it retro-cool is the silk screen image of an original Mac on the front. Sure, younger iPod users won't get the reference, but old-timers will stare at your iPod fondly ($30; PixelGirlShop). J.B. & D.F.
Power Support Crystal Film Cover Set . Regardless of which screen-bearing iPod you own—the full-sized iPod with video or the allegedly-prone-to-scratching nano—it pays to protect your iPod from errant smudges and marks. I've found the best way to do so is with Power Support's Crystal Film Cover Set. This $15 set includes three scratch-resistant, transparent films that cover the iPod's back, front, and click wheel. The sheets are held in place without adhesives, relying instead on "static cling," which leaves behind no residue when you remove the sheets. If you'd like your iPod to look as clean as the day you unpacked it, the Crystal Film Cover Set is for you ($15; Power Support). -CHRISTOPHER BREEN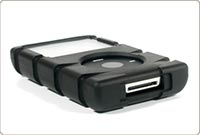 Speck ToughSkins . If you're a fan of "skin" cases but want the ultimate in protection, Speck's ToughSkins—available for nano, mini, 4G (Click Wheel), and 5G (video) iPods—are the way to go. Unlike most skins, which protect mainly against scratches, the ToughSkin provides significant shock and impact protection thanks to thick rubber bumpers on the corners and sides. A hard plastic screen protector keeps your iPod's screen scratch-free and mini and mini and 4G models provide a hard plastic Click Wheel guard that swings out of the way for easy access. One of my favorite features is that the included belt clip can be removed when you aren't using it and doesn't leave an annoying post behind ($35; Speck Products). -D.F.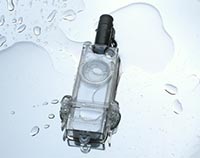 Tunewear Waterwear shuffle . Your iPod shuffle, with its flash memory and display-less, solid-state form factor might seem indestructible, but just try dropping it in the pool and you'll quickly find that's not the case. What is the case (pun intended) is Tunewear's Waterwear shuffle, a hard plastic shell with a tight rubber seal and silicone wheel window that provides water-resistant protection while still allowing you to access the shuffle's controls. The perfect gift for paddlers, snow sport enthusiasts, and other outdoor-types, the Waterwear shuffle also makes a nice accessory for those of us whose ideas of water sports lean more towards poolside mojitos than class five rapids ($25; Tunewear). -M.H.
Tunewear Prie cases . If you're looking for a blend of fashion and function, I really like Tunewear's Prie series of cases. Each offers an attractive mix of genuine leather with colored stitching detail, but the various models offer unique functionality. For example, the TuneWallet holds your iPod along with credit cards, ID, and some cash. The Ambassador's metal hook clips onto your belt loop or bag for easy access. The TuneTag for the iPod nano attaches to your bag like a luggage tag, with the TuneTag ID offering an Ambassador-like metal hook along with a clear window for a bus pass or identification card. There's even the Jewel, which features a metallic pink and silver design with a "rhinestone" buckle. Tunewear has something for everyone ($30 – $50; Tunewear). -D.F.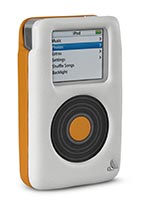 Vaja iVod DJ I'm a fan of Vaja's entire line of iPod cases—all of which sport smart designs done in a hip, youthful style—but we especially love the iVod DJ case, designed for 4th-generation (Click Wheel) iPod models. The iVod DJ is a full-featured leather case with a screen protector that provides easy access to the dock connector, hold button, and headphone and remote ports. But what caught my eye is the vinyl click wheel protector that looks like, well, vinyl. A vinyl LP that is. The turntable-themed case can be customized with one of 50 different colors of leather; you can even have your name stitched onto the case or have the case embossed with a logo or custom design ($80; customizations extra; Vaja). -M.H.
For more information on iPod cases, check out the Playlist Product Guide.