If you've got an iPod owner on your gift list this holiday season, we're here to help with gift suggestions from Playlist staff and contributors. We've got a different category of gifts each day this week:
Wednesday: general accessories
Thursday: auto accessories and miscellaneous
And don't miss Friday's feature, where we'll be announcing Playlist's 2005 Plays of the Year—our picks for the best iPod-related products of 2005. (You can also browse our Product Guide and Featured Reviews sections for much more product info, or purchase Playlist's own book on accessories, Your iPod Life , from your local bookstore or online retailer.)
The accessories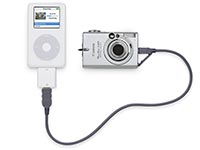 Apple iPod Camera Connector . You know your full-sized color/photo/video iPod is capable of displaying digital photos and slideshows, but what you may not know is that with the right accessory, it's possible to move photos directly from your digital camera to the iPod and immediately display them. That right accessory is Apple's iPod Camera Connector ( review ). I'm less-than-thrilled that using this diminutive device sucks the life out of your iPod's battery charge in no time flat, and that it's no speed demon (taking nearly 13 minutes to move about 350MB of data). It's also annoying that imported RAW files won't display on the iPod without first being processed by iTunes. But even though this may not be the ideal tool for photographers, it can be a handy accessory to have in a pinch (such as when you've filled your last media card). And with the advent of iPods that sync only via USB, this is now the only game in town—Belkin's Media Reader for iPod w/Dock Connector and Digital Camera Link for iPod w/Dock Connector work only with full-sized dock connector iPods that support FireWire syncing ($29; Apple). -CHRISTOPHER BREEN
---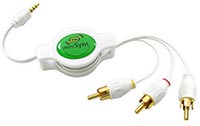 Apple iPod AV cable / BoxWave iPod Photo AV miniSync . If you've got an iPod capable of presenting your photos or videos on a television—an iPod photo, "iPod with color display," or "iPod with video"—you need an AV cable or dock to make the connection. If you tend to show your media on the go, a travel-friendly cable is likely the best option. Apple's $19 iPod AV Cable is impressively built, with thick cables and sturdy RCA connectors. BoxWave's miniSync feels a bit flimsier but automatically retracts into a small, wind-up reel for more compact packing. Either cable will plug into your photo/color/video iPod's AV (headphone) jack and provide RCA left and right audio plugs as well as an RCA com- posite video plug for connecting to your television or projector. You can also use the audio plugs on their own for connecting your iPod to a stereo for audio-only playback (iPod AV Cable: $19; Apple; iPod Photo AV miniSync: $25; BoxWave). -DAN FRAKES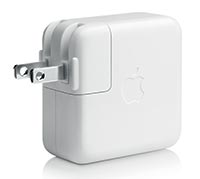 Apple USB Power Adapter . An AC adapter used to be included with every iPod; sadly, no longer. But Apple's omission is your gain as a gift giver, because an AC adapter is a handy accessory to have: Even though your iPod is charged whenever it's connected to your computer, there are times when you don't have your computer with you, or when you simply need more charging options and locations. You plug your iPod's dock connector cable into the adapter's USB port; the iPod shuffle can plug into the port directly. If you've got an older iPod with a FireWire-based dock connector cable, Apple also sells a FireWire Power Adapter ($29; Apple). -D.F.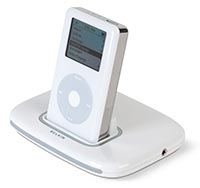 ---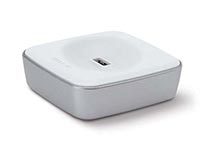 Belkin TuneSync / Belkin Hi-Speed USB 2.0 4-Port Hub . With more and more computer peripherals and accessories—including all recent iPods—adopting the USB standard for connections, a USB hub is becoming almost a necessity. But if your hub-wanting loved one is also in the market for an iPod dock, check out one of Belkin's dock/hub combos instead. The Hi-Speed USB 2.0 4-Port Hub provides three USB ports in back along with a single port on top that's perfect for docking an iPod shuffle; at only a dollar more than Apple's iPod shuffle Dock, it's a relative bargain. The TuneSync for iPod provides five powered USB 2.0 ports on the back and a dock cradle on top for all dockable iPods. And like Apple's Dock, the TuneSync includes a line-level audio output jack to connect your iPod to a stereo or speakers. The TuneSync costs twice as much as Apple's Dock, but when you consider the cost of the Dock and a USB 2.0 hub, it's a pretty good deal—and it takes up a lot less space on your desk than separate peripherals (TuneSync, $66; 4-Port Hub, $30; Belkin). -D.F.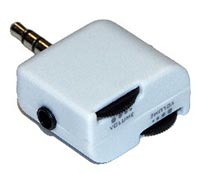 BTI Headphone Splitter . Sharing is good, and sharing music is even better. For those times when your iPod-lover wants to let others in on the tunes, a headphone splitter—which converts a single headphone jack into two—is a handy gadget. My favorite is BTI's descriptively named Headphone Splitter, which provides a separate volume control for each jack. Each listener can choose his or her own level, avoiding the dilemma of dual-headphone listening: Which person gets to set the volume? ($15; BTI). -D.F.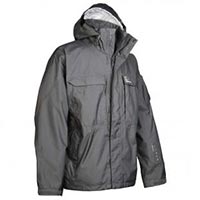 Burton iPod Shield Jacket . If you want to take your iPod with you when you're out carving the mountain, you need to protect it in a way that will let you still access all its controls. This machine washable jacket from Burton has iPod controls built into the sleeve to let you access all your tunes while your player stays stowed safely away in an EVA-molded chest pocket. Although the iPod Shield won't make beautiful music with the iPod shuffle, iPod 5G (video) or iPod nano, for users with earlier models, there's no better way to rock your stick down the mountain ($380; Burton). -MATHEW HONAN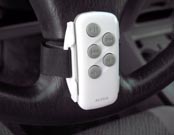 Griffin Technology AirClick . I'll admit it: I'm into control. That means I want control over what's playing on my computer or iPod at all times. So with four different packages to choose from for various iPods and Macs/PCs, the Griffin AirClick makes me a very happy camper. It's best when I'm working 10 feet or so away from my Mac. Your lucky gift recipient can just clip the remote onto his or her clothing. Now that's control, with ease ($40; Griffin Technology). -JENNIFER BERGER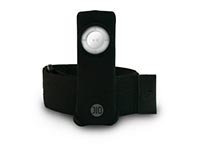 DLO Action Jacket for iPod Shuffle . The iPod shuffle's small size and skip-proof nature make it ideal for exercise. But having the shuffle jostling around in a pocket makes it difficult to access and can even accidentally engage one of its buttons—and that's assuming you even have a pocket to stick it in. For running or the gym, DLO's Action Jacket for iPod Shuffle is the perfect solution. The iPod slips into the black Neoprene case with a clear vinyl cover that also protects the controls. You decide whether to strap your shuffle to your arm using the included adjustable armband or attach it to your waist with the rotating belt clip. Either way, your shuffle is safe, secure, and always within reach ($25; DLO). -JONATHAN SEFF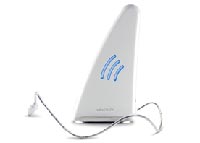 Griffin Technology RadioShark . This toy-slash-extremely-useful-device couldn't be a better holiday gift for someone who loves listening to radio but must do other things—such as, say, work—while their favorite shows are on. I've had a Radio Shark since it came out, and it truly is like TiVo for radio. The cool-looking FM tuner, which resembles a shark's fin, attaches to my Mac via USB; the included software records radio programs that I specify and puts those shows into iTunes for me. It's best for recording local radio shows or stations that don't have a podcast or Internet streaming ($70; Griffin Technology). —J.B.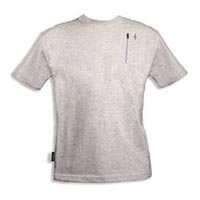 ---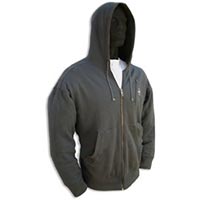 ScotteVest T-Shirt and Ultimate Hoodie . The problem with having lots of cool gadgets is finding places to put them. ScotteVest's line of "Technology Enabled Clothing" aims to solve that problem by offering a slew of garments designed to carry your techno-toys. Two of my favorites are the SeV T-Shirt, which provides a small, zippered chest pocket perfect for holding your iPod shuffle or nano at the gym; and the SeV Ultimate Hoodie, a trendy "hoodie"-style sweatshirt with a similar pocket along with the company's Personal Area Network for wiring your iPod's earbuds directly to your ears without any visible cables. The Hoodie also includes extra-deep side pockets with magnetic closures and a built-in clip to secure your keys. I wish the Hoodie's back logo was a bit more subtle, but that's the way they make 'em these days. (T-Shirt, $20; Hoodie, $70; ScotteVest). -D.F.
Replacement battery for an older iPod. If your favorite iPod owner has had that iPod for a couple of years or more, it's likely that its battery isn't holding much of a charge. You can help bring new life to your friend's iPod by giving the gift of power—an iPod replacement battery. Such batteries, in capacities greater than the battery originally packed into the 'pod, are sold by such companies such as Newer Technology, Sonnet Technologies, and ipodjuice.com. Prices start at $20. Warning: Although these batteries ship with tools and instructions for safely opening the iPod, if your holiday honey is clumsy, there's a very real possibility that they could destroy their little musical buddy. A replacement battery makes no sense for an iPod that's still under warranty, and late model iPods (minis especially) are difficult to successfully upgrade. If you're concerned about giving a gift that may ultimately break your honey's heart, offer to pay Apple $59 (plus $7 shipping) to replace the battery. -CHRISTOPHER BREEN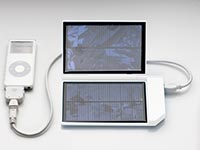 ---
Soldius 1 Universal Charger and Better Energy Systems Solio . Whether you're planning for the Appalachian Trail or the Apocalypse, now you can bring along your iPod. As an avid backpacker, my favorite iPod accessory of the past year—hands down—is the Solio, a device to charge up your iPod or cell phone (along with a handful of other gizmos) au naturale: via the sun's rays. The 5.8 ounce charger has an output of 4–12 V, and provides roughly an hour of playtime for each hour in the sun, while an internal 3.6 volt battery can store a charge for later when the lights go down and the music pumps up. For ultra-lighters and sleep-at-nighters, the similarly priced Soldius 1 Universal Charger weighs a mere 3 ounces and pumps out 6.58 V of juice during full sunlight. Though it doesn't have an internal battery to store a charge, it's an excellent idea for re-charging your iPod (or cell phone) on the go (both $100). -M.H.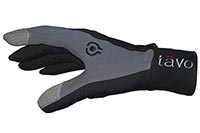 Tävo Gloves for iPod . The iPod's Click Wheel works by detecting the electrical charge in your fingertips to track finger motion. Since traditional gloves add a layer of insulation between your fingers and the Click Wheel's surface, you have to take your gloves off to access the iPod's controls, leading iPod users in colder climes to suffer frigid digits. But these iPod-friendly gloves from Tävo should help change that—they sport capacitive fingertips, so a charge can pass through the gloves, from your fingers to your iPod's Click Wheel. The gloves keep your digits delightful while the weather outside is frightful ($35; Tävo). -M.H.
For more information on iPod accessories, check out the Playlist Product Guide.