It's holiday gift week here at Playlist , and our staff and contributors are here to give you some suggestions for what to buy the lucky iPod-lover in your life. We've got a different category of gifts each day this week:
Thursday: auto accessories and iPod software
And don't miss tomorrow's feature, where we'll be announcing Playlist's 2005 Plays of the Year—our picks for the best iPod-related products of 2005. (You can also browse our Product Guide and Featured Reviews sections for much more product info, or purchase Playlist's own book on accessories, Your iPod Life , from your local bookstore or online retailer.)
Road-tripping
Belkin TuneDok . Anyone who uses his or her iPod in the car needs a way so mount it to avoid accidents while fumbling around for the buttons. Belkin's ingenious TuneDok simply holds your iPod upright in your car's cup holder. (In my car, a Toyota Camry, the cup holders are right under the stereo controls, so it's a perfect fit.) And it comes in black as well as white/gray ($30; Belkin). —JENNIFER BERGER
Cassette adapters. There are three ways to play an iPod through your car's audio system: a direct connection from the iPod to your car's stereo, an FM transmitter, or a cassette adapter. Although a direct connection provides the best quality sound, not all car stereos are plumbed for it. FM transmitters can work well when you find an open FM frequency, but in urban areas those open frequencies can be impossible to find. That leaves a cassette adapter. These cassette-like devices made by such companies as Griffin Technology, Coby, and DLO generally cost between $10 and $30, plug into the iPod's headphone jack, and deliver sound of better quality than an FM transmitter. If the object of your holiday affection has a cassette deck in the car, this could be a wonderful gift. Be sure to keep the receipt, however, as some cassette decks can be finicky about these adapters—either refusing to work with them at all or interrupting the music to flip from the adapter's virtual "Side A" to "Side B." -CHRISTOPHER BREEN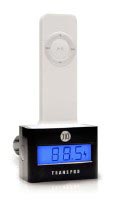 DLO TransPod shuffle . If your favorite iPod owner has an iPod shuffle, you've probably noticed that most of the "iPod" FM transmitters and car mounts don't work with that iPod. DLO comes to the rescue with the TransPod shuffle: an FM transmitter, car charger, and vehicle mount all rolled into one. The TransPod plugs into a car's accessory jack (a.k.a. "cigarette lighter") and provides a sturdy base for the iPod shuffle while transmitting its audio via the FM frequency of the owner's choosing. The transmitter doesn't provide quite as clear a signal as that of Kensington's Digital FM Transmitter/Auto Charger (below)—which works only with dockable iPods—but the TransPod has has four presets and is easy to tune. The TransPod also includes an audio output jack, for a direct connection to your car stereo, and an audio input jack, which lets you connect a secondary audio source and then broadcast its audio ($60; DLO). -DAN FRAKES
Harman Kardon Drive+Play . There are a number of reasons I like the Drive+Play, Harman's new iPod integration system for the car which features an iPod-menu LCD screen, a Click-Wheel-mimicking controller knob, and a direct audio connection to your car's stereo. Safety, sound quality, the overall look of the unit…but mostly I like it because it works so well. It's not that difficult to find an in-car audio unit that has some of the qualities I listed above, but it's a rare find to get one that can do it all. More often than not with other solutions, I get frustrated and stop using them—either the sound quality is poor or the iPod falls between the seats and I'm pulling on the cable to try to fish it out. The Drive+Play is the solution for people that want quality sound from their iPod in a car ($200 plus any installation costs; Harman Kardon). -JIM DALRYMPLE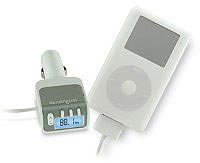 Kensington Digital FM Transmitter/Auto Charger . Although there's a glut of FM transmitters for the iPod from which to choose, if you're looking to give the gift of radio transmission—and your recipient will need this capability only in the car—my favorite is Kensington's (over-descriptively named) Digital FM Transmitter/Auto Charger. (I'll call it "DFT" for short.) The DFT connects via a dock connector cable, which grabs the iPod dock connector's higher-quality audio signal. You then choose the FM "broadcast" frequency via up/down tuning buttons. (The DFT even provides three handy presets—useful if a commute through FM-crowded areas requires your iPod lover to change transmission frequencies.) Audio quality is great (as FM transmitters go) and, as its name implies, the DFT also charges the iPod during use ($60; Kensington). -D.F.

TEN Technology flexibleDock . Most people who use their iPods in their cars need three things: a way to get their audio to their car stereo, a way to keep their iPod charged, and a way to keep their iPod securely in place. TEN Technology's new flexibleDock is my current favorite for filling the latter two requirements. It plugs into a car's accessory outlet and provides a sturdy "dock" base on a 6-inch flexible (but not too flexible) arm that puts your gift recipient's iPod at a more visible (and, thus, safer) height. Dockable iPods attach securely to the flexibleDock's locking dock connector plug which provides power while grabbing the dock connector's audio. If your recipient uses a cassette adapter or direct line connection to his or her car stereo, the flexibleDock even provides a two-level audio output jack ($50; TEN Technology). -D.F.
iPod-enhancing software
Anapod Explorer (Windows) . If your iPod-owning, Windows-using loved one feels constrained by iTunes' limitations, consider giving them a copy of Red Chair Software's Anapod Explorer, which offers a number of popular features not available in Apple's own software. For example, it can copy the iTunes library from an iPod to a PC, allows iPod browsing via Windows Explorer, and enables browsing of an iPod across the Internet via a web browser. Available in a $20 edition for the iPod shuffle, a $25 edition for other individual iPod models (one for nano, another for 5G iPods, for example), or $30 for a version that works with any iPod, the program also includes advanced searching and sorting capabilities, as well as the ability to alter ID3 tag information on files resident on the iPod—no need to copy the files to a PC first ($20 – $30; Red Chair Software). -C.B.

Clutter . If you've got a friend who's ripped their entire CD collection into iTunes and misses album covers as a way to recognize the music they want to play, give them a copy of Clutter. (I suggest burning a copy on CD and wrapping it up—it's a nicer presentation than an email attachment.). This free utility lets you place CD covers on your Desktop, each of which you can double-click to play that particular album. You can pile covers on top of each other like virtual CDs, hence the name: You sure can accumulate a lot of (very fun) clutter this way. And the other parts of the interface are cool, too; for example, Clutter's window provides iTunes controls and shows the current album nice and large, even in the smaller view (free; Sprote). —J.B.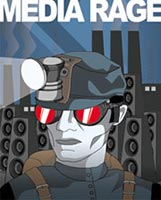 Media Rage 2.2 (Mac) . Earlier this year I transferred all of my digital music from various computers, mp3 players, external disks and CD-Rs to one external hard drive. When I did so, I decided I wanted to start fresh and fix all those poorly and incorrectly entered ID3 tags that have been driving me crazy for so long. A monumental task, when you're talking about over 35GB of data, right? Not necessarily. Media Rage, from Chaotic Software, makes organizing and editing your digital music collection—including MP3, FLAC, AAC, and Ogg Vorbis files—a snap and is a great gift for your favorite Mac-using music lover. Batch editing features allow you to make changes to ID3 tags (for example, changing all your "alternative" genre listings to "indie"); add album art and lyrics; and other edits to hundreds of files at a time. For anyone with a massive collection of digital music, this is one must-have management tool ($30; Chaotic Software). -MATHEW HONAN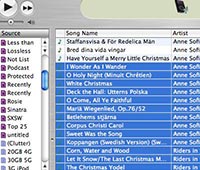 Senuti (Mac) . If your gift recipient is like most new iPod owners, scant seconds after he or she learned how to navigate through the iPod's menus and move music onto the device, he or she began to ponder the possibilities of reversing the flow of information between iTunes and the iPod—copying music from the portable player to the computer. If that person is a Mac user, look no further than the utility with the iTunes name in reverse: Whitney Young's Senuti. Senuti impresses me not only because it's free, but because I appreciate its iTunes-like interface and the fact that with it can move not only an iPod's entire music library to the Mac, but selected tracks and playlists as well (free; Whitney Young). -C.B.
For more information on iPod products and accessories, check out the Playlist Product Guide.