If you listen to music, 2005 was clearly the Year of the iPod. Sure, the iPod has been selling well for several years now, but it was 2005 that saw the introduction of the iPod shuffle, the iPod nano, and the iPod with video; a number of significant updates to iTunes and the iTunes Music Store; and the ever-increasing market shares of all of the above. But along with these developments from Apple came a just as significant increase in the number of third-party products designed to work with the iPod and iTunes. From cases to speakers to headphones to car accessories to software—and every conceivable gadget in between—the "iPod market" was as much of a story as the iPod itself.
Here at Playlist , we're in the (fortunate) position of getting to test and evaluate all these products, so we've pooled the knowledge and hands-on experience of our editorial staff and contributors to choose what we feel are the stand-out products of 2005: Playlist's Plays of the Year. These are the products—released between November 1, 2004, and November 1, 2005—that distinguished themselves by providing exceptional quality, innovation, usefulness, design, and/or value. In this, our first year choosing such awards, we've designated 26 such products. Read on to see the winners.
Best new iPod
iPod nano: 2GB, $199; 4GB, $249; Apple
Choosing the best iPod was more than a little difficult in a year that saw the birth of the both the iPod nano and the iPod with video. In the contest between the two, Playlist's editors disagreed—some favoring the iPod with video for, well, its ability to play video, while others chose the nano for bringing a nearly perfect feature set to the middle of the iPod lineup. (Sadly, no one voted for the iPod shuffle.) In the end, the iPod nano ( review ), with its sleek design, colorful interface, non-skip nature, fast response, and photo-viewing capabilities, won the day. Though the nano shows surface scratches more readily than previous iPods and costs more per megabyte than the now-displaced iPod mini, it offers the features users want most in today's coolest music player.
Best convergence product
iHome iH5: $100; SDI Technologies
Often, products that try to do too many things at once end up doing a mediocre job at everything. SDI Technologies' iHome iH5 ( review ) is a exception to that rule. This combination alarm clock, radio, and iPod charger and speaker system lets you wake up to music from your iPod (or the radio or a standard buzzer) as well as providing impressive sound for bedside speakers. Available in black or white to match Apple's iPod lineup, the iH5 also includes a sleep timer so you can doze off to the soothing sounds of anything from Abba to Zappa—it's your iPod, after all. You won't find a better combo iPod product for the price. (For the full effect, the optional $20 remote control is a must.)
Best portable iPod speakers
mm50: $150; Logitech
Portable speaker systems are generally an exercise in compromise: smaller size and battery power means inferior sound quality. But Logitech's mm50 ( review ) provides surprisingly good sound in a package that includes all the features you want in a portable speaker system: remote control, iPod dock, computer connectivity (via a dock connector port on the back), and size small enough to fit in your suitcase or carry-on. And the internal rechargeable battery means that you can just plug in the mm50 when you get home, and both it and your iPod will be charged and ready to go the next day.
Best portable speakers for iPod shuffle
i-Station shuffle: $50; Logic 3
iPod shuffle owners have every right to feel like the black sheep of the iPod family; after all, many "iPod" products don't work with this iPod. But over the past year, a number of companies have released speaker systems designed specifically for the shuffle. Logic-3's i-Station shuffle easily stands out as the best, combining decent sound for the price; a shuffle-only USB dock (which also charges your iPod when the system is powered via the included AC adapter); and a USB port on the back of the system that lets you sync your shuffle with iTunes when it's docked. You also get audio line-in and -out jacks to listen to another source through the speakers or to connect the i-Station to a better audio system at home, respectively. The best part? For $20 more than Apple's iPod shuffle Dock, you get the same functionality plus decent speakers.
Best "transportable" iPod speakers
inMotion iM7: $250; Altec Lansing iSongBook: $330; Tivoli Audio
The two finalists for best "transportable" speaker system—one that you can take from place to place, but that won't fit in your carry-on—impressed us so much, and were so different in their focus, that we've chosen both of them as Plays of the Year.
If you're looking for good sound quality (and quantity) that you can grab-and-go, Altec Lansing's inMotion iM7 ( review ) is the easy winner. Whether you're listening loud outside or at more reserved levels indoors, the iM7 provides impressive audio—including actual bass —in an eye-catching, if bulky (16.8 inches long by 6.3 inches in diameter; 11 pounds) package. The cassette-deck-like, pop-out cradle keeps your iPod safe and secure in transit, and the included remote lets you control playback and volume as well as adjust treble and bass levels. And if your iPod can project photos or video, the iM7's built-in composite- and S-video jacks let you connect the system to your TV for easy viewing. The iM7 proves that you don't have to give up great sound to get a speaker system you can take to the beach or park. (For easier carrying, Altec Lansing also offers a Shoulder Harness and Shoulder Pack for $50 each.)
For more versatility in a transportable iPod speaker system—AM/FM radio with station presets, digital alarm clock, and speakers that can be detached for better stereo imaging—look no farther than Tivoli Audio's iSongBook ( review ). This attractive white and silver sound system features a unique flip-down universal dock that accommodates any dock-connector iPod, as well as one of the best radio tuners you'll find in a portable package. Given the iSongBook's compact size, we're not surprised that its speakers lack oomph in the bass, but sound quality is otherwise excellent, and the ability to place its speakers up to 6 feet apart means that you actually get stereo separation. The iSongBook will even charge rechargeable batteries when plugged in. Although we'd be reluctant to toss it into a backpack or suitcase unprotected, it can be easily moved around the house. (A soon-to-be-released carrying case will make the iSongBook easier to tote along on trips.) For the iPod user who also loves the radio—yes, there are still a few of these people out there—the iSongBook is an impressive system.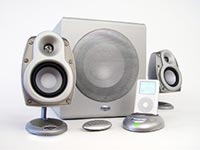 Best home speakers for the iPod
iFi: $400; Klipsch
More and more people are using an iPod as their primary music source, relegating their CD collections to the garage (after ripping those CDs into iTunes, of course). For those in the market for an iPod-specific speaker system to take the place of a traditional stereo, Klipsch's iFi ( review ) is the best we've heard. It's also the first "home" speaker system designed specifically for the iPod thanks to a stylish Control Dock that holds (and charges) dockable iPods. Compared to "computer" speakers, you get more power and higher-quality components including a 200-watt amplifier, a hefty subwoofer, Klipsch's Reference Series RSX-3 satellites (the same speakers the company sells separately for home use), and a remote control. You could put together a home stereo that sounds better, and then hook your iPod up to it, but for $400 (including the convenience of the dock base and remote control)? Good luck.
Best iPod/stereo integration
S-101 and S-301: $999 and $1599, respectively; Denon
You can hook your iPod up to any home stereo, but Denon's new S-101 and S-301 "home theater in a box" packages are the most iPod-friendly systems we've seen yet. Connect any dockable iPod to Denon's special dock-connector input and the iPod's own navigation menus appear on your TV screen—the Denon logo repays the favor by appearing on your iPod's screen—allowing you to access the iPod's playback controls, playlists, and more via the system's remote control. Both systems include a receiver with built-in progressive scan DVD player; left and right satellite speakers; and subwoofer, which provide good stereo sound when listening to your iPod and can fairly effectively mimic a full 5.1 surround-sound system when watching movies. For an additional $600, the S-301 adds SACD/DVD-A compatibility, more input options—including a USB port for connecting other types of MP3 players (except the iPod shuffle)—a more powerful speaker and subwoofer setup, and an an HDMI output for upconversion to HD video. For iPod users, plug and play has never sounded (or looked) so sweet.

Best iPod/stereo connection
TuneStage $180; Belkin
There are a number of excellent solutions for connecting your iPod to your home stereo (Kensington's Stereo Dock and DLO's HomeDock are among our favorites), but they all have one significant limitation: Your iPod is on the other side of the room, and even with a remote, you can't see your iPod's screen. This scenario worked fine in the age of CDs, but now that our iPods can hold hundreds and even thousands of songs, we want to take advantage of the iPod's famously useful interface. Belkin's TuneStage ( review ) lets us do just that by turning the scenario on its head: You connect a small Bluetooth transmitter to the headphone/remote jack of your mini, 3G, 4G, or photo/color iPod, and then connect the TuneStage's receiver to your stereo. Your iPod and its onscreen interface remain in your hand, the best "iPod remote" ever. And the TuneStage's Bluetooth technology gives you static-free performance and crystal-clear audio up to 30 feet away; you can even transmit through walls. (Belkin has told Playlist that a version of the TuneStage compatible with all dockable iPods—including the nano and iPod with video—is in the works.)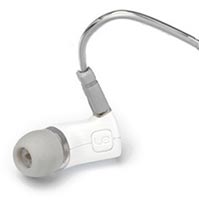 ---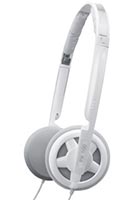 Best budget (under $100) headphones
super.fi 3 Studio: $100; Ultimate Ears PX 100 W: $50; Sennheiser
2005 was a great year for headphones; so much so that we couldn't decide which model should get our coveted "Best Budget Headphones" award. In the end, we chose two: one for those who like the in-ear-canal ("canalphone") style, and one for those who don't.
As recently as a few years ago, you had to spend $250 or more to get good in-ear-canal headphones. Although Etymotic and Shure have been steadily lowering the cost of entry, Ultimate Ears' new super.fi 3 Studio came out of nowhere this year to claim the title Best Bang-for-the-Buck. Compared directly with the best models on the market, the 3 Studio show their flaws, but they offer a (sizable) taste of what you get from the big boys for just under $100, and they're the least expensive canalphones that can truly reveal your iPod's potential (or your low-bit-rate music's flaws).
If you're not a fan of canalphones, you've got plenty of choices for headphones, from tiny (and tinny) earbuds to full-size "home" models. But few have impressed us as much as Sennheiser's PX 100 , now available in iPod-matching white/gray/silver. For only $60 (or much less at street prices) you get quite possibly the best lightweight headphones ever—they sound great, are comfortable enough to wear all day, and fold up like a pair of eyeglasses for travel. (A hard-shell case is included.) It would be tough to find better sound and comfort for the price.
Best headphones for bass-heads
FS1: $150; XtremeMac K 26 P: $50; AKG
Unless you invest in a pair of huge, ear-covering headphones, it's tough to get good bass—which is a big reason that you see so many fans of bass-heavy music wearing those large, expensive Sony "DJ" models, most of which don't sound that great but do give up some thump. We've again chosen two favorites, both based on the fact that they come in unlikely forms.
One of the most common criticisms of in-ear-canal headphones is that they don't provide much bass. The FS1 canalphones, the fruit of a collaboration between iPod accessory maker XtremeMac and in-ear-monitor specialist Future Sonics, address this concern with a resounding "boom." Once you get a good seal—not difficult, thanks to three kinds of eartips included in the box—you get bass the likes of which you've never heard from such tiny devices. (Listen to Massive Attack's "Angel" on these and then try to tell us that canalphones don't have bass.) And thanks to a curvaceous design available in white/gray or black/gray, they also answer another criticism: that all canalphones are ugly.
Another set of inexpensive, lightweight headphones? We told you it was a good year. In this case, AKG's K 26 P stand out for offering things that are very difficult to find in small, lightweight headphones: a closed design and killer bass. The K 26 P's small leather earpieces block a good amount of external sound, and the headphones' bass response will leave you wondering if there's a subwoofer hidden somewhere in the room. And for easy transport, the K 26 P fold up to fit into the included travel pouch. Audio purists will want to stick with the Sennheiser PX 100, which offer a more balanced overall sound, but if you want to feel the full impact of your rock, rap, and hip-hop without having to carry around a set of full-size headphones, these are the cans for you. (An iPod-matching white version, the K 27 i, should be available soon.)
Best high-end iPod headphones
E4c: $300; Shure.
It seems that every year the high-end headphone market gets more and more crowded—especially when it comes to in-ear-canal models, which have become the style of choice for many golden-eared iPod owners. Shure's new E4c take top honors this year—although it was a very close contest with Ultimate Ears' super.fi 5 Pro —for their sound, style, and comfort. On the audio front, these canalphones sound as good as the audio files you feed them, letting you hear details in your music you never even knew existed. (Their only significant weakness in this department is that they don't have the bass impact of the super.fi 5 Pro, although they have better bass detail—yes, there is such a thing.) Style-wise, the E4c's chrome, gray, and white design make these the first canalphones to do the iPod aesthetic justice. (A black/chrome version is also available.) And the E4c's diminutive size and smooth curves make them the most comfortable in-ear monitors we've tried. If your iPod is filled with high-quality audio files, and your ears are truly golden, the E4c is a near-perfect match for both.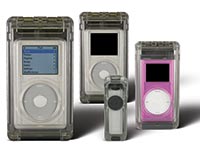 Best "ultimate protection" iPod case
OtterBox for iPod: $30 – $50; OtterBox
It's tough to give awards for "best" iPod cases, considering that the appeal of a case (or lack thereof) is so dependent on personal taste. But the one thing we can evaluate objectively is protection, and there's no case more protective—against both accidents and the elements—than OtterBox's OtterBox for iPod . Each airtight OtterBox envelops your iPod in a waterproof (to 1 meter) case that also provides significant protection against drops, dings, dirt, and dust. Even the headphone jack is sealed off—the case itself plugs into your iPod's headphone jack, and you then plug your headphones into the OtterBox. A thick membrane allows you to use your iPod's Click Wheel (or your shuffle's buttons) through the case. This is the case we use when venturing into environments unforgiving to electronics. (A version for the iPod with video will be available in February 2006.)
Best way to protect your iPod nano/video from scratches
Crystal Film Cover Set: $15 – $16; Power Support
Regardless of which screen-bearing iPod you own—the full-sized iPod with video or the allegedly-prone-to-scratching nano—it pays to protect your iPod from errant smudges and marks. You could stick your player inside a bulky case, but if you prefer to see your iPod's svelte form, the best way to protect it is with Power Support's Crystal Film Cover Set . Each set includes three scratch-resistant, transparent films that cover the iPod's back, front, and click wheel. The sheets are held in place by—as the company describes it—"newly developed, static cling polymer plastic" which leaves behind no residue when you remove the film. Best of all, if you have the steady hands to apply a Film Set straight, it's nearly invisible—yet it keeps your new iPod's shiny surfaces looking as clean as the day you opened the box.
Best accessory for iPod mini
mini fm: $40; DLO
We're sure that your iPod is filled with better music—at least as far as your tastes go—than any radio station, but sometimes you just want to hear something different. Thus, many an iPod owner's wish list has "FM radio" near the top. (Another reason? The iPod is also a popular workout companion, and many gyms broadcast their TV audio over FM frequencies.) If you've got an iPod mini, you're in luck: DLO's mini fm fits perfectly on top of your iPod mini and provides an FM tuner with a backlit digital display and both manual and "scan" tuning. The mini fm gets its power from your iPod, but it works even when your iPod is in sleep mode; just press the power button to toggle between iPod and FM. The mini fm is the coolest mini accessory we've seen in a while. (Yes, we realize that Apple has discontinued the iPod mini. But given that it was the best-selling iPod ever, there are quite a few minis still out there. We've still got some love for the mini.)
Best iPod/car integration
Drive+Play: $200 (plus possible installation costs); Harman Kardon
Harman Kardon's Drive+Play addresses two issues common to using an iPod in your car: sound quality and safety. Because the Drive+Play hooks up directly to your existing stereo system, the quality of what you hear is comparable to what you get when listening to a CD—in other words, as good as the music on it—and there's no FM-transmitter-like fidgeting to get the system to sound good. And thanks to its dash-mounted LCD screen—which mimics your iPods own menus—and the familiar Click Wheel-like controller knob, you can easily control playback while keeping your eyes on the road.
Best FM transmitter for the car
Digital FM Transmitter/Auto Charger for iPod: $60; Kensington
Because FM transmitters usually suffer from interference and reception issues, we generally recommend them as something to try only after exhausting the alternatives. But Kensington's descriptively named Digital FM Transmitter/Auto Charger for iPod ( DFT for short) stands out as a rare gem in this category. You connect your iPod to the DFT via a single dock connector cable, which sends power to the iPod while grabbing the dock connector's higher-quality audio signal. You then choose the FM "broadcast" frequency via up/down tuning buttons. (You also get three frequency presets, which come in handy if you have to switch between stations over the course of your commute.) Audio quality and signal strength are significantly better than that of the other FM transmitters we've tested, and we like the DFT's compact size. For dockable iPods, FM transmitters don't get much better than this.
Best compact FM transmitter
iTrip LCD (remote-jack version): $40; Griffin Technology
Compact FM transmitters for the iPod are usually a study in compromise. They have to be small enough to be portable, yet when they're reduced to a portable size they can be both difficult to navigate and lack the power necessary to adequately do their job. Griffin Technology has come up with an inspired compromise with its iTrip LCD ( review ). This transmitter bears a large LCD and control wheel that make it easy to zero in on the desired frequency. Plus, it includes a DX mode that, while reducing output to a mono signal, gooses that output to overcome the kind of interference that other transmitters allow to slip through. (Note that this version of the iTrip requires an iPod—3G, 4G, or iPod mini—with a remote jack on top. We haven't tested Griffin's new dock-connector iTrip extensively enough to issue a final judgment, though we can say that its toggle-switch control for changing channels is not as easy to use as the remote-jack version's large control wheel.)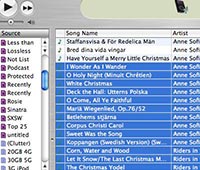 Best way to get your music from your iPod to your computer (Mac)
Senuti 0.2.9: free; Whitney Young
If you're like most new iPod owners, scant seconds after you learn how to navigate through the iPod's menus and how to move music onto the device, you begin to ponder the possibilities of reversing the flow of information between iTunes and the iPod—copying music from your portable player to your computer. (A necessary task should your hard drive crash.) If you're a Mac user, look no further than the utility with the iTunes name in reverse: Whitney Young's Senuti . Senuti impresses us not only because it's free, but because we appreciate its iTunes-like interface and we like the fact that with it you can move not only your entire music library to your Mac, but selected tracks and playlists, as well.
Best way to get your music from your iPod to your computer (Windows)
SharePod 1.8.7: free; Jeff Harris
Those who create iPod-to-computer copying tools (such as Senuti, above) generally justify the existence of these utilities by suggesting that they be used when your hard drive crashes and you need to recover your music library from an iPod. Jeff Harris adopts no such coy pose when explaining the genesis of his free Windows program, SharePod . He writes, "I had gone round to a friends house and found I couldn't share my music without installing an iPod management program that my friend didn't want on his computer." From this desire to "share" his music he created this music copying utility that runs directly from a Windows-formatted iPod—no need for the recipient computer to have a copy of iTunes or SharePod. Regardless of his motives, Jeff has created a truly practical utility that can be used to copy songs, playlists, or your entire Library to your PC. SharePod can also be used to share an iPod's music across a network—a feature certainly not supported by Apple, but useful nonetheless.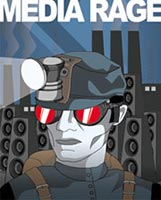 Best iTunes add-on for Mac
Media Rage 2.2: $30; Chaotic Software
Earlier this year, a Playlist contributor consolidated all of his digital music from various computers, MP3 players, external disks and CD-Rs onto one external hard drive. After doing so, he decided he wanted to start fresh and fix all those poorly and incorrectly entered ID3 tags that had been driving him crazy for so long. With over 35GB of data, that sounded like a monumental task, but one that was handled admirably by Chaotic Software's Media Rage , which makes organizing and editing your digital music collection—including MP3, FLAC, AAC, and Ogg Vorbis files—a snap. You can edit files individually, or batch editing features allow you to make changes to ID3 tags (for example, changing all your "alternative" genre listings to "indie"); add album art and lyrics; and perform other edits to hundreds of files at a time. The aforementioned consolidation project was enough for our writer to argue convincingly that for anyone with a massive collection of digital music, Media Rage is a must-have management tool.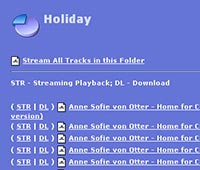 Best iTunes add-on for windows
Anapod Explorer 8.9.5a: $20 – $30; Red Chair Software
Those who think iTunes is the end-all-be-all iPod application for Windows PCs may want to take a look at Red Chair Software's Anapod Explorer . Although iTunes is easy to use and offers a load of features, it won't copy your iTunes library to your PC, allow you to browse your iPod via Windows Explorer, or let you browse that same iPod through a web browser across the Internet. Anapod Explorer will—and more. The program—available in a $20 edition for the iPod shuffle, a $25 edition for other individual iPod models, and $30 for a version that works with any iPod—also includes advanced searching and sorting capabilities. You can even alter ID3 tag information on files resident on the iPod—no need to copy the files to your PC first.
Best way to get commercial DVDs onto your iPod (Mac)
HandBrake 0.7.0 : free; Eric Petit and Laurent Aimar
Who, six months ago, would have thought we'd even have an award for Best Way to Get Commercial DVDs onto Your iPod? But these are the kinds of changes wrought by Apple's 5G iPod with video. If you have a 5G iPod and want to use it to watch commercial video other than what's offered by the iTunes Music Store, you need to grab a copy of HandBrake . This free, open-source utility can not only strip copy protection from your favorite DVD, it can then convert the resulting movie to a format compatible with your iPod. (The speed of the conversion process is determined by your hardware—on a dual-G5 the process takes less than an hour.) Note that those who support the U.S. Digital Millennium Copyright Act (DMCA) will raise an eyebrow at the notion of mucking with a movie's copy-protection, but that's between you, your conscience, and the courts. As for us, we find HandBrake to be a must-have utility for converting the DVDs we own.
Best way to get your own movies onto your iPod (Mac)
Podner 1.1.2: $10; Splasm Software
When Apple released an iPod that could play video, one question on everyone's mind was how to create content to watch on it—how to convert existing video to a format compatible with the iPod. Apple's $30 QuickTime Pro can do the trick (via its Export For iPod command), but it's slower than molasses. Splasm Software's Podner has become our preferred method for $20 less. Podner works with QuickTime, so any movie you can open in QuickTime Player (including DivX video if you have the correct codec installed) can be converted by Podner to an iPod-compatible format. It handles the tricky demuxing of MPEG files with aplomb, includes a handy batch-processor, offers encoding and quality choices, and even lets you tag your file with a genre. When the conversion process is finished, Podner sends your movies right to iTunes. No other utility we've found makes it so easy to convert video on your Mac to watch on your iPod.
For more information on iPod products and accessories, check out the Playlist Product Guide.