With family scattered across the globe, I'm a big believer in Internet shopping, but this holiday season I won't be spending all my money at Amazon.com. For me, this is the year of photo gifts.
In the January 2006 of Macworld , we ordered and evaluated a bunch of great photo gifts for our Digital Photography Help Desk feature. I was lucky enough to be the test subject for a number of those. (Yes, that's my cute baby on the diaper bag and bib.) One of the things we discovered is that you really have to look around, as the different photo service sites offer totally different options.
For instance, if you want a custom calendar, only one site that I found—Kodak's EasyShare Gallery —lets you do much more than have a single image per month. I liked Kodak's colorful designs a lot and appreciated being able to use up to four images per page, as well as add captions. Surprisingly, I didn't find any sites that let you add custom holidays (your sister and brothers' birthdays, for instance). (Please let me know if you have found such a site in the Comments section!)
If you want to give your relatives photo mugs, I found only two services that let you add captions. (I was determined to give custom mugs that said: "Good morning, Uncle Cam!" and "Wake up, Grandaddy!") Walmart's Photo Center didn't score well for image quality in our last photo service shoot-out, but if you're in a hurry you can pick up your mugs from any local Walmart—a big plus. I must warn you, though, half of my Walmart order was mysteriously canceled. Luckily I'd included gift cards so I could figure out which mug was missing. But, in the end, I canceled the other half and reordered from a different service. (Yes, it does pay to order your gifts early!)
If you really want to get creative, try Shutterfly. The site lets you pick your mug's caption style from a wide selection of colorful font and border designs (as shown below). Or, you can pick from pre-made borders for birthdays, thank you, babies, holidays and more. (One drawback: if you're sending presents to far-flung relatives: unlike Walmart, Shutterfly won't gift-wrap your mugs.)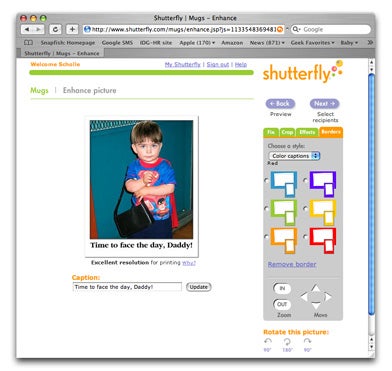 All the sites offer a great selection of holiday photo cards, so it's worth checking around to find the one you like best. I was impressed by how inexpensive these were. I bought 40 custom cards from Snapfish.com for $25, including shipping. (Granted, I'd received a $4.75 discount coupon through the mail.) That's at least half what I spend on standard holidays cards when I buy them at a stationary shop. And I love the retro charm ! Our cards arrived fast too—only two days after I ordered them on Thanksgiving day.
There's a whole world of photo gifts now—t-shirts, coasters, playing cards, napkin holders, mouse pads, ornaments, and even the photo necktie. But now is the time to order if you want to give your family members custom gifts for Christmas—some sites have a deadline of December 10 for free shipping or for guaranteed delivery by December 24.