The last few years have seen highly elevated levels of unexpected deaths of those around us. Preparations people might once have made as they aged or contracted a disease that took some time to strike the fatal blow are gone in a moment. Survivors are left with loss and the material remains of that person's life, including their hardware.
The saddest thing I have to tell people who write in after someone close to them has passed away is that they can't access the stored photos, letters, and other parts of a person's life. In some cases, of course, people wish their life's digital record to end with them. Most of the time, it's an accident, due to a lack of planning or knowledge.
Apple offers a way to gain access to most of the material someone has stored in an iCloud account through its Digital Legacy program introduced two years ago. If you want to take the steps now to preserve access to your iCloud-stored information –or help a loved one or colleague take the steps–read How to set up a Legacy Contact for your iCloud account.
Digital Legacy won't help recover device access, though: Apple can't recover passcode for iPhones or iPads, nor account passwords for macOS. Someone has to choose to leave that information behind.
However, if you've inherited hardware that had Find My enabled and thus Activation Lock turned on, Digital Legacy can be used to remove Activation Lock. You will need a copy of the death certificate and an official document from a court that states you're the legal personal representative of the deceased person. (The process varies if that person was a minor in their country.) You may have to provide other documentation, too.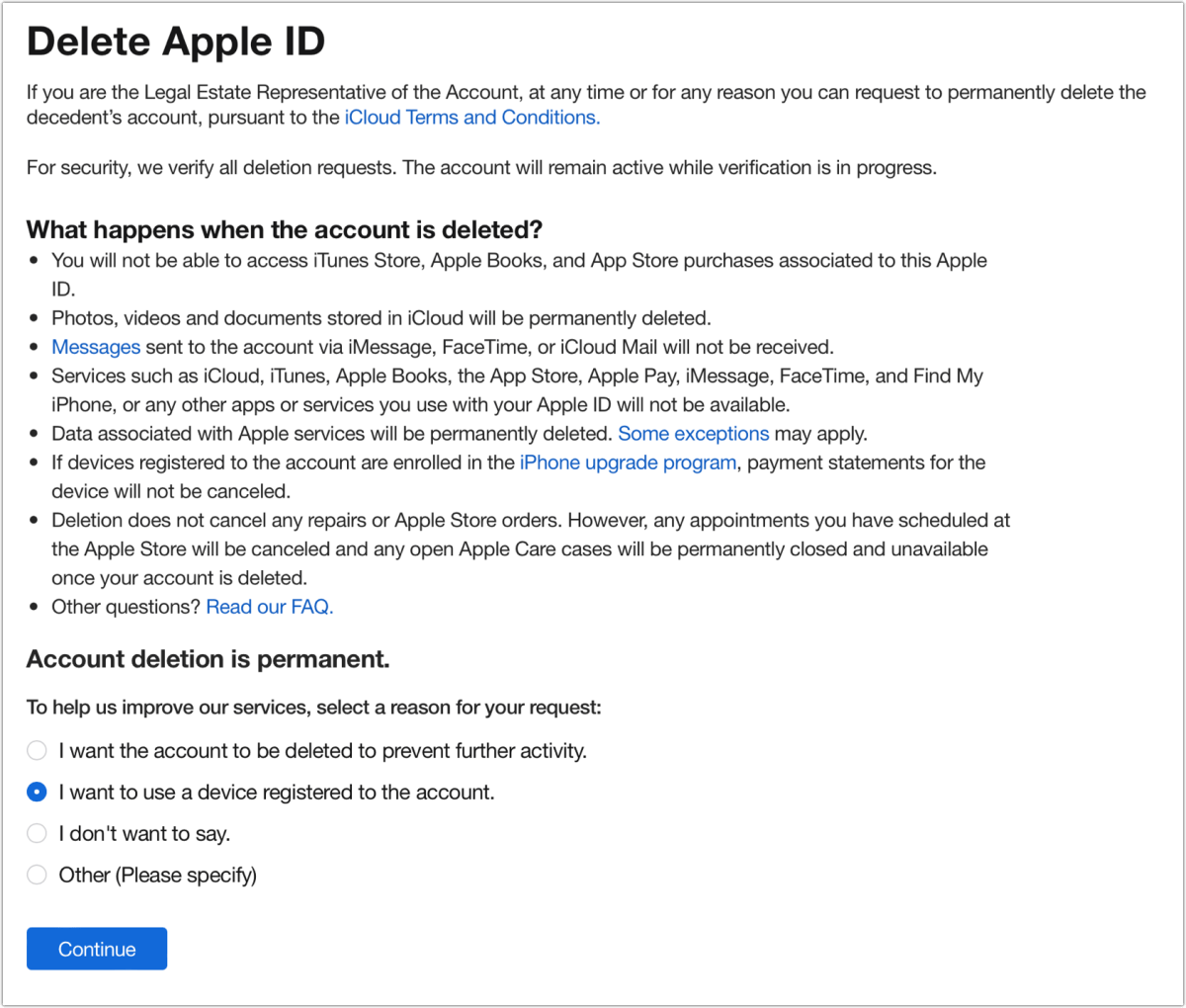 A strong warning here: If you proceed, Apple erases the person's Apple ID account and all associated data in order to process removing device Activation Locks. An additional warning: All information on all the devices will also be erased. Make sure that's what you want to do.
These are the steps:
Start at the Digital Legacy site.
Click "I don't have an access key."
Apple notes in a dialog box, "If you don't have an access key, you can still request to remove the Activation lock on a decedent's device. Before you can use their device, you will need to permanently delete their account." Click "Request account deletion."
Sign in with your own Apple ID account. (This feels terrifying, as if you're about to delete your own online identity.)
Select "I want to use a device registered to the account" and click Continue.
Apple provides a list of all the things that will be permanently deleted (all stored data), unavailable (all purchased media), and disabled (Activation Lock on associated devices). Agree to the terms and click Continue.
Enter the Apple ID of the deceased person and click the forward arrow.
Choose the country the person's Apple ID was registered in.
Apple provides directions on the documents required. If you don't have them, you don't have to start over: you can click "No, please email me" and then return when you have the documents in hand. If you already have the paperwork, click Yes.
The final page prompts you to fill in information about the late person and upload documents. Click Send when complete.
Once approved, Apple will notify you through the email address associated with the Apple ID from which you logged in to start the process. At that point, the next time any of that late person's devices are powered on and connect to the internet, each device will erase itself and present itself as ready to be set up from scratch.
This Mac 911 article is in response to a question submitted by Macworld reader Beverly.
Ask Mac 911
We've compiled a list of the questions we get asked most frequently, along with answers and links to columns: read our super FAQ to see if your question is covered. If not, we're always looking for new problems to solve! Email yours to mac911@macworld.com, including screen captures as appropriate and whether you want your full name used. Not every question will be answered, we don't reply to email, and we cannot provide direct troubleshooting advice.