Professional photographers need more than just state-of-the-art darkrooms. They also need reliable filing systems for storing and managing thousands of photos; fast, efficient ways to cull the best shots from each photo shoot; and tools for presenting their final works to clients.
Apple's Aperture 1.0, which is based on Apple's Core Image technology, is designed to meet these needs while also providing basic retouching and color-correction features. Aperture represents Apple's entry into the professional imaging market, and it's been a raucous debut. Online forums are crackling with cheers for Aperture's stylish user interface and powerful photo-management features, and with jeers for some shortcomings and performance problems.
A full review of Aperture will appear shortly. In the meantime, here's a first look at what this ambitious program can and can't do.
Stylish look
Aperture's interface has a futuristic sheen that makes other imaging programs look old-fashioned by comparison. An on-screen magnifying Loupe tool lets you scrutinize portions of an image. Various panels slide in and out with characteristic Mac OS X flair. The screen elegantly fades when you switch between full-screen and standard viewing modes. Despite all that eye candy, Aperture's interface is clean and uncluttered, dressed in muted grey tones that don't distract your eyes from the real stars of the show: your photographs.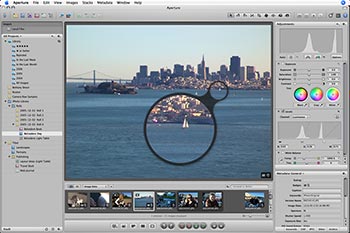 A magnifying Loupe tool, which is modeled after the real thing, gives you an up-close view of various parts of your image. (Click image to open full screenshot)
Aperture makes extensive use of floating panels that Apple calls heads-up displays, or HUDs, a term it borrowed from military aviation. It's odd that Apple, a company that prides itself on simplifying personal computing, decided to adopt this acronym for such a common user interface element. (I can't help but think of the U.S. Department of Housing and Urban Development every time I see HUD printed in Aperture's manual, but maybe that's just me.)
Aperture's workspace isn't as malleable as that of Adobe's Photoshop CS2 ( ; August 2005 ) or Apple's own Final Cut Pro ( ; October 2005 ), and DVD Studio Pro ( ; October 2005 ). You can't, for example, save and recall your own window and HUD layouts. However, Aperture does provide several different workspace layouts that you can switch between by clicking buttons or pressing keyboard shortcuts. And speaking of keyboard shortcuts, they are plentiful throughout Aperture, though there are some glaring omissions that I'll cover later.
Importing and selecting
At its core, Aperture is a database program that stores photos. Indeed, one of Apple's primary goals with Aperture is to provide photographers with a more efficient and more manageable alternative to simply stashing photos in folders.
Like Apple's iPhoto, Aperture stores your photographs in a central library. You can switch between libraries, but you must quit and relaunch the program to do so—a limitation that seems archaic for such a flashy program.
Aperture makes extensive use of floating panels called heads-up displays, or HUDs. The Query HUD gives you various combinations of criteria by which you can search for the exact image you want. (Click image to open full screenshot)
You can import photos into Aperture by transferring them directly from a camera or media reader; by dragging and dropping them from the Finder or another program; or by using Aperture's Import command. When importing photos from a camera or media card, you can select specific images rather than having to import all of them.
Aperture provides a built-in backup feature that enables you to store a copy of your library in what Apple calls a vault . Typically, you'll create a vault on an external FireWire hard drive. Thereafter, you can back up the photo library by clicking a button.
Photographers often take numerous versions of each shot, and after a photo shoot, they examine each shot and cull the best ones, the selects . Aperture has several outstanding features to help manage this process. For starters, you can organize related shots—for example, all the photos of a bride and groom at the alter—into stacks for quick review and organization. Imagine piling several related prints on top of each other: that's Aperture's stacking concept.
Better yet is Aperture's Auto Stack feature, which stacks photos based on their time-stamp or exposure setting. By using the Auto-Stack Images HUD, you can tell Aperture to create a stack of all photos taken within, say, 15 seconds of each other. Aperture can also automatically stack bracketed photos (ones taken with slightly different exposure settings).
After creating stacks of photos, you can "close" them so that only one shot, called the pick , appears on top of the stack. You can then drag stacks around in Aperture's browser or place them on an on-screen light table for further examination. You can create multiple light tables and toss photos around as you like-ideal for photo editors experimenting with print layouts.
Aperture also lets you rate photos by assigning between one and five stars—much as you can rate songs in iTunes or photos in iPhoto or in Adobe's Bridge. After rating photos, you can use on-screen buttons or create smart albums to display only the cream of the crop.
You can also assign descriptive keywords, such as bridal dance , to photos. After rating photos and assigning keywords, you can use a variety of powerful query tools to locate specific shots.
Real-time raw
Aperture can store all common image formats, including the raw-format files created by numerous high-end digital cameras. Unlike Adobe Photoshop, Aperture enables you to work with (i.e. retouch, straighten, crop, perform adjustments on) raw images without having to convert them first: a huge time-saver and a significant innovation.
That's the good news. The bad news is that Aperture doesn't appear to do as good a job of interpreting raw format images as Adobe's Camera Raw software (included with Photoshop CS2), and it does not support as many camera brands' raw formats. I'll cover this in more detail in the formal review of Aperture.
Whether you're working with raw-format images, JPEGs, or other formats, the variety of adjustments Aperture provides is extremely limited compared to Photoshop CS2. Aperture's Adjustments HUD provides basic tonal controls: a histogram and levels adjustments; brightness and contrast sliders; and an exposure slider. There's also a red-eye-removal feature; rudimentary sharpening and noise-reduction filters; an excellent shadow- and highlight-recovery control; cropping and straightening controls; a monochrome channel mixer for converting from color to black and white; and color-balance controls.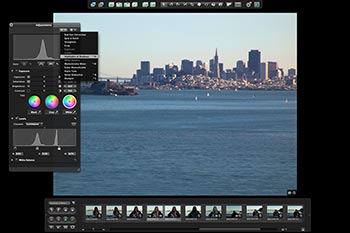 Aperture's full-screen mode is ideal for making adjustments to your images. Just press the F key, and the current image fills the screen. (Click image to open full screenshot)
Unfortunately, unlike the dialog boxes in Photoshop, Aperture's Adjustments HUD doesn't provide keyboard controls for fine-tuning settings. That means a lot of arduous mousing and wrist fatigue.
Aperture also provides basic retouching tools that are loosely similar to Photoshop's Healing Brush and Clone Stamp tools. But for more advanced adjustments—for example, darkening part of an image without affecting the others, or using alpha channels and masks—you'll need to turn to Photoshop. You can set up Aperture to hand photos off to Photoshop for advanced editing and retouching, but there are potential workflow complications that I'll explore in the upcoming review.
Aperture never applies adjustments or retouching to your original image. Instead, the program records the adjustments you've made and displays them as you view the image. That's a mixed blessing. On the plus side, it means your original master image is never altered. You can easily create multiple versions of an image without having to duplicate it (and use huge amounts of disk space). And you can experiment with different settings by simply checking or unchecking the box next to a given adjustment.
On the downside, if you've applied several adjustments, Aperture's performance can slow to a crawl. On a slower Mac, such as a PowerBook G4, I often found myself turning off some adjustments in order to perform others at a reasonable speed. There's no question: Aperture demands a fast Mac.
Aperture provides a full-screen mode that's ideal for making adjustments. Simply press the F key, and Aperture fills the screen with the current image. You can perform nearly any task in full-screen mode by displaying the appropriate HUD. If you have multiple displays connected to your Mac, you can configure Aperture to display its primary interface on one display and a full-screen version of the selected image on the other.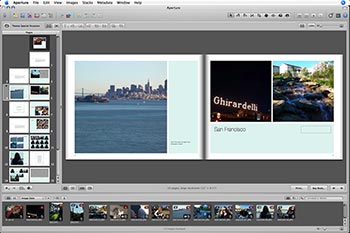 Aperture features striking book designs, and gives you much more layout control than iPhoto. (Click image to open full screenshot)
Presentation and automation
When you've finished refining a set of photos, you can use Aperture's Web-publishing features to create attractive Web galleries that you can upload to a Web server or burn to a CD.
Better still, you can create hardcover and softcover books much like those available through iPhoto. Aperture provides numerous beautiful book designs, and gives you far more layout control than iPhoto provides.
You can also order photographic prints through Aperture, and you can print multi-photo contact sheets as well as single photos on your own printer.
Aperture also supports Mac OS X 10.4 (Tiger) Automator technology—something I'd like to see in the rest of Apple's professional applications. Several Aperture workflows are included with the program.
One to watch
Aperture brings many breakthroughs to the professional imaging market—powerful filing and searching features, non-destructive editing, conversion-free raw-format processing—and wraps them into an engaging and elegant yet unobtrusive user interface. But Aperture 1.0 is exactly that—the initial release of a major new application. There are some performance problems in this release, and reports of various bugs and glitches. (I'll cover this topic in more depth in our formal review.) Aperture 1.0 may have some wrinkles that need ironing, but the program also has flashes of brilliance that hint at a bright future.
[Macworld Contributing Editor Jim Heid is the author of The Macintosh iLife '05 (Peachpit Press/Avondale Media, 2005) and its companion Web site. ]