Apple's Preview application works perfectly fine for viewing PDFs, but many people still prefer to use Adobe's free Reader 7 application—some people work in all-Adobe shops, while others just prefer Adobe's interface and feature set to that of Preview. But the application also takes much longer to load than Preview and uses a relatively large amount of RAM—over 30MB of real RAM in its stock configuration on my machine, and that's without even opening a PDF. Here are two ways to greatly improve Reader's startup time and reduce how much RAM it consumes.
The Brute Force Method When you launch Reader, simply hold down the Shift key. Doing so will disable all plug-ins for the current session. You'll find that Reader loads very quickly, but also has quite-limited functionality—you won't be able to click hyperlinks or search a PDF, for instance. Reader will return to normal the next time you launch it without the Shift key held down.
The Selective Method Instead of disabling all plug-ins, you can selectively and permanently disable those that you don't need. Make sure Reader isn't running, then open your Applications folder and click on the Adobe Reader 7 folder (this trick should also work for previous versions of the program). Within that folder, click on Adobe Reader 7 and then go to File: Get Info, or just hit Command-I. In the Info window that opens, look for the Plug-ins section—click the gray triangle next to Plug-ins to make this section visible, if necessary. It should look like this (note that I cut out a huge swath of this very tall screen capture):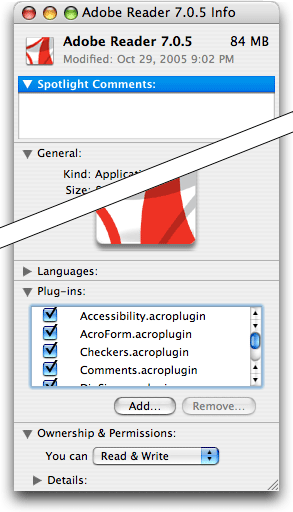 Now start disabling each plug-in—just click the box to remove the checkmark. You can fairly safely disable every plug-in except for the following four:
WebLink.acroplugin
ImageViewer.acroplugin
EScript.acroplugin
Search.acroplugin
Leave these four enabled so you can click on links, see slideshows, and search within PDFs.
That's all you need to do. Close the Info window, and then launch Reader. When I look at the real memory usage using OS X's Activity Monitor (/Applications/Utilities), Reader now takes only 15MB, instead of its previous 30MB. And Reader launches quite quickly now, too. Unless you're viewing some really advanced PDFs, you shouldn't find any decrease in functionality.
If you do, though, just go back to the application's Get Info box, and try re-enabling other plug-ins until you restore the lost features. It may take some experimentation to find the exact set of plug-ins you need, but Reader can help. Make sure all plug-ins are enabled in the Get Info window, launch Reader, then choose Adobe Reader: About Adobe Plug-ins from the menu. This will open a window showing each extension's purpose, as well as listing other extensions that are somehow required to use the selected plug-in, as seen here:
If you work with forms or comments, for instance, you'll need to reactivate AcroForm, Comments, and EFS. Note that the filename is the name shown on the right side of the window, not the item name in the left side column's list.