If you buy the hype, the new iMac G5 is more than just a computer. Thanks to the addition of the Apple Remote and Front Row, it's a stand-alone multimedia center that can play music and commercial DVDs in lush 5.1 surround sound (as long as you've got the right speakers, cable, and adapter), and project your iPhoto albums as slick slide shows.
But is there substance beneath that hype? To find out whether I could replace my television set, TiVo, home theater receiver, and 5.1 audio system (all controllable from the comfort of my couch) with a remote-controlled Mac-centric media center, I tricked out an iMac G5 with a select group of third-party peripherals and committed myself to using nothing but the iMac for all my media consumption for a week.
Details of my experiment follow, but I can safely say that while the iMac could serve as a dandy little second system, or as a starter setup for students or first-time apartment dwellers, my home AV gear won't be appearing on eBay anytime soon.
Naked came the iMac
Of course, the new iMac G5 isn't radically new. Out of the box, every Mac sold today could be the centerpiece of your multimedia life. This iMac's advantage is that it packs more of the components you need—a large monitor, a remote control, and stereo speakers—into one package. Plus, its audio-output port can accommodate both analog stereo and digital 5.1 audio—handy for connecting to an external speaker system—and its three USB 2.0 ports and two FireWire 400 ports let it connect to plenty of peripherals.
That said, for the purposes of my little experiment, the 17-inch iMac just would not do. Its screen is big enough for work, but for watching movies and slide shows from across a room, you need something bigger. So I opted for Apple's stock 2.1GHz iMac G5 with a 20-inch display ( ).
After I had unpacked the iMac and loaded it with pictures, music, and a few movies, I spent some time with it, to see how well it performed without peripherals. For the most part, it performed well. It couldn't do TV, of course, but DVDs and photo slide shows looked very nice. While its on-board audio didn't exactly rattle the rafters, the sound was far less tinny than I expected and perfectly adequate for movies and most tracks in my iTunes library, as long as I wasn't feeling too picky.
Front Row was another matter altogether. At first, I thought it was great eye candy. But as I used it, its limitations became more apparent. Sure, Front Row will let you navigate through your iTunes library and control a DVD you've popped into the SuperDrive. But on more than one occasion, the application responded so slowly to the remote that I found myself frantically pressing the remote's Menu button multiple times, thinking that the first try hadn't registered. And although the interface controls are iPod-like, moving from one menu to another was cumbersome. All in all, while Front Row is functional, it feels incomplete.
So when it comes to multimedia, the new iMac, unadorned, is not that different from the previous generation of iMacs—and its remote control and software underwhelmed me. But what would happen if I really tricked out the iMac, so it could show and record radio and TV shows, play commercial DVDs, and let me control everything from across the room?
Sound experience
My iMac makeover started with the audio system. As I say, the built-in speakers sound surprisingly good, considering that they're buried inside the computer's slim case. But while they're fine for watching old episodes of The Rocky and Bullwinkle Show , they just don't have the power you want when you're watching blockbuster movies that are longer on special effects than on plot.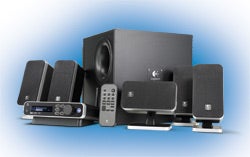 Logitech's Z-5450 Digital 5.1 Speaker System
To beef up the iMac's sound, I chose Logitech's $500 Z-5450 Digital 5.1 Speaker System . These speakers sound great (despite their small size); the rear speakers connect wirelessly to the control unit (you do have to plug each into an electrical outlet); and the system supports three digital inputs (two Toslink and one coaxial).
Once I had unpacked the speakers, I grabbed a spare Toslink cable, only to then utter a mew of disappointment when I realized that (unlike my Power Mac G5) the iMac had no Toslink connector. Worse, Apple doesn't even include a Toslink-to-minijack adapter in the box. Fortunately, I found that I had a spare Griffin Technology XpressCable ($20), which includes two such connectors.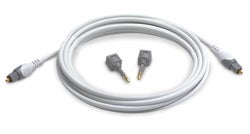 Griffin Technology's XpressCable
I plugged the speakers into the control unit and tethered the control unit to the iMac with the Toslink cable and adapter. The Output portion of the iMac's Sound preference pane then proudly displayed Digital Out as its chosen option. I pressed the Optical button on the Logitech remote control until the control unit showed Input Optical 1. Then I inserted the first disc of The Lord of the Rings: The Return of the King into the iMac's SuperDrive, waited for DVD Player to pop up, selected Play Movie, and fell back in wonder when glorious 5.1 sound filled the room.
Then, fearing I was disturbing the family, I tried to turn the volume down with the Apple Remote. No go. This remote (and the volume keys on the Apple keyboard) can't control the volume of the iMac's digital audio output. For the time being, that meant I needed two remotes to enjoy my DVD movies: the Apple Remote, for navigating DVD menus via Front Row, and the Logitech remote, for controlling the speakers.
While the speakers certainly gave the necessary oomph to my DVDs, they just couldn't match the sound of my tried-and-true B&W home stereo speakers when it came to music playback. Although you can adjust the levels of each speaker (adding and subtracting bass by changing the subwoofer setting), the small satellite speakers and subwoofer don't offer the same rich audio experience as a pair of well-balanced stereo speakers that contain full-size speaker cones.
Channeling television
Next, it was time to turn the iMac into a television and personal video recorder. For that, I chose Elgato's EyeTV 200 ( ). The unit, which is the size of a paperback book, accepts a TV signal from an antenna, a cable box, or a satellite receiver (via composite, S-Video, or antenna ports); encodes the signal as MPEG-2 or MPEG-4 video; and sends it to your Mac, over FireWire, for live viewing. Like a TiVo (and other video recorders), the EyeTV 200 lets you pause and replay live television, record programs for later viewing, schedule recordings, convert recordings for viewing on other devices (for instance, portable players such as Sony's PlayStation Portable and Apple's iPod with video), and change channels on compatible tuners.
That last feature was particularly important for me. I live in the cable-less boonies and have terrible antenna reception. Out here, it's satellite or nothing. Regrettably, in terms of channel changing and the EyeTV, that leaves me with nothing. Unlike Series2 TiVo models, which include infrared adapters that let you change channels on a cable or satellite receiver, the EyeTV can change channels only with antenna connections or cable connections that don't require a cable box.
But as I explored the EyeTV software and its interaction with my Dish 311 satellite receiver, things became a little less grim. The Dish 311 receiver's Timers function lets you create schedules that force the receiver to switch channels at times you choose. By coupling those schedules with programming calendars I created using the TitanTV online TV-scheduling service, I was able to create TiVo-like recordings. Granted, the process was clumsy: the Dish receiver is slow to accept the many button pushes necessary to create a schedule. However, all that toil eventually paid off in some successfully time-shifted programming.
Unfortunately, while DVDs look great on a computer monitor if you're close to it, the same can't be said for standard 640-by-480 television programming. At normal size, the television picture was fine but too small to be viewed from across the room. When I chose Enter Full Screen from EyeTV's View menu, I got the banding and streaking you always get when you view television images on a computer's high-resolution monitor. If you're looking for a clear picture, you shouldn't try to watch TV on your computer monitor.
Radio radio
Movies on DVD: check. Music: check. Television: check. The only thing left in my iMac-as-home-entertainment-center experiment was good old-fashioned radio.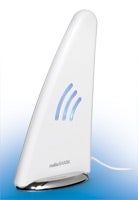 Griffin Technology's Radio Shark
To replace the radio built into my home stereo, I chose Griffin Technology's $70 Radio Shark , a radio tuner that connects to your Mac via USB. After installing the Radio Shark 2.0 software on the iMac, I plugged the unit into a free USB port, launched the program, and tuned in a couple of my favorite local stations. The Radio Shark's reception was about the same as what I get from the stereo receiver in my office: not terrible but not impressive. Adding a USB extension cable improved reception somewhat.
The Radio Shark software let me manually schedule radio broadcasts, but I wanted an experience similar to the one that TiVo provides: I wanted to sift through a program guide and create a schedule for unattended recordings of both local and Internet radio.
The solution was RadioTime, a Web-based service that lets you listen to more than 37,000 music and talk stations from around the world through a client (which, in turn, channels its music through Microsoft's Windows Media Player or RealNetworks' RealPlayer). If you're willing to shell out $39 a year, RadioTime will let you schedule and record those programs. (RadioTime also offers two package deals: For $59 a year, you get the RadioTime service plus an FM tuner; for $79, you get that plus the Radio Shark.) If you've attached a compatible radio receiver such as the Radio Shark to your computer, you can tune it through the RadioTime client and record its output.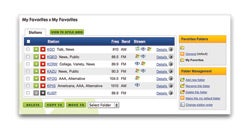 RadioTime lets you listen to more than 37,000 radio stations—and, for an extra fee, lets you record your favorite shows.
RadioTime worked as advertised on the iMac, grabbing scheduled audio both from the Radio Shark and from RadioTime's broadcast streams, and placing them in the automatically generated RadioTime playlist in iTunes. Unfortunately, the quality of the recordings is only as good as the Radio Shark's reception or the audio stream. To my ears, a local station with a strong signal played through a good home stereo sounds better, particularly when compared with recorded streams.
Gaining the upper hand
After adding all these peripherals, I was using a total of four remote controls: the Apple Remote for controlling the iMac iLife libraries, the Logitech remote for sound, the Dish satellite remote for tuning television channels, and the EyeTV remote for recording television channels. Enough already! That's why I added Belkin's $100 MediaPilot , a rechargeable wireless keyboard with a built-in pointer and scroll wheel, to my iMac setup. The MediaPilot's assignable media keys, located above the standard keyboard, can do things such as launching your Web browser and e-mail client, opening your Movies folder, and controlling tracks and volume in iTunes. In AV mode, the MediaPilot can also control home entertainment devices such as television sets, AV receivers, and DVD players.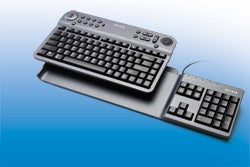 Belkin's MediaPilot
With its software installed and its internal batteries charged, the MediaPilot was able to control the iMac's basic functions just fine from across the room. But I wanted it to do more. I wanted it to launch Front Row, crank up the volume in DVD Player, race through an iPhoto slide show, pull up the TV guide on my Dish receiver, and—what the heck—flip open Safari so I could read the headlines from Google news.
I tried. And I got close. However, the MediaPilot couldn't do everything I wanted it to.
It managed the Mac-centric tasks with relative ease. I assigned Command-Esc (the key combination that opens Front Row) to the MediaPilot's Media key. With Front Row front and center, I could use the MediaPilot's arrow keys to navigate the menus. I also assigned the Command-Up arrow and Command-Down arrow key combinations—which control the volume in DVD Player, iTunes, and EyeTV—to the volume toggle switch on the MediaPilot.
The MediaPilot fared less well with the satellite receiver. Even though I'd configured the Belkin software to mimic my EchoStar remote, the MediaPilot could handle only a few of the commands that the EchoStar remote could. It allowed me to change channels by typing numbers or pressing the up or down arrow key. But it offered no keys that matched the first remote's Guide and Select buttons—vital functions when you're navigating hundreds of channels. You can "teach" the MediaPilot to mimic other remote controls—by pointing the original remote at the MediaPilot keyboard's infrared port and assigning one of the remote's buttons to a key on the keyboard. That's what I tried to do with those Guide and Select buttons. But the settings didn't always stick.
The MediaPilot performed better with the Logitech speakers. Unfortunately, the speakers' control unit responded more slowly to the MediaPilot than it did to its own remote. If this were my permanent media setup, rather than a job-related lark, I'd be happy to use the MediaPilot to control the Mac's applications, Front Row included. But I'd keep the Echostar and Logitech remotes on hand for watching TV or adjusting the speakers.
Couch-bound for glory
So can the iMac really serve as a home entertainment center? Not quite yet. This iMac—like almost any other Mac you can buy today—plays DVDs like a dream. When coupled with some great-sounding speakers, it provides a thoroughly satisfying movie-viewing experience.
Television is another matter altogether: the iMac's display, like all of today's computer LCDs, handles full-screen, standard-resolution television signals with something less than aplomb. And an iMac-EyeTV combination will pose no threat to TiVo as long as the EyeTV can't change channels on a satellite receiver or cable box.
With a strong radio signal, a service such as RadioTime has huge potential, since it provides an easy way to time-shift more programming than I could listen to in a dozen lifetimes. And while the whole mess would benefit greatly from a single full-featured universal remote control, neither Apple nor any third-party manufacturer currently provides one.
In short, the new iMac G5 is a perfectly wonderful computer, but it and its peripheral pals have more work to do before they're going to be able to muscle aside the AV gear in my living room. However, as a second, light-use media center for my office? Just add a couch, a small fridge, and a remote-control caddy, and I'd be happy to live with the iMac's limitations.
[ Senior Editor Christopher Breen is the author of Secrets of the iPod and iTunes , fifth edition (Peachpit Press, 2004), and The iPod and iTunes Pocket Guide (Peachpit Press, 2005). ]