At a Glance
Expert's Rating
Pros
Easy Mode is straightforward and gives excellent results
Advanced Mode provides a wealth of professional color-correction tools
Our Verdict
Everyone has photos that are underexposed, washed out, taken under strange lighting conditions, or have faded with time, and Adobe Photoshop ( , August 2005 ) has all the tools you need to fix any of these problems. However, if you're not willing or able to spend the hours necessary to understand, let alone master, Adobe Photoshop's color-correction tools, there are several plug-ins that can do the heavy lifting for you.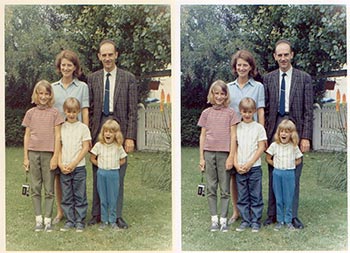 ColorWasher restored the original colors and contrast to this faded photo.
One of the best is The Plugin Site's ColorWasher 2. 0. Although it's aimed at professional photographers and advanced amateurs, its Easy Mode can provide major improvement for even the least experienced users. For example, you can simply click the Auto 1, Auto 2, or Auto 3 buttons to see different possible results and choose the result you like best. If that doesn't fix the image to your satisfaction, you can improve ColorWasher's ability to remove your photo's color cast by selecting and clicking an area in the photo that should be neutral, which often does the trick.
ColorWasher's Autodetect setting usually makes the correct choices. However, you can also override the program and make your own choices.
If your display isn't large enough to show both your original image and ColorWasher's preview window at the same time, you can split the preview horizontally or vertically to see the before and after images.
Advanced users can switch from Easy Mode to Advanced Mode by unchecking the Easy Mode checkbox. This enables a large number of manual controls, several additional Auto buttons, provides access to presets, and adds additional split-window options such as stripes and grids that display variations of exposure, hue, color cast, and color temperature. Most photos can be salvaged by combining those tools.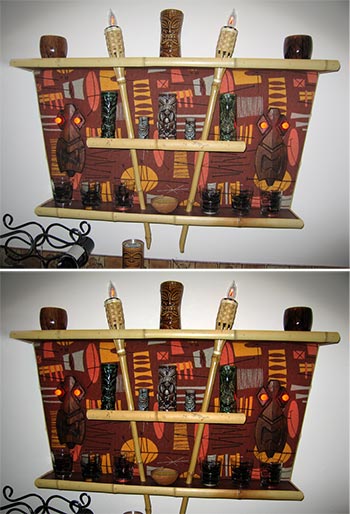 Bright lights washed out this photo, but ColorWasher restored its dramatic colors.
ColorWasher also includes several dozen presets, including three that adjust for fluorescent, halogen, or incandescent lighting conditions; several more that fix common color casts; and still others that provide artistic effects. You also can save your own presets—which are helpful for when you have many images taken under similar conditions and want to apply the same settings to each of them.
And it works with other programs besides Adobe Photoshop and Adobe Photoshop Elements ( , February 2005 ), including Macromedia's Fireworks 8 ( , January 2006 ), Adobe Illustrator CS2 ( , August 2005 ), ACD Systems' Canvas X ( , September 2005 ), and Corel Painter 9 ( , February 2005 ).
ColorWasher's HTML-based documentation explains every feature and gives helpful advice. Equally helpful are the brief explanations that appear in the lower right hand corner of the interface window as you mouse over each interface element. It's tremendously useful to be able to glance down at any time for instructions on how to use a feature.
Macworld's buying advice
If you take a lot of photos, or have a project that involves correcting faded or color-shifted photos, ColorWasher 2.0 will quickly pay for itself. Its Easy Mode provides instant results for inexperienced users and its Advanced Mode provides plenty of power for professionals.
[ Jay Nelson has been the editor and publisher of Design Tools Monthly for 13 years. ]