Editor's Note: The following article is an excerpt from Take Control of Podcasting on the Mac, a $10 electronic book available for download from TidBits Electronic Publishing. The book looks at picking appropriate hardware, editing and encoding podcasts, and promoting your finished podcast; this excerpt focuses on podcasting recording.
Recording a podcast is about capturing audio. You may record your voice, include a song, interview somebody over Skype or iChat, or play sound effects. No matter what the source of the sound, it has to be captured and recorded by software on your computer.
In this excerpt, I walk you through some software programs that I recommend using for audio capture: Audio Hijack Pro, GarageBand and Audacity. (In the "Record Your Podcast" chapter in my book, I also discuss SoundStudio. There are also tips on Soundflower, a shared audio space that makes all these other tools work better with multipe audio streams.)
Record with Audio Hijack Pro
Audio Hijack Pro enables you to manipulate complicated streams of audio on your computer. At its simplest, it can take the standard audio input and record it to a file. But has much greater capabilities: the program can take in audio from multiple sources, mix those tracks together, post-process the sound with any number of interesting (or scary) audio effects, and then encode the audio directly to an MP3 format file.
With Audio Hijack Pro, I can do lots of recording tasks—record interviews using Skype, play music, create voiceovers, and more. The application has never crashed on me, and switching applications while recording does not result in any dropouts or other weird problems.
Install program at first run
The first time you run Audio Hijack Pro, it suggests that you let it install three extras.
• Instant Hijack: This system utility allows Audio Hijack Pro to grab audio from any running program. Without installing Instant Hijack, Audio Hijack Pro needs to quit and re-launch a running program to hijack its sound. This gets in the way of setting up all your sound sources in advance.
( Warning : Instant Hijack relies on the Application Enhancer technology from Unsanity, which many believe can cause random software crashes. I have not had any troubles with crashes, but if you are concerned, don't install it. Instead, accept that you need to let Audio Hijack Pro launch each program when you hijack those programs' audio outputs.)
• Soundflower: You may or may not need Soundflower depending on the complexity of your podcasts. There is no harm in installing this extra; it may well come in handy.
• Schedule Helper: This utility makes scheduled recordings without Audio Hijack Pro already launched. Without it, you have to leave Audio Hijack Pro running all the time or set as a startup program (Launch System Preferences, open the Accounts preference pane, and use the Login Items tab). If you plan on scheduling recordings then you should install this extra. For instance, I use this feature to record CBC Radio's The Vinyl Cafe every Sunday at noon.
Set up Audio Hijack Pro
To set up Audio Hijack Pro for your podcast, launch the program, and then carry out the next steps:
At the bottom left, click the Plus button to start a new session. Name the session whatever you want. I put a 0 (zero) at the beginning of the stream name in the screenshot below to keep it sorted at the top of my list.
Click the Input tab (if you're not already viewing the Input pane). Set your audio input to your current microphone by selecting it from the Input Device pop-up menu. The screenshot shows the settings for my iMic USB from Griffin. You may be using line-in or even the built-in mic.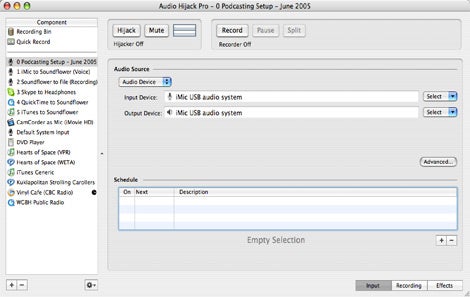 The input options for your podcast session in Audio Hijack Pro. Notice the buttons at the lower right, which you click to switch to panes where you set recording and effects preferences for the session selected at the left.
Set your audio output to your headphones by selecting an option from the Output Device pop-up menu. This lets you hear what you are recording. In the case of the above screenshot, the headphones are connected to an iMic USB.
Click the Recording tab. Choose the audio format you wish to use. If you are in doubt, stick with AIFF (auto) as shown in the screenshot below.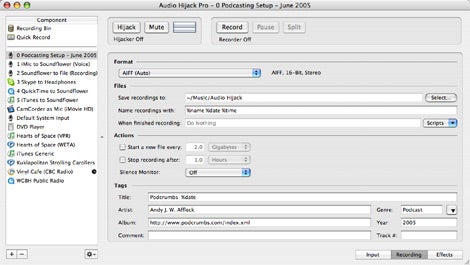 The Recording options for your podcast session in Audio Hijack Pro.
At the bottom of this pane, fill in values for your tags.
Click the Effects tab. This is the most complicated pane, but also the most fun. Here is where I have already added all the effects that I use to make myself sound better. I then mix in other audio sources and monitor the levels on my entire podcast. These audio effects are applied in real time rather than after recording is completed. The screenshot below shows how I set these set up.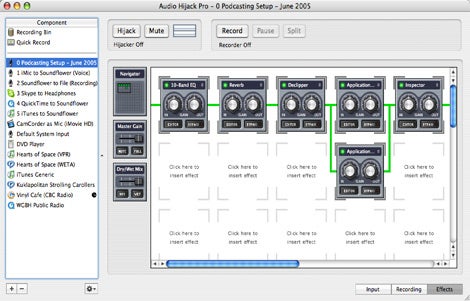 My effects are set up and ready to go with a full set of recommended effects for a podcast recording session.
You might wonder why I chose the particular set of effects shown in the above screenshot. Let me walk through the reasoning behind each effect and the values assigned to them (not visible in the figure):
10-Band EQ: I use this to tweak my voice and drop out some of the room noise (mainly the hiss from the central air system of my house). I also adjust the EQ settings so spoken "S" sounds are far less hissy; otherwise, it's annoying to listen to.
Reverb: I add just a touch of reverb so my voice doesn't sound quite so flat. You need only a little unless you want to sound like you record your podcast in a cathedral.
Declipper: This effect makes sure that no overly loud sounds make it through to your recording. It quiets the loudest sounds, which is a good idea as overly loud sounds badly distort your voice.
Application mixers: I mix sounds in from QuickTime Player and Skype. You can also mix in iChat AV and any other application from which you need to record sounds.
Inspector: This doesn't actually change your recorded sound but displays a window showing your current levels which helps you monitor output volume.
When all the input/output preferences are set, you are ready to record.
Make a podcast
Here's a window into how I make a podcast using Audio Hijack Pro.
Prepare all audio I open all audio clips I want to play in QuickTime Player (Pro or regular), even music files. I don't use iTunes because the window takes up much more room than a bunch of smaller QuickTime Player windows. I also don't have to worry about iTunes starting on the next song if I forget to stop it at the end of the one I was playing.
You can open iTunes music in QuickTime through these steps:
Find the song in iTunes.
Choose File: Show Sound File (or press Command-R, or Control-click the track and choose Show Sound File).
Drag the exposed file in the Finder onto the QuickTime Player's icon in the Dock.
Record the show Once everything is on my screen (pictured below) and ready to roll, I click Hijack at the top of the Audio Hijack Pro window, get my headphones on, and verify sound levels by performing a quick test: I click Record, talk for a few seconds, and click Record again to stop recording. I switch to the Recording Bin in the session list on the left side of the Audio Hijack Pro window, locate the most recent file, and click the Preview icon. If it all checks out, I throw that file away and return to my podcast session.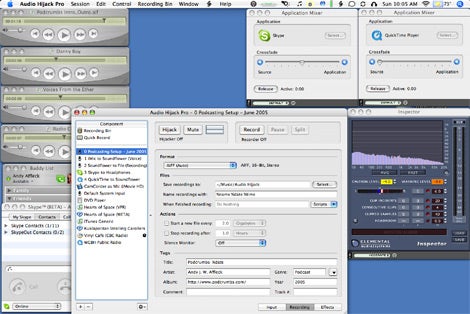 On the left of the screenshot are the QuickTime windows, one for each clip or song I plan to play. Below them at the bottom left are Skype and iChat windows in case I have any conversations with other people planned. In the middle is the main Audio Hijack Pro window. On the upper right are the Application Mixer windows for QuickTime and Skype. On the bottom-right is my Inspector window so I can monitor my audio levels.
Once you're ready to go, take a deep breath and begin. Here's a look at how I do my podcast recordings:
I click Record to start Audio Hijack Pro recording.
I say the podcast name and date.
I click Play on my intro music in its QuickTime Player window.
At a certain point in my intro music, I drop the volume using the slider on the Application Mixer window in Audio Hijack Pro for QuickTime and begin my standard intro.
I talk, and, when I need to play other audio files, I click play in the various QuickTime Player windows, adjusting volumes as needed.
I record my outtro, including the title of my show, my name and contact information, and the address of my website.
I stop the recording by clicking Record again.
From here, I move on to SoundStudio to trim. I usually need to clip just a touch off the front, because I tend to click record and then wait a second before I start talking. I save the final cut of my podcast and I'm ready to compress it and get it online!
Tip: To make your podcast more useful, announce the podcast name and date at the very start of your show before any intro music is played. This helps people who are using MP3 players that do not have screens (such as the iPod shuffle), and people who are not in a position to see their screen. Once listeners know the show title and date, they can decide whether or not they want to listen to it or skip to the next track on their device.
Record with GarageBand
Podcasting with GarageBand has its pros and cons. On the pro side, you sequence all the different parts of your podcast into separate tracks, which gives you fine-grained control over audio transitions and timing.
For example, when recording using Audio Hijack Pro, I constantly goof up the reduction in volume of the intro music when I begin speaking. My hand slips and I fade it much too quickly, or I don't fade it enough and it is too loud, drowning out my voice. I invariably have to either just let it go and leave it in, or go back and re-record it.
With GarageBand, I can adjust the volume of each track by hand and adjust the timing. Did I start speaking too late? I just move the track to the left to fix that. On the other hand, this is also a problem for podcasting with GarageBand as I lose most of the spontaneity of creating the podcast. I have to record each bit on its own and then manually sequence them together. I am far less likely to have that feeling of rawness that many value in podcasts.
Unlike Audio Hijack Pro, GarageBand can record only from a single sound input at a time. If you want to mix multiple sources of audio, you need to channel that audio into Soundflower and then have Audacity record the Soundflower space.
First, we set up a special instrument within GarageBand. Launch the program, create a new file, and follow these steps: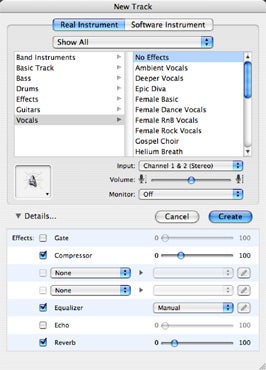 Choose Track: New Track. The dialog in the above screenshot appears.
Click the Real Instrument tab at the top.
Select Vocals from the left-hand list.
Select No Effects from the right-hand list.
Choose Channel 1 & 2 (Stereo) from the Input pop-up menu. I have a single mono microphone, but find no difference between choosing Channel 1 (mono) or the default stereo setting.
Choose Off from the Monitor pop-up menu. If this setting is turned on, you hear yourself through your headphones, which I find to cause more trouble than it is worth. (Never turn this on if you are not using headphones as you create a nasty feedback loop and create some awful noises.)
Open the Details expansion triangle to set additional options:
Gate: Leave unchecked. The Gate setting silences any noise below the value you set, which removes that constant hiss that appears on recordings outside of true sound-controlled recording booths. However, I find that it makes the hiss come when you talk and go when you are silent. It never sounds very good in practice.
Compressor: I set the Compressor slider about 1/3 from the left. This helps spread the sound coming in through the microphone across the entire range, giving your voice some dynamic lift and making it sound far less flat than it otherwise might. Play with this setting to see what works best for you.
Filters: I don't use either of these but I sure do like playing with them. They can be quite useful if you are going for special effects in your show.
Equalizer: I created a custom setting because I had a lot of trouble with the letter S, which sounded like a nasty hiss. Play with this setting until you like how you sound. Note: As soon you choose an Equalizer value other than Manual, you are prompted to create this instrument by providing a name under which it is listed. You can still make changes and save it again using the Save Instrument button that then appears.
Echo: Leave off. Unless you are announcing a Monster Trucks commercial, there's no need for an echo.
Reverb: A little reverb goes a long way. I set mine about 1/6 of the way from the left to give just a hint of depth to the space around me. Normal microphones in a normal room sound pretty flat. Adding a touch of reverb makes the voice seem more real and more like somebody is actually there speaking to you. Again, play with this setting to find a value that works for you.
To finish with Track Info, click Create.
A prompt appears, asking you to provide a name for this instrument. You can use any name that you like; I named mine "Podcasting Voice."
Now record your segments. With your voice instrument set up and metronome turned off (Command-U), click the Record button and start talking. If you don't like what you recorded, throw it away and start over.
Once you have all your vocal tracks completed, you are ready to edit your audio and mix in other track.
Record with Audacity
Audacity is a well-respected audio recording and editing program that has a strong following. It packs a lot of power and a large feature set and is up to virtually any editing task you may want to throw its way. On the negative side, though I haven't seen much of this behavior, I have heard many stories about Audacity crashing before saving audio.
Note: There has not been a new version of Audacity in nearly a year, which suggests that the project has stagnated. Most open-source projects with bugs or stability problems either improve through rapid releases or die. It is not clear which category Audacity fits into at this time. Given its popularity with podcasters, I would be surprised if it was a dead project; I think it's just resting.
Like GarageBand, Audacity uses a multi-track metaphor. Each track can contain different audio files that can be mixed together. You need to channel that audio into Soundflower and then have Audacity record the Soundflower space.
My Audacity settings for podcasting. I monitor through headphones (which I don't pass through the iMic to help reduce lag), I record through the iMic, and I only use a single (mono) channel, as I do not have a stereo microphone.
Follow these steps to configure and record audio with Audacity:
Choose Audacity: Preferences, and in the Audio I/O pane, set your input and output settings to match your configuration (see the above screenshot).
Start recording and speaking. The levels meter on the upper right let you know if you are talking too loudly or quietly. You may have to create several takes at first to get a feel for the right settings and volume in your own voice.
You can record additional spoken word tracks as needed and move all the different pieces around as suits your tastes.
Once you have all the pieces recorded, you can move on to editing.
[ By day, Andy Williams Affleck is a senior project manager and accessible Web design expert. By night he works on Take Control of Podcasting on the Mac ( TidBits Electronic Publishing, 2005) and produces his Podcrumbs podcast. ]