If the 40-minute wait for a cab at McCarran International Airport doesn't provide a broad enough hint, a gander at the number of people wandering the Las Vegas Strip with badges dangling round their necks should—Las Vegas' Consumer Electronics Show is massive.
Because of that unwieldy size, organizers set up showcase events to give the media a closer look at some of the more interesting products offered by major vendors. The first such event was Wednesday night's Digital Experience.
More than 100 vendors packed themselves into the Bellagio's Grand Ballroom to hawk their latest and greatest consumer wares. Included in that number were such recognizable companies as Epson, HP, Panasonic, Toshiba, Samsung, SanDisk, and Sony along with names familiar to many iPod users—Altec-Lansing, Belkin, DLO, M-Audio, and Sonos. Our tour around the floor revealed more than the martini bar and chocolate fountains.
Altec Lansing was on hand with a number of new products, the most interesting of which to iPod owners will be the new iM9 and iM11 mobile speaker systems.
The $200 inMotion iM9 (pictured below) is designed with outdoor living in mind. Splash- and shock-resistant, the speakers offer big sound (and a retractable dock) in a cool black package. Like previous inMotion speaker systems, the iM9s can run off AC or batteries. A backpack is included with the speakers.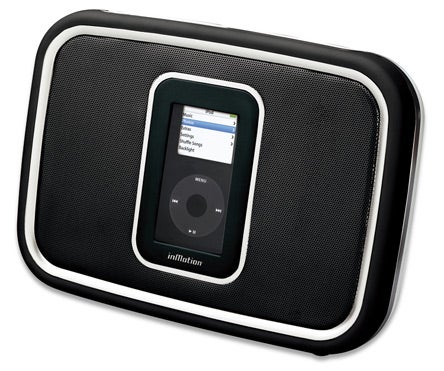 The $100 inMotion iM11 (below) is Altec Lansing's most affordable iPod portable speaker system. The unit we saw seemed solidly built and its output was respectable for an inexpensive speaker system. It, too, operates with either batteries or AC power, and includes an additional audio input.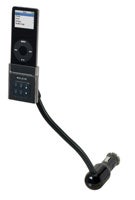 Belkin offered a peek at a number of new iPod products. First among them is the $80 TuneBase FM for iPod, an automobile charger/FM transmitter that mounts from your car's cigarette lighter port and allows you to store up to four stations. The TuneBase FM works with all dock connector iPods including the new fifth-generation iPod. The smaller TuneBase FM for iPod nano (pictured right) offers the same features. Both will ship in January.
Belkin also showed off its new $50 TuneFM for iPod and iPod nano (pictured left). This is a small FM transmitter that attaches to the iPod's dock connector and offers four station presets. Like Griffin Technology's iTrip for iPod nano before it, the TuneFM displays stations on the iPod's screen. The TuneFM for iPod nano will ship in January, and the TuneFM for iPod will ship in March.
iPod owners will also be interested in Belkin's $80 TuneCommand AV (pictured below), a small docking station that lets you watch and listen to your iPod through your home entertainment center while charging the iPod. The TuneCommand AV includes a wireless RF remote. The device will ship in April.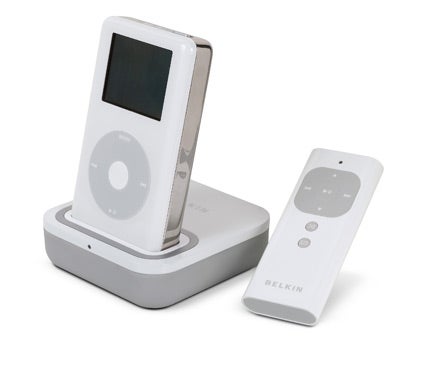 Belkin representatives hinted that they are close to unveiling a microphone attachment for 5G iPods that take advatage of that iPod's higher recording resolution. The adapter will include both a built-in microphone and a microphone port for connecting an external mic.
Podcasters seeking an all-in-one podcasting production studio may wish to explore M-Audio's new $300 Podcast Factory Deluxe. Included in the kit is a two-channel USB mic preamp (supporting phantom power), two of the company's Nova studio condenser microphones, XLR cables and desktop stands for each microphone, and a software CD that includes tools for recording, editing, and posting podcasts. Also included is an audio driver that allows you to easily record VoIP phone interviews through the software.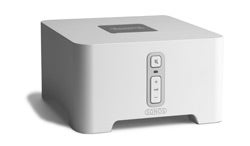 Sonos was also on hand, showing off its new $349 Sonos ZonePlayer ZP80. Like its larger sibling, the Sonos ZonePlayer ZP100, the ZP80 allows you to play music throughout your house by wirelessly ganging together multiple ZonePlayers and controlling them all through a single handheld wireless Sonos Controller. Unlike the original ZP100, the ZonePlayer ZP80 doesn't include an amplifier—you must attach it to an existing amplifier such as your home stereo, AV receiver, or table-top radio. As with the more expensive ZP100 you can use a variety of audio sources—an iPod, CD or DVD player, satellite radio.
Sonos also touted the addition of support for Audible.com and Apple Lossless files for all its systems. (FairPlay, Apple's digital rights management scheme for music purchased from the iTunes Music Store, remains unsupported.)
One other announcement that was music to our ears: TiVo repeated its assurance that its TiVoToGo service would be coming to the Macintosh in mid-2006. Claiming that the company had some difficulty working with QuickTime's implementation of MPEG-2, TiVo's engineers have made enough progress to have a demo of the system working on a Mac. We hope to see that demo before we leave Las Vegas.
Thursday night brings ShowStoppers, another vendor-packed event we hope will expose some of the cooler digital music products on display at CES. We'll let you know what we find.