The CES deathmarch began in earnest Thursday as attendees packed the many cavernous facilities that house America's largest consumer electronics show. While Apple's music player wasn't as buzz-worthy this year as last, there were plenty of iPod-related products in evidence—both on the show floor and at Thursday evening's ShowStoppers product showcase press event.
Stop 1: Kensington
The day began with a visit to the Kensington booth where the company showed off a number of products it announced last fall. Among them was the $100 Entertainment Dock 500. Similar to the company's Stereo Dock for iPod, this dock supports composite video output for the fifth-generation iPod as well as photo output from all color iPods. Unlike the earlier Stereo Dock, this one includes Apple's universal adapter and uses RF (radio frequency) rather than infrared (IR), providing control from up to 50 feet away. The remote control also includes controls for navigating through the iPod's menus. The Entertainment Dock 500 should ship in February or March.
Also on display were two FM transmitters that attach to the iPod's dock connector. The $50 Micro FM Transmitter for iPod is very basic, offering a small LCD for viewing station numbers but providing no way to store station presets. The $80 Digital FM Radio & FM Transmitter for iPod lets you store up to five stations and, as the name implies, includes an FM tuner. To listen to radio you plug your headphones into the bottom of the unit and tune it with buttons on the front. Both transmitters should ship in February.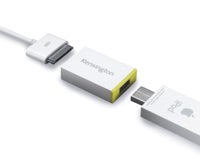 Finally, Kensington offered a peek at its $20 Accessory Adapter for iPod shuffle, a small adapter that sports a female USB connector on one end and a female dock connector port on the other. This adapter, due to ship in February, lets you play and charge your iPod shuffle with accessories designed for dock connector iPods.
Stop 2: TiVo
Enticed by TiVo's talk of a Mac-compatible version of TiVoToGo in mid-2006, I wanted a closer look at what it might look like. Showing off a development version of the utility, a TiVo representative was kind enough to provide more details about what the program for copying recorded TV programs to a computer will eventually bring to the Mac.
In its first release, content will be viewable on a Macintosh as an MPEG-2 file, but no facility will be provided for the user to convert video to a format compatible with a video-capable iPod ( those who have the wherewithal to do it on their own are welcome to). The company plans to follow up the initial release with an update that will allow users to automatically convert TiVo content to H.264 movies playable on a 5G iPod. MPEG-4 conversion with user configurability will later find its way into TiVoToGo. The company's first goal is to provide an automated, end-to-end solution for portable video.
Stop 3: Nyko
Accessory maker Nyko, hosted food, drink, and demos in its suite at the nearby Hilton. Of those products we can talk about, I saw the Speaker Dock 2 (right), an under-$100 portable speaker that looks similar to a "desk lamp" iMac. The Speaker Dock 2 can be powered by the included AC adapter or with four AA batteries. It also includes a line-in port for playing audio devices other than an iPod.
Nyko also showed another set of under-$100 speakers, the Sound Stage. Designed for the iPod nano, the portable Sound Stage includes a dock, two small speakers, a bass boost feature, and a small remote.
Like a number of other companies, Nyko is offering an FM transmitter (shown above) for the iPod nano that features a "sled" design—one where the nano slips into a plastic sled with the transmitter below. Offering five frequencies—88.1, 88.3, 88.5, 88.7, and 88.9—the FM Transmitter will ship in 30 days and cost $39.
Stop 4: Targus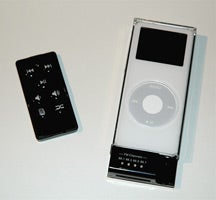 Targus continues to break out of the bag and case business and into the iPod accessory market with its $80 RemoteTunes TX for iPod nano (pictured right). The device acts not only as an RF remote control but also a 4-band FM transmitter. Unlike Targus' previous RemoteTunes (which was a rebranding of ABT's iJet), the RemoteTunes TX is a "sled" accessory that tucks the remote into a cubby on the back of the device. Targus also offered a glimpse of its $60 RemoteTunes for Dock Connector iPod, an RF remote.
Stop 5: ATO
My late-afternoon appointment with ATO was one of the more rewarding moments of the day. There I had some hands-on time with the company's $249 iSee 360, a slip-cover device that allows you to play and record audio and video from a variety of clickwheel iPods. Featuring a bright 3.6-inch color screen, the device essentially uses the iPod as a hard drive for storing its audio, picture, and video files. Videos and slideshows can be viewed either on the iSee's screen at a resolution of 320-by-240 or be output to a television at a resolution of 640-by-480.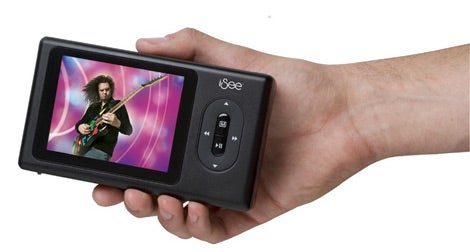 The iSee includes an attractive graphical user interface and controls similar to those found on the iPod. You can add content to the device via the iSee software (which will initially be compatible with Windows only) or by recording from an external source—an audio or video input—using the device's internal recording functions. The iSee includes proprietary interchangeable rechargeable batteries that can provide up to four hours of video on a single charge. The iSee is expected to ship in the first quarter of 2006 with a Mac-compatible version of the software to follow in the second quarter.
Stop 6: ShowStoppers
The day ended with ShowStoppers, another one of the CES show's product showcase for members of the press. Among the more than 100 vendors were a variety of companies exhibiting iPod gear.
Griffin Technology showed off a collection of new and really new accessories. Among the more interesting is the Tune View, a $99 IR remote control dock for 5G iPods. The device provides any number of ways to move video out of your iPod, including composite and S-Video as well as digital and Ethernet connectivity. Although I wasn't able to see it in operation, Griffin says that when connected to a television, the Tune View, unlike other iPod docks, will be able to display the iPod's music menus on the TV as well as the video programming current video-compatible docks can play.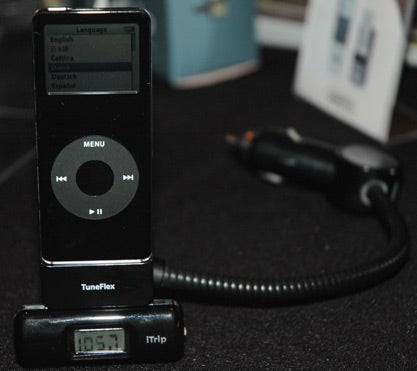 Griffin also plans to offer TuneFlex (shown above), a car charger that features a line out connector as well as a dock connector port for attaching additional accessories—a dock-connector FM transmitter such as the company's iTrip, for example. Also in the near-shipping stage is Smart Share, a $20 headphone splitter cable that offers separate volume controls for each pair of headphones.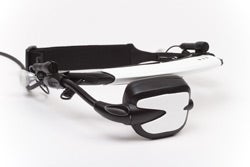 Also on hand was eMagin with its Eyebud 800, a monocular headset for viewing videos on portable video players such as the 5G iPod. Expected to be released in early summer and sell for at least $600, according to company representatives, the Eyebud 800 offers the experience of a 105-inch screen viewed from 12 feet away. The device offers a black shield to cloak the eye you're not viewing with (though this can be removed) and buttons for adjusting brightness as well as selecting between an NTSC and VGA signal.
Stop 7: To Bed
And more? Good lord, yes. More is exactly what CES is about. More gear, more hype, more walking, more, more, and a whole lot more… More to come.