The first impulse most photographers will have is to compare Adobe's just announced Lightroom to Aperture, Apple's pro level photo app. And well they should. We may have a real clash of the titans on our hands here.
Adobe promotes Lightroom as "the efficient new way for professional photographers to import, select, develop, and showcase large volumes of digital images." Unlike Photoshop —Adobe's image-editing application that must serve many masters, including graphic artists and Web designs—Lightroom is aimed squarely at photographers. That said, Photoshop complements Lightroom when there's a heavy image-editing task to handle. And Lightroom makes it easy to open a picture in Photoshop. Generally speaking, though, the tools in Photoshop that photographers need most of the time exist right within Lightroom.
Even at this early public beta stage, it's clear that Adobe has done its homework. Lightroom is powerful, intuitive, and tailored specifically for the serious shooter.
Moving pictures through the application
Lightroom's workflow—what Adobe calls its "garden path of tasks"—is organized into four modules: Library, Develop, Slideshow, and Print. Each module provides a work area with a set of tools.
The first module, Library, is designed for browsing your collections of images. At the same time, you can sort, rate, and organize images. The Library module includes powerful viewing and comparing tools to help you cull pictures quickly.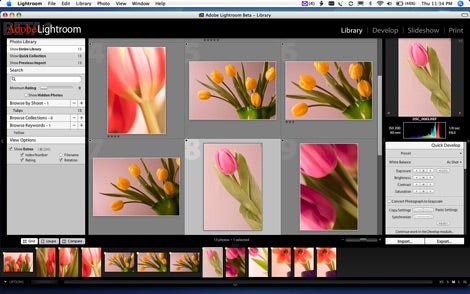 Lightroom's Library module
At this stage of development, Lightroom's sorting tools aren't as sexy as what you'll find in Aperture (see "Aperture and Lightroom" below). On the other hand, Lightroom runs wonderfully on a 1.5GHz PowerBook G4 while Aperture bogs down significantly on the same machine. This gives Lightroom an edge for field photographers who depend on portable computers to manage their work.
Once you've selected your best shots in the Library module, click on Develop to process the images. The Develop module provides an impressive set of image editing tools, such as white balance, exposure, brightness, contrast, curves, grayscale mixer, HSL color tuning, sharpen, lens correction, and camera calibration, among others. The tool panels are positioned to the right of your picture with a histogram for reference. All of your edits are nondestructive.
Lightroom's Develop module
To the left of your image, Lightroom provides a Presets Browser. This handy panel lets you quickly apply presets that you've saved, or you can choose from a menu of items that Adobe includes with the application. So if, for example, you want to apply sepia toning to your picture, just click the preset—very handy.
Once you have your images adjusted, you can view them in the Slideshow module. Here's where you can create custom backgrounds, add drop shadows, and apply a variety of effects to your pictures. You can play the slideshow in this module too, so it's handy for presentations.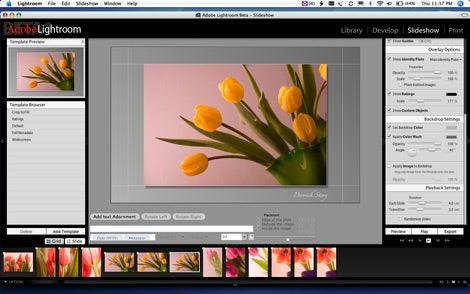 Lightroom's Slideshow module
What isn't obvious at first, is that the Slideshow module is also where you create your Web galleries. You simply export your completed slideshow as HTML, and Lightroom builds all of the assets for you to copy over to your Web server. There are also options to export to PDF and Flash, but I couldn't get those functions to work in this first beta release.
I did notice that there wasn't the ability to add music to the slideshows or to export them to QuickTime. But I suspect that those capabilities will be added in the near future.
The fourth module, Print, provides you with all of the page layout tools that you'd expect to manage your output to paper. But there are a few niceties too. For example, you have access to all of your print job settings in the right side panels. So, for example, you don't have to navigate confusing dialog boxes just to set your color management profile for a specific shot.
The Template Browser on the left side of the work area lets you save specifically-formated contact sheets and other types of output. This is a real time saver when you want to output your images in a variety of formats.
Under the hood
Adobe engineers have written a new codebase for Lightroom. It isn't just an adaptation of old Photoshop parts. This is a Cocoa application written from scratch. Lightroom, however, isn't as tied to the underpinnings of Mac OS X Tiger as Aperture is. For example, it doesn't tap Core Image for processing.
In use, Lightroom feels like a well-written Cocoa program. It's nimble and responsive. The menus and preference panes have that sleek Cocoa look to them. This initial public beta is not a Universal Binary, however. Adobe has promised that Lightroom will run natively on the forthcoming Intel-based Macs, but the company want to optimize performance for those computers before releasing the Universal Binaries.
Aperture and Lightroom
When you compare Lightroom to Aperture, Lightroom feels more streamlined, less ambitious. Its loupe, for example, is an actual tool that you can use to inspect any image on the screen, even in thumbnail mode. Both loupes in Lightroom and Aperture are effective, but Aperture certainly has a more sophisticated approach.
The same thing goes for comparing images. Lightroom has a Compare mode that lets you Command-click on thumbnails in the filmstrip to add them to the viewing panel for comparison. It works quite well, but you won't see things like Aperture's Stacks or freeform Light Table.
What Adobe has done, however, that Aperture can't do, is add Camera Raw editing functions right there in the application. So if you're already comfortable with Camera Raw, you'll get up to speed quickly here too.
Aperture has generated much discussion about how it stores images in a contained library. Lightroom presents this approach also, but gives you the option of storing your images outside the application in the file system. When you import, you choose either the managed library or unmanaged. If you choose unmanaged, Lightroom establishes pointers to the locations of your photos on the hard drive. On the other hand, the advantage of opting for managed is that, much like Aperture, you have the option to rename your images or add metadata upon import.
Adobe makes a big thing about this option, so clearly this will be a point of distinction between the two titian apps.
Cool things to check out
Even in this early beta, there are some neat tools in Lightroom to explore. Take a look at Lights Dim and Lights Out. You can find them under the Window menu. Those controls darken everything on your screen except for the primary image. It's a great effect.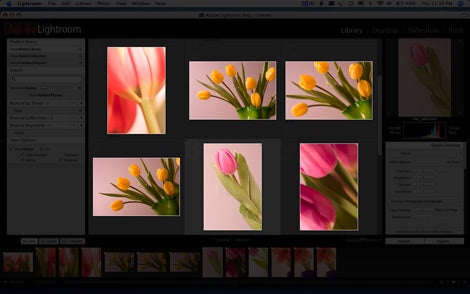 The Lights Dim tool
Also try Shift: Tab to hide all the distracting panes and filmstrip leaving you with just your thumbnails or primary image on the screen. And under the Photo menu, you'll find a control to edit the capture time of your pictures. So if you forgot to reset your camera for daylight savings, you can still have the correct timestamp on your images.
You can discover these things for yourself when the Lightroom beta becomes available for download on January 10 through Adobe's Web site. Anyone wanting to try out the beta should have Mac OS X 10.4.3, a 1GHz PowerPC G4 processor or better, 768MB of RAM, and a 1,024-by-768-resolution screen, according to the beta's tech specs.
Adobe plans on posting regular updates to Lightroom until a final version is released late this year. In fact, the company encourages Lightroom users to participate in the forums after you've downloaded the app and tested it.
Adobe hasn't announced pricing yet for Lightroom. If the company keeps the program affordable, I think it will have a real winner on its hands.
[ Derrick Story is the author of Digital Photography Pocket guide, third edition (O'Reilly, 2005). ]