It's hard to imagine that a battle could be brewing over something as seemingly mundane as an iPod dock, but such a battle is indeed simmering. During the recent Consumer Electronics Show, I was provided with sneak peeks at not one, but two prototypes of advanced iPod docks— DLO's $150 HomeDock Deluxe and Griffin Technology's $99 Tune View. What makes these docks so special is that, unlike with other docks, they allow you to not only connect your iPod to your home stereo and television, but to display the iPod's menus on that television's screen. This is a feature currently unsupported by Apple with its own iPod Universal Dock.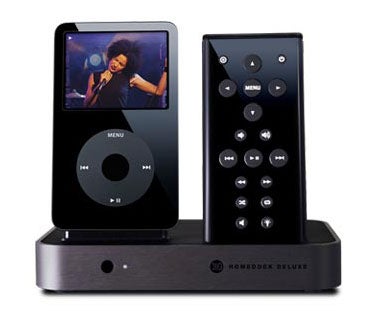 DLO's HomeDock Deluxe
As they're both prototypes that I've barely laid a glove on, it's not possible to fairly compare the two. The prototype Griffin device I saw offered more ports—composite and S-Video ports for video, analog RCA- and digital audio ports, and an Ethernet port for network connectivity. DLO's HomeDock Deluxe includes Composite and S-Video video ports, analog RCA audio ports, and a USB port for connecting the dock to your computer. Both include IR remote controls for controlling an iPod from across the room.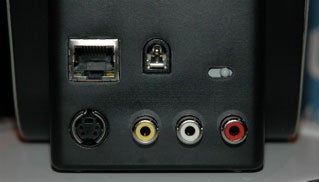 Port configuration on the back of Griffin Technology's Tune View
Griffin didn't have their Tune View connected to a television so I wasn't able to see its menu display. DLO representatives did flash the HomeDock Deluxe's display onto a connected TV and it looked very nice, offering navigation controls and menus that mimic what you see on an iPod's screen.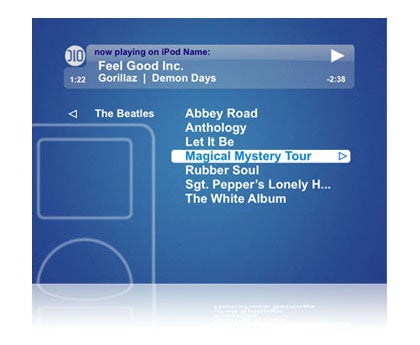 HomeDock Deluxe's navigation screen
Neither dock is ready to ship today. DLO suggests that the HomeDock Deluxe will ship in March. Griffin hasn't yet announced a projected ship date for the Tune View.