One of OS X 10.4's most-discussed new features is Spotlight, the system-wide searching framework that let's you "find anything on your computer as quickly as you type" (or so they say; I happen to have a somewhat different view ). One thing about Spotlight, though, is that you can really only do system-wide search for one thing at a time. Press Command-Space, enter your search term, and then wait for Spotlight to come back with the matches.
But what about those times when you want to compare the results of two different searches? You're in luck, because using a somewhat obscure Feature (bug?) in OS X, you can actually make two separate Spotlight searches show up at the same time.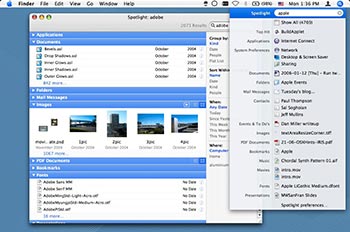 (Click image to open full screenshot)
First, hit Command-Option-Space to bring up the full Spotlight window, and then enter your first search phrase. Let the search run, and then hit Command-Space to bring up the normal Spotlight search box, and enter your second search term. When it's done, you'll have the results from two separate searches onscreen at the same time, as seen below (click the Image for a full-size version):
This tip works because the presence of the full Spotlight window seems to trick the Spotlight menubar dropdown into sticking around. Normally, when you run a Command-Space search, the Spotlight drop-down will disappear as soon as you Command-Tab to another application. But if you open the large Spotlight window first, the drop-down menu becomes sticky, letting you run another search.