iPhoto 6, the latest update to Apple's consumer-level photo management and editing software, may not have as many revolutionary new features as past versions—the addition of the Adjust panel in iPhoto 5 completely changed the way I use the program—but it does have something special those other versions lacked: a sense of fun.
Almost all of the new features in iPhoto 6—part of Apple's newly released iLife '06 suite —make the process of working with your photos more enjoyable. Add this to the powerful tools already built-into the program and a number of productivity enhancements, and iPhoto 6 makes for a very appealing upgrade—especially if you're looking for new ways to share your photos with others.
Speedy maneuvers
Apple has spent a lot of time touting the program's improved performance, and I have to say, it is noticeable faster on my 2GHz Power Mac G5 running Mac OS X 10.4. iPhoto 6 also seems to do a better job of refreshing images while working in the library—one of my biggest frustrations with past versions. iPhoto 5 often stalled (sometime indefinitely) when trying to switch the low-resolution cached views with higher-resolution previews. Since upgrading to the new version, I haven't had to wait more than a second or two for the image to refresh.
If you have a large photo library spanning several years, you'll probably appreciate the program's new scrolling display. As you click and drag the scrollbar up or down, a translucent black patch displays the date and roll name of the images as they pass. The patch disappears as soon as you release the mouse button. However, this display doesn't appear if you use the onscreen scroll arrows or your mouse's scroll button to scroll.
If the scrolling display annoys you, you can eliminate it completely by deactivating the Show Scrolling Information in the program's Appearance preferences.
Focus on the photo
Every good upgrade should have at least one feature, which, once you've used it, you come to rely on it so often that you'd fight anyone who tried to take it away from you. In iPhoto 6, that feature is the full-screen editing mode.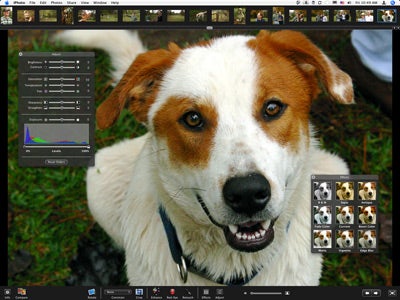 The new full-screen mode lets you focus on your photos while editing. A thumbnail slider pops down from the top of the screen to let you navigate to any other photo in your collection.
To make good editing decisions about your photos, you need to be able to get up close. When you click on the Enter Full Screen button below the Source panel, iPhoto blacks out everything onscreen except your photo, similar to what happens when you enter the slideshow mode. This view lets you focus your attention on the photo at hand while still giving you access to the rest of your photo library and editing tools.
You can access any photo in your library by simply dragging your mouse to the top of the screen. A browsing panel drops down with thumbnails of your photos. You can scroll to the left or right to find another photo you'd like to edit.
Mousing to the bottom of your screen reveals a menu of handy image controls. From here, you have access to all of iPhoto's editing tools, including the Red-eye button, the Adjust panel, and a new Effects panel. This last panel displays your current image along with eight other thumbnails that show how your image would look with one of a variety of image effects applied. The effects include turning your photo into a monochrome or sepia-toned image, desaturating or adding saturation, blurring edges, and more. You simply click on an image you like to apply the effect.
But you're not limited to just one effect. Once you've made a selection, the Effects palette updates to show how the image would look with another effect applied on top of the first one. As a result, you can quickly build complex adjustments. If you decide you don't like the results, you can always click on the center image to revert back to your original.
You can use the zoom slider to get up close to flaws you're trying to fix. When you're zoomed in, iPhoto opens a Navigation window. This window displays a thumbnail of the entire image with a box indicating the current viewing area. You can jump to a different part of the image by simply moving the viewing box around the thumbnail in the Navigation window.
Another welcome change is the new Compare feature, which lets you view as many as eight photos side-by-side. To compare photos in full-screen mode, just Command-Click on each photo in the thumbnail pane. Because you can still access all of your editing tools while in compare mode, I've found this to be a great way to test radical image edits before committing to them.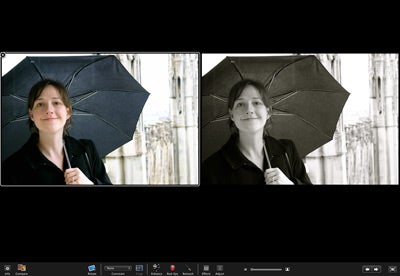 The new Compare tool lets you see as many as eight photos side-by-side in full-screen mode. It's also a great way to test drive image effects while still being able to see the original image.
To use the feature, I first duplicate the image, open the duplicates in compare mode, then edit each separately, leaving one untouched. This gives me an easy way to compare before and after results without having to repeatedly hit the undo button. To remove photos from the group, simply select the photo and click on the small "X" at the top left corner of the photo. Once you've made a choice from the bunch, select it and then click on the Compare button in the toolbar to remove the rest.
Editing your images in full-screen mode without the distraction of other interface elements is a huge improvement. It's quickly becoming my favorite way of working in iPhoto.
You can choose to have images automatically open in full-screen mode whenever you double-click on them. To do so, open the program's General preferences and set the Edit Photo menu to Using Full Screen. If you don't like the dock effect and want the top and bottom menu bar to stay on screen while you're working, simply select Show Thumbnails and Show Toolbar from the View menu.
Photo projects
In addition to creating photo books, you can now use your favorite photos to design cards and calendars. Although lots of photo sites let you do the same thing, designing them via a Web browser is a huge pain and often comes with technical difficulties, such as views that refuse to update, and designs that get lost. By designing projects in iPhoto, you have your entire photo library at your disposal and can experiment freely.
Designing a calendar or card is very similar to the process of designing a book. You can choose from a number of handsome designs. For calendars, you can choose how many photos you want to appear on a page, choose from multiple layouts, and choose whether to include a caption for the photos.
Apple has also added in a number of nice touches for customizing calendars. For example, you can choose to have national holidays displayed (iPhoto offers an impressive list of countries to choose from) or to import dates from any iCal calendars you have—a great way to add birthdays or your child's baseball schedule.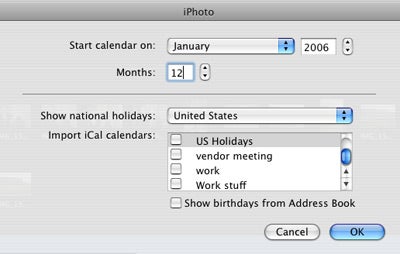 When creating a photo calendar, you can choose to include national holidays or any of your iCal calendars.
You can also customize any date with your own calendar items (simply click on date and type the text into the window that appears). To call special attention to a particular date, you can add a photo to it. Once you've placed the photo, you can double-click on the date to open controls for showing a caption and repositioning the photo within the square. It is by far the best implementation of photo calendars and photo cards that I've seen. And it's a lot of fun.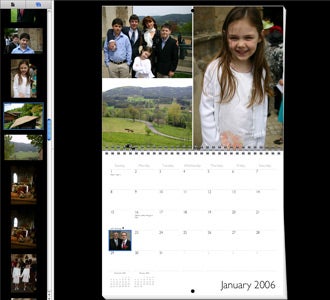 Designing a calendar is similar to creating a photo book. You can drag photos from the list on the left to add them to your calendar.
Apple also made a couple of noteworthy changes to its photo books feature. You can now view your page layouts as a slideshow by clicking on the Play button. More importantly, photo books are now printed at 300 dpi—past versions scaled down designs for the large and medium books to 150 dpi.
Sharing is caring
If you have a .Mac account you can share your photos with others by starting a photocast, a new iPhoto feature that publishes selected photos as an RSS feed. Anyone with an RSS newsreader or iPhoto 6 can then subscribe to your photocast to see your photos.
Starting a photocast is relatively simple. You select an album and click on the Photocast button at the bottom of the window. (This button doesn't appear if you don't have a .Mac account). From the resulting dialog box, select an image size for your photos, and a password if your want to keep uninvited guests from viewing your photos. When you click on Publish, iPhoto places a photocasting icon next to your album name.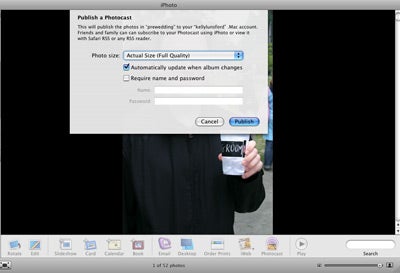 Clicking on the Photocast button of the window lets .Mac users publish an RSS feed for their photos, which others can subscribe to using iPhoto 6 or any RSS newsreader.
Here's where you'll need to be patient. Although it looks as though your podcast is up and running, nothing behind the scenes happens for quite a while. It would be nice if iPhoto offered clearer feedback that it's working behind the scenes; in my confusion, I accidentally cancelled and restarted the photocast several times. Eventually, the photocast icon changes to a status display showing that it's updating your photocast. When it's done, iPhoto presents the URL for your photocast and gives you the option of e-mailing an announcement to others.
Click on the Announce Podcast button to send an e-mail to friends and family announcing your feed.
If the e-mail recipient has iPhoto 6, double-clicking on the link will open iPhoto and create a new photocasting album that contains your photos. Subscribers can refresh the photocast at any time by clicking on the circle icon to the right of the album name.
If you delete a photo from your photocast, that photo will disappear from the album of anyone who has subscribed to your cast. If you don't want to risk having a photocast photo disappear, you can drag it into your main library to download the file to your system. You can also print photos from someone else's photocast.
If recipients don't have iPhoto 6, they can open the link for your photocast in any RSS reader to subscribe to your feed and see the photos.
By the way, if you forget the address for your photocast feed, you can quickly find it by clicking on the photocast album and opening the Info pane. (Click on the Show Info button beneath the Source column.) You'll see the address listed next to the URL heading.
The Homepage button, which previously let you publish your photos to your .Mac account, has now been replaced with an iWeb menu. From here you can choose to create a new photo page for your Web site or to publish the photos to your iWeb blog. Keep in mind that you can't place more than 99 photos on a single page.
Putting Your photos to work
It's far too easy to just let your photos languish on your computer. With the latest version of iPhoto, Apple appears to be making concerted effort to help users find new ways to share their favorite photos with the world—whether through photo gifts such as calendars and cards or online publishing through iWeb integration and photocasting (though you'll need a .Mac account to take advantage of the latter.)
But even if you're not interested in these types of photos projects, the new full-screen mode may be enough to make the upgrade worthwhile for people who spend time editing photos in iPhoto. It's a beautiful way to work.