iDVD has come a long way since its early days, when it was a DVD-authoring application with static menus, staid themes, and limited burning capabilities (both in terms of the amount of video and the drives and media to which it could write). Apple has made a lot of progress in the versions that followed, and while the latest, iDVD 6, doesn't add a large number of features, it remains a worthy update as part of the newly released iLife '06 suite. (Read a full review of iDVD 6 here.)
Wider is better
One of the best new features is iDVD's ability to author widescreen DVDs. With so many DV camcorders offering 16:9 shooting modes (and with the prices coming down on the HD camcorders which natively use that aspect ratio), being able to create DVDs that will play across the entire picture on widescreen HDTVs is a big plus.
I created a widescreen DVD with a 43-minute TV episode in DivX format. Encoding it to MPEG-2 in iDVD 6 took 61 minutes (including the audio) on my dual-2.3 GHz Power Mac G5, quite respectable for heavy transcoding duties. The results were a bit blocky, but that was the result of blowing up an already-compressed file. Unlike the new version of iMovie, you can't have more than one project open at the same time in iDVD.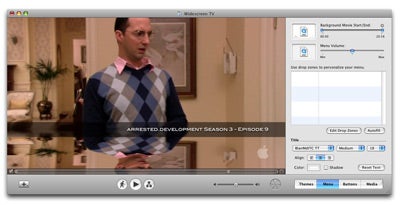 The new widescreen setting lets you import, encode, and burn 16:9 aspect ratio footage, which will fill every inch of new widescreen TVs.
Thematic approach
iDVD 6 adds 10 new menu themes, designed for both widescreen (16:9) and standard (4:3) aspect ratios—Travel, Pass Through, Road Trip, Reflection (in black or white), Mirror, Full Frame, Shelves, Watercolor, and Brushstroke (in order of appearance). All 10 of them include subpages for main, chapter, and extra menus.
One nice touch is that themes are now installed in ~/Library/Application Support/iDVD, instead of in the iDVD package—old themes are moved there, as well. This dramatically reduces the file size of the iDVD application down to around 75MB, instead of more than 1GB.
You can move the themes to another location—a second drive or external drive—and specify the location in the Advanced pane of iDVD's preferences.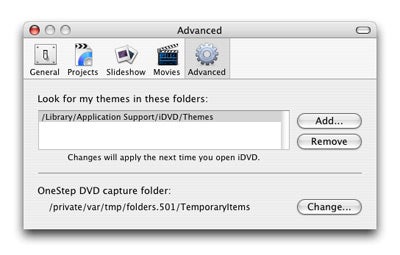 iDVD 6 wisely lets you relocate hefty themes to another hard drive, saving space on your startup drive.
Each theme also has built-in drop zones for incorporating still and video content into your DVD's motion menus. You can place items yourself, or let the new autofill function add items to the drop zones. As with iPhoto's books, you can begin with autofill and then rearrange as you see fit.
Drop zones are nice for adding a more pro-level look to your DVDs, but it would be better if you had more control over them. The Reflection theme, for example, has eight drop zones—if you don't add content to all of them, you'll see gray boxes floating by for each unfilled zone. Also, preview playback of themes with lots of drop zones was quite slow even on a fast system.
Where the magic happens
iDVD 5 included a OneStep DVD function to quickly capture footage from a DV camcorder and burn it to a plain vanilla DVD—a dump-and-burn approach for those with little time or patience to create a DVD with flair. With iDVD 6, Apple adds Magic iDVD, which provides a simple interface for picking the theme, movies, and photos (plus audio for slideshows) you want; iDVD does the rest.
Magic iDVD is a nice way to make a fast, custom DVD with cool menus and the like, but you don't get any control over DVD aspect ratio, slideshow timing, and other specifics.
Tons of slides
Speaking of slideshows, iDVD 6 now lets you have up to 9,801 images in a slideshow—instead of 99 in previous versions. If you add RAW images, they show up as JPEGs—but you can include the RAW files (as well as other pictures) as DVD-ROM content.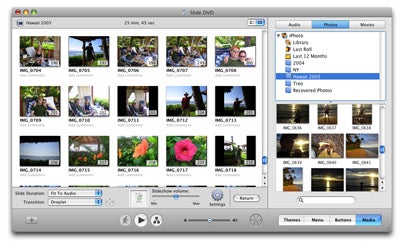 With iDVD 6's improved slideshow functions, you can drop thousands of pictures into your slideshows, add comments, and include full-resolution versions as DVD-ROM content.
There are 13 different slide transitions, but you can only pick one for each slideshow. You can also add music to a slideshow, but unfortunately songs don't fade out when the slideshow ends.
Burning desire
For the first time, iDVD can now burn to external DVD burners. With iDVD 5, Apple added the ability to create a disc image, which you could then burn to DVD using Apple's Disk Utility or Roxio's Toast.
iDVD now sees external burners as it does internal SuperDrives, which saves the extra step of creating a disc image, and finally removes Apple's artificial burning restriction. This is especially good news for people who still have Combo Drives inside their Macs, since it means they don't need to buy a new SuperDrive-equipped Mac or upgrade to the $499 DVD Studio Pro to burn a DVD.