Cursing the cursor
I just purchased my first Mac after using Windows for many years. I would like to replace my arrow cursor with something bigger and perhaps with a different picture. How do I do this?—Joe Robertson
Joe, better that I break it to you than a passing stranger in a Wi-Fi coffee shop: most Mac users would no more replace Apple's elegant black arrow cursor with some pixelated sparkler than we would slap rouge and lipstick on the Venus de Milo.
But que será, será. You can change your Mac's cursor with the help of Unsanity's Mighty Mouse ($10). This haxie, or small bit of code written to tweak OS X, allows you to customize the Mac's built-in cursors, turning your wait cursor into a wiggling mermaid or a purple bouncing alien, for instance. Mighty Mouse lets you choose additional cursor images from sites such as ResExcellence. You can even import cursors designed for Windows XP.
If, after reflection, all you want is a big cursor, change it by going to the Universal Access preference pane, clicking on Mouse, and adjusting the Cursor Size slider.
Mail time
How do I make Apple's Mail display a 24-hour format for messages that appear in my inbox?—Brian Shin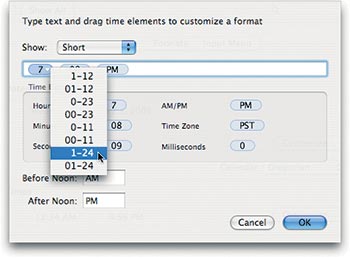 On the Clock Give an American Mac a 24-hour clock by using the International preference pane's Customize option.
You can make this happen through System Preferences. Open the International preference pane, click on the Formats tab, and click on the Customize button next to Times. In the resulting sheet, select Short from the Show pop-up menu. Click on the hour numeral in the text field below to reveal a pop-up menu that begins with 1-12 (see "On the Clock"). Choose 1-24 and click on OK. You've now created a Custom region. When you next open Mail, you'll find that message times are in the 24-hour format.
Maintenance must-haves
After many years of using Symantec's Norton Utilities, I've got to find another diagnostic tool for Tiger. The company's Web site says that Norton Utilities for Macintosh 8.0.3 is the last version Symantec will release, and that it will not revise the suite for OS X 10.4. What other application has features most like Norton's?—Dave Brady
There are a variety of diagnostic and repair tools for the Mac, including OS X's First Aid (part of Disk Utility in /Applications/Utilities), Alsoft's $80 DiskWarrior 3 ( ), Micromat's $98 TechTool Pro 4.0.1 ( ), and Prosoft Engineering's $99 Drive Genius 1.0.1 ( ). DiskWarrior is completely unlike Norton Utilities, but that's not a bad thing. TechTool Pro and Drive Genius offer features similar to some of Norton's components. The comparison shakes out this way:
Disk Utility's First Aid is free, and free is good. You can boot from your Mac OS X installation disc and run Disk Utility to try to repair your startup drive. Doing so isn't always effective, but it can't hurt.
DiskWarrior does one thing, but that thing is crucial: the program repairs low-level hard-drive corruption with a skill no other utility can match. Every Mac user should have a copy of it. TechTool Pro, on the other hand, performs many services. It tests your Mac's hardware components—RAM, processor, and FireWire and USB ports, for example. It also performs many of the tasks Norton Utilities does—repairing corrupt volumes, protecting files from accidental deletion, and recovering data if the drive goes kablooey.
Drive Genius also performs a variety of chores, many of which focus on disk functions. For instance, you can use it to optimize your drive, much as you could do with Norton's Speed Disk. You can use it to expand or shrink disk partitions without reformatting your hard drive. Drive Genius will also clone volumes and check the integrity of your hard drive. As for Norton Utilities-style repair, in addition to repairing permissions, Drive Genius will attempt to rebuild one of a volume database's trickier objects, the Catalog B-tree (something Norton never did well). And like Norton, Drive Genius allows you to edit data sectors, something other utilities won't do.
I wish I could say "Get this one and you're done," but I'd be doing you a disservice if I did. All of these utilities have something to offer. If I had to prioritize their helpfulness, I would recommend DiskWarrior for its one really good trick, Drive Genius for its all-around drive-maintenance and data-repair goodness, and finally TechTool Pro for its repair and data-recovery charms.
Making your (Power)Point
I need to create a Microsoft PowerPoint presentation that includes QuickTime videos for someone who uses Windows. More than one person will use the presentation, so I don't want to assume they all have QuickTime Player for Windows. What's the best way to handle this?—Jan Bobbett
Wonderful as Apple's QuickTime is, it's not on every Windows PC. To make sure Windows users get the most from your presentations, convert your QuickTime movies to either AVI or MPEG-4 format—both of which will play within a PowerPoint presentation on a Windows computer. Then embed those movies in your presentations.
To convert the movie files, open them in QuickTime Player Pro ($30) and choose File: Export. In the resulting Save Exported File As dialog box, choose either Movie To AVI or Movie To MPEG-4 from the Export pop-up menu.
Movies exported at the default AVI export setting don't look all that great. To improve their appearance (although you'll also increase their file size in the process), click on the Options button in the Save Exported File As dialog box, and then click on the Setting button in the Video portion of the AVI Settings window that appears. In the resulting Compression Settings window, move the Quality slider up to High or Best.
Special Export Be kind to your PC-using colleagues. When creating PowerPoint presentations, export embedded QuickTime movies in a format that's compatible with Windows PCs.
If you're using MPEG-4 instead and are unhappy with the look of the default export, click on the Options button in the same Save Exported File As dialog box. In the MPEG-4 Export Settings window, make these changes: choose MP4 from the File Format pop-up menu, and select MPEG-4 Basic from the Video Format pop-up menu (see "Special Export"). If the movie's frame is too large to fit your presentation, use a smaller image size when you export the movie—change it from 640 by 480 to 320 by 240 for standard QuickTime movies, for example, or to 320 by 180 if it's a DV movie (DV movies have a different aspect ratio). Doing so will reduce not only the movie's dimensions but also the amount of storage it requires (thus making your PowerPoint package a little more easily transportable). Set the Frame Rate pop-up menu to Current and the Key Frame option to Automatic.
By default, the Data Rate field is set to 64 Kbps, which is really low if you want to maintain the quality of the original video. You may need to play with settings in this field to get it right. I've found that a setting of 1,000 Kbps or higher gives me quality that closely matches the original movie's. I wouldn't use such a high rate if I were streaming video across the Internet, because all but the fastest connections would choke, but for a PowerPoint presentation on a hard drive, it's fine.
Offline site seeing
Is there an easy way for me to download an entire Web site so that I can view its contents even when my Mac is not connected to the Internet? That way, I could jump on my next flight, launch Safari, and then browse the fully downloaded pages.—Tyler Moynihan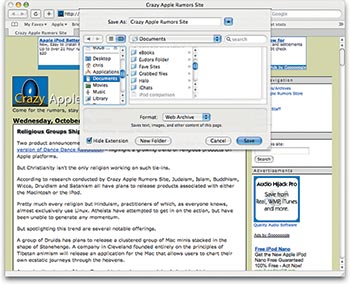 Second Site Want to catch up on your reading when you don't have Internet access? To view just a single Web page offline, use your browser's File: Save As command.
There are several ways to suck out the contents of a Web site and store it locally. If you simply desire a single page, use your browser's File: Save As command to save it as a Web page, or a Web archive in Safari-speak (see "Second Site"). Once the page and its contents download, you can read it when your Mac's not connected to the Internet.
If you'd like to grab more than just the page you're viewing, you must turn to other tools, such as Microsoft's free Internet Explorer. Use this to navigate to the site you want. Then choose File: Save As and make sure Web Archive appears in the Format pop-up menu at the bottom of the Save window. Click on the Options button, select the Download Links option, and tell the program how many levels deep you'd like it to save. For example, two levels would save the home page and any pages on that specific site to which the home page links. Click on OK and then on Save. Internet Explorer will download the Web site. To read it later, just open the Web archive.
Rick Cranisky's SiteSucker (free [donations accepted]) is another good option. In addition to allowing you to set the number of levels it downloads, SiteSucker lets you queue up sites so you can easily grab a number of them. And then there's Limit Point Software's Blue Crab ($25). It offers more-extensive options than Internet Explorer or SiteSucker—for example, you can instruct it to download HTML files only, to skip images, or to grab pages exceeding a certain number of kilobytes. You can even configure it to enter login information for protected sites.
If you want an even more complete solution and are willing to pay for it, check out Soft Chaos's $80 Webstractor ( )—a utility that, among other things, can automatically capture Web pages as you browse.
Ready for the worst
One day, you just might waltz up to your computer, press the power switch, and stare in dumb horror as your Mac displays a flashing folder, offers a plain blue screen, or does little more than whir. It makes sense, then, to have a troubleshooting drive at the ready that can help you repair your ailing machine.
• Your System Discs The good news is that you already have an emergency boot disc: the Mac OS X CD or DVD that you bought or that came with your Mac. Insert one of these and hold down the C key at startup to make your Mac boot off the disc. Then use the disc's copy of Disk Utility. (If you're using the Tiger installation disc, choose Utilities: Disk Utility and then click on the First Aid tab when Disk Utility launches.)
• Commercial Troubleshooting Utilities If you own a utility such as DiskWarrior, TechTool Pro, or Drive Genius, these also come on bootable discs. Use them as you would your system disc.
• FireWire Drive You can create a bootable troubleshooting device that, because it can hold multiple repair utilities, exceeds the capabilities of an OS X installation disc. For instance, if you have a FireWire hard drive, it can probably do the job. (Not all FireWire drives can boot OS X; see our review of FireWire hard drives )
If the drive has enough capacity, duplicate your Mac's current startup drive using Mike Bombich's Carbon Copy Cloner ($5). Any troubleshooting or repair utilities you have on your startup drive will work from the FireWire drive. On the other hand, you can create a fresh emergency drive by installing a clean copy of Mac OS on the FireWire drive and then installing your troubleshooting or repair utilities on it.
When choosing an emergency FireWire drive, consider one that you can easily slip into a pocket or pack in a computer case—for instance, LaCie's $240 Mobile Hard Drive or Other World Computing's $250 Mercury On-the-Go (both ; see our latest review of portable FireWire drives ). Such a small drive will prove a useful companion both in your office and on the road.
• Older iPod Do you have an older iPod (first through fourth generation)? It can also boot a Mac when attached to that Mac's FireWire port. (Sorry, current iPod models can't.) If the iPod has about 5GB to spare, you can install a bootable version of Tiger on it, as well as your troubleshooting utilities. This is a very handy way to lighten your carry-on bag when traveling: all you need is your iPod for both tunes and emergency protection.
Note that the iPod was not designed to be a primary startup drive. It has no vents, and the heat buildup from running its drive constantly will likely shorten its life. But I've successfully booted an iPod to quickly repair a misbehaving Mac without apparent mishap.
Tip of the month
Bring bookmarks into Firefox: Your review of Web browsers (November 2005) firmly convinced me to switch from Microsoft's Internet Explorer to Mozilla's Firefox. However, the Import wizard in Firefox 1.0.7 will not import bookmarks from Internet Explorer. I finally found a quick way to do this crucial task.
Choose Bookmarks: Manage Bookmarks, and then choose File: Import. Make sure that the From File option is enabled, click on Next, and in the resulting Import Bookmark File window, navigate to the Explorer folder (/ your user folder / Library/Preferences/Explorer). Select the Favorites.html file and click on Open to import the bookmarks.— Henry Francis
You can also use this technique to import your Explorer History file as bookmarks. Simply choose History.html rather than Favorites.html in the Import Bookmark File window.—Ed.
[ Senior Editor Christopher Breen is the author of Secrets of the iPod and iTunes, fifth edition , and The iPod and iTunes Pocket Guide (both Peachpit Press, 2005). ]