iWeb is the glue that holds the iLife '06 suite together, sliding in so naturally, it feels like it's always been there—or should have been there.
Replacing HomePage, .Mac's online Web-building app, and drawing from a host of new updates to the iLife apps— iPhoto, GarageBand, and iMovie in particular—Apple integrates everything into a Web site-building application that lets you post your photo albums, movies, podcasts, photocasts, and blogs, while using RSS feeds to let people subscribe to them. A single mouse click transports your new site to your .Mac account, though you can also use iWeb to create a site and place it to any server.
iWeb differs from the older HomePage because it is a desktop app rather than an online one, and it gives you opportunities to incorporate more kinds of media within your site. It also embraces popular new online activities, such as podcasting and blogging, making it easy for beginners to get started.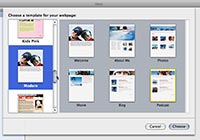 Templates
You cannot edit HomePage pages with iWeb. However HomePage and iWeb sites have distinctive URLs so that you can set up links between them.
Since iWeb is an entirely new addition to iLife, let's walk through some of its main features. A full review of this application—along with the other updated apps in iLife '06—will be posted at Macworld.com in the coming weeks.
Templates assure precision
You begin building your Web site with templates. The program's 12 built-in templates, each with six page variations, are designed to suit the dominant theme of each page. Coordinated page styles give your site a sophisticated, professional, look.
After you decide what type of page fits your content best—photo album, blog, podcast, video, or some combination of elements—you can pick a page type specifically designed for that content.
You can mix templates and create multiple Web sites with different templates. You can change colors, backgrounds, fonts, and type sizes. You can also add links to other Web sites and the iTunes Music Store. iWeb uses OS X's built-in utilities such as the Font panel to access fonts and colors. iWeb has some of the same photographic controls as iPhoto. You can rotate, layer, and mask images to your heart's content directly on the page.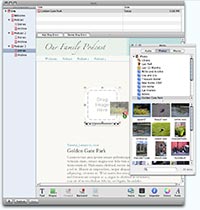 ---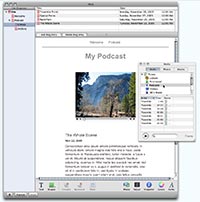 Podcast templates (Click images to open full screenshot)
Blog and podcast templates
It's a good idea to use a blog- or podcast-specific template page for blog and podcast entries because those page types are automatically encoded for an RSS subscription.
Each Blog and Podcast page contains an Entry panel where you create, name, and import your podcasts from iTunes or GarageBand. iWeb creates separate pages for each entry, but the viewer will see only a cover page with a list from which to choose a podcast or blog. Any spillover from a blog or podcast page goes automatically to an Archive page, which is linked from the cover page. Placeholder text lets you customize and add your own narrative to your pages. To top it off, you can even import images to illustrate your blog or podcast. Blog and Podcast pages include subscribe buttons, which you can keep or remove.
Toolbar controls
The iWeb toolbar, which holds the program's main interface controls, always appears at the bottom of the program's main window and is your entry to almost all of iWeb's controls and palettes. You also can use menu items to perform certain operations. Your Web site template elements, such as text and images, are in the Webpage canvas.
Page specific controls are on the left; global site controls are on the right. The Text button lets you create resizable text boxes for captions, headlines, or other text anywhere on your page. A Shapes pop-up menu gives you a slate of shapes such as a star, arrow, and thought balloon—in addition to squares and circles—to which you can add text.
The Mask button lets you crop images visually (though the actual size of the image remains the same); Backward and Forward buttons let you rearrange the order of layered items. Commands that are available for a page or selection are bright; commands you cannot use are dimmed. Directly underneath the tool bar are three buttons: the Plus (+) button adds pages to the site from any template you chose; the Publish button sends your completed site to the Web; and the Visit button takes you directly to your site so you can see what it looks like online.

Toolbar
iWeb is integrated with OS X's Colors and Font panels, accessed from the toolbar, so you can use any fonts already on your system and any colors you like for backgrounds and other elements. iWeb automatically detects if you have typed a Web or e-mail address, automatically making it a link on the page (though you can remove the link if you wish). The Adjust Image window gives you access to some simple image-editing tools that adjust exposure, brightness, contrast, and sharpness.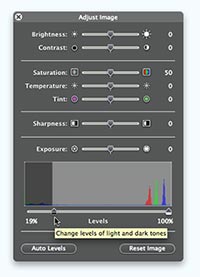 Adjust window
Site Organizer
The Site Organizer is a resizable drawer to the left of the canvas. There you'll see your site navigation and have access to all your pages. As you add, remove, and change the order of your pages, iWeb keeps track of those actions and automatically updates the navigation.
To change the order of pages, just click and drag; to add or remove pages, use the Plus button or the Delete key, respectively. You will have to upload the site to your .Mac account or an FTP server in order to see what you have changed. You can immediately tell which pages are online by looking at the site organizer—items in blue have been published, while items in red have not.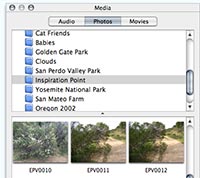 Media browser
Media Browser
The Media Browser, accessed from the right side of the tool bar, is one of the program's main palettes and does what its name implies: It gives you access to your iPhoto images, iMovies, GarageBand or iTunes podcasts, and iTunes music, and lets you drag and drop these elements into your template. Images must be imported into iPhoto for you to access them in the Media Browser. Similarly, music must be stored in the iTunes library. You can also drag and drop elements directly to the template from the Finder; however, those elements won't be accessible in the media browser.
Inspector Window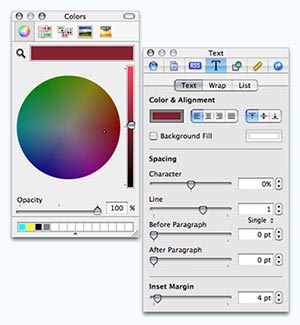 Text Inspector and Colors pane
iWeb's other major panel is the Inspector Window, a composite palette with seven tabs that help you govern the visual presentation of your site and let you control everything from the size of your page to the RSS feed.
The Site Inspector tells you the name of the site and how much room you have left on your iDisk. The Page Inspector lets you name your pages and designate the dimensions, colors, and images for your backgrounds. The Blog & Podcast Inspector controls subscription and additional information about your blogs and podcasts. The Text Inspector lets you set line and character spacing, alignment, colors, margins, and other text attributes, as well as text wrap and bulleted lists.
The Graphic Inspector lets you set colors, borders, shadows, opacity, and other features to text and image boxes and other objects on your pages. The Metrics Inspector lets you adjust the size, position, and rotation of any image or shape on your page. The Link Inspector lets you set up or remove hyperlinks on your pages.
Swift and easy
Designed with the novice in mind, and targeted to people who use one or more iLife apps, iWeb's ease of use lets even the least technical of users participate in the Web's most popular activities with literally a click and drag. iWeb lets you construct and post your Web site with a minimum of time and effort and maximum style.
[ Editor's Note: Updated on January 18 at 5:16 p.m. ET to include additional information on Blog and Podcast pages. ]