When Apple recently updated iTunes it failed to highlight one of the program's coolest new features—the ability for iTunes to broadcast to up to three AirPort Express modules. That's right, you can now stream music from your computer to multiple rooms equipped with AirPort Expresses while also playing iTunes through your computer's speakers.
For those new to the whole iTunes/AirPort Express thing, it's like this:
Apple's AirPort Express can act not only as an 802.11g wireless router (or as a client for extending the range of an AirPort Base Station), but it can also stream music from iTunes on your computer to a stereo attached to an AirPort Express via the unit's audio minijack. Until recently this scheme was limited so that you could stream music to only one AirPort Express at a time. And when you streamed that music, you couldn't also play music through your computer's speakers. This meant that if you had one AirPort Express in the living room, another in the den, and yet another in your bedroom, you had to pick just one AirPort Express to stream to. The others would remain silent.
With iTunes 6.0.2 and the AirPort Express Firmware Update 6.3 for Mac OS X (or the same version for Windows ), this has all changed. With the firmware installed on your AirPort Expresses, iTunes 6.0.2 offers a Multiple Speakers option that, when enabled, displays a Remote Speakers window that allows you to choose the systems you wish to play through. Here's how I set it up on a system that includes an AirPort Extreme Base station connected to the Internet via DSL and two AirPort Express modules.
1. Download and install both iTunes 6.0.2 and AirPort Express Firmware Update 6.3.
2. Launch the AirPort Admin Utility and select the first AirPort Express. Click Configure.
3. In the resulting window, choose Join an Existing Wireless Network (Wireless Client) from the Wireless Mode pop-up menu. In the Wireless Network pop-up menu below, choose the AirPort Extreme base station. You'll be asked if you'd like to enable encryption. Because I live in the boonies, I said no.
4. Click Update and the AirPort Express will join the Extreme network.
5. Repeat the preceding steps for any other AirPort Express modules that you want to be part of your music streaming network.
6. Choose your Extreme network from the AirPort menu.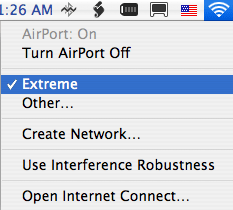 7. Launch iTunes and choose iTunes > Preferences > Advanced. In the General tab enable the Look For Remote Speakers Connected With AirTunes option and click OK to dismiss the window.

8. From the Speakers menu that appears at the bottom of the iTunes window, choose Multiple Speakers.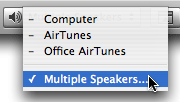 9. A Remote Speakers window will appear. Choose the systems you want to stream music to.

10. Press iTunes' Play button and rock out through your computer speakers as well as the amplified speaker systems attached to your AirPort Expresses.