At a Glance
Expert's Rating
Pros
New output options, including cards, calendars and Photocasts
Excellent full-screen mode and comparison features
Improved performance
Cons
Still weak when it comes to cataloging off-line images
Our Verdict
The tricky thing about novice or consumer software is that while novices' skill levels might not be very advanced, their level of expectation for aesthetic value might be very sophisticated. Like its predecessors, Apple's iPhoto 6 provides tools that are easy enough for novices to use but doesn't compromise on image quality. It offers everyone the ability to output the kinds of images that they're used to seeing every day in print and on the Web. While iPhoto 5 ( ; April 2005 ) focused on new editing features such as the Adjustment panel and Raw file support, version 6 focuses on output and organization.
Performance and management
As detailed in our First Look, the program's most important new feature is a dramatic boost in performance. Importing, scrolling, and navigation are all much faster in version 6, the interface feels snappier (on my 1.6GHz PowerBook G4 and other faster Macs), and switching in and out of Edit mode is much peppier. What's more, the program's library can now hold as many as 250,000 images. If you use iPhoto regularly, these features alone make iLife '06 well worth its price.
But iPhoto 6 packs much more than under-the-hood adjustments. Upon launching the new version, you'll see iPhoto's new interface. As with iTunes, Apple has shed the cumbersome brushed-metal bezel and given iPhoto a simpler, cleaner, more professional look. Otherwise, most of iPhoto's interface remains the same.
Full-screen editing
In addition to its new look-and-feel, iPhoto 6 sports some new buttons. Alongside the old Info and Keyword buttons; you'll now find an Enter Full Screen button. Click on it, and iPhoto's interface—along with your desktop and any other windows—will completely disappear, replaced by a solid black field in which your image will be displayed as large as possible. In full-screen editing mode, you can edit your photo without the distraction of other interface elements or colors.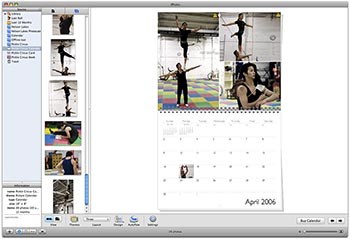 Save the Date iPhoto 6's Calendar feature lets you easily lay out calendars of any length. (Click image to open full screenshot)
Blocking out the rest of your Mac desktop is a really nice way to edit, and iPhoto's full-screen editing mode provides access to all the features you'd normally have when editing. With a simple preference change, you can tell iPhoto to automatically toggle in and out of full-screen editing mode any time you double-click on an image.
Complementing the full-screen editing mode is a new Compare feature, which lets you display up to eight images side by side. You can select any of the comparison images for editing without leaving Compare mode, and you can easily change the currently selected image by pressing the keyboard's arrow keys to move to the next or previous image.
Full-screen editing mode and side-by-side comparisons are great additions to iPhoto; they provide capabilities that a lot of high-end editing and cataloging programs lack. Compare mode greatly simplifies the process of picking out just the right image from a full day of shooting.
The new Effects palette is iPhoto's only editing addition. With the Effects panel, you gain single-click access to black-and-white conversion, sepia-toning effects, simple saturation changes, and edge effects such as vignettes and blurs. These tools won't help images with serious problems, but the Effects panel is handy for quickly applying simple adjustments to most images.
Photocasting
For years, iPhoto has allowed users to share their photo libraries with other iPhoto users on the same local area network. With version 6, you can now easily share your photos with other users anywhere on the Web, whether they use iPhoto or not.
You must have a .Mac account to use Photocasting—iPhoto will use your .Mac storage to host the photos you choose to share. To start Photocasting, simply select an album and then click on the Photocast button on the toolbar. You can select a size (dimension, not bit-depth: all JPEGs are automatically 8-bit) for your images—small, medium, large, or actual size—and even protect your pictures with a user name and password. When you click on the Publish button, iPhoto will upload your images to your .Mac account, resizing on-the-fly, if necessary. Once finished, iPhoto will give you the option of e-mailing a notice that contains the Web address.
Other users can subscribe to your Photocast simply by choosing iPhoto's Subscribe command and entering the address. The Photocast will appear in their iPhoto library, just as albums do, and subscribers will be free to view or copy all of the images in it, just as they can any other image in their library. You can configure your Photocast to automatically update whenever you change the source album.
Users without iPhoto can view your Photocast from any RSS reader, including Safari RSS. Simply point readers to the address, and they'll see the photos displayed just as they would any RSS feed.
Output
iPhoto's book-making facility includes several new templates. However, the book-printing service itself has been upgraded to produce more-sophisticated, higher-resolution printing. The resulting books look much better than those ordered through previous versions of iPhoto. Also, once you've set up a book, you can play it as you would a slide show. Each book page displays on a full screen, with all of its layout and effects. This is a very cool feature that I've wanted since version 5.
Complementing the improved book-making feature are two new output options that let you design and order custom cards and calendars. The Calendar feature is particularly impressive, thanks to its ability to automatically import iCal calendars and Address Book birthday entries. iPhoto's calendars provide a number of features not found on Web-based calendar-printing services. For instance, you can place a photo on an individual day in the calendar, and create calendars with any number of months you want.
For Web-gallery creation, Apple has replaced iPhoto's HomePage integration with automatic export to iWeb, iLife's new Web-building app. Simply select an album and click on the iWeb button, and your photos will automatically be poured into one of iWeb's page designs.
Other output improvements include options for borderless printing on printers that support it, the ability to export 16-bit TIFF files, and the option to tag images with a ColorSync profile while importing.
Whereas previous versions of iPhoto always copied your images into an internal library, iPhoto 6 includes a preference for simply referencing images in their original location (just as in iTunes). This means that you can now use iPhoto for cataloging offline volumes, such as CDs or DVDs, onto which you've archived pictures. Unfortunately, when you're ready to edit an image that is offline, iPhoto provides only a generic prompting to find the missing file, not a request for the specific volume. Because of this, iPhoto is still not suitable for the type of cataloging that you can perform with a dedicated cataloging application like iView Media Pro.
iPhoto's importing features have been improved; you now have the option of tagging images with a ColorSync profile upon import. For users who want to run a color-managed system, this is a great addition, though it works only for images that iPhoto copies into its library.
Macworld's buying advice
Apple has done an excellent job with the iPhoto 6 upgrade. The performance improvements alone should please most iPhoto users, while the full-screen editing mode, new output options, and Photocasting feature make the decision to upgrade to this version a no-brainer.
[ Ben Long is the author of Complete Digital Photography, third edition (Charles River Media, 2004) and Getting Started With Camera Raw , (Peachpit Press, 2005). ]