At a Glance
Expert's Rating
Pros
Supports a wide range of media file types
Streamlined interface simplifies program usage and settings
Simplifies creation of Smart Galleries and temporary galleries
Lets you work on newly imported files while continuing to import additional files
Cons
Feature enhancements don't justify the upgrade price for most users
Our Verdict
Extensis Portfolio has long been a good way for graphics pros to organize images and other media so they can more easily manage those files for presentations or design comps on CD, DVD, via the Web, or from their own hard drive. With version 8, Extensis has enhanced and fine-tuned Portfolio by streamlining its interface and deepening its functionality so that you can work on images more quickly.
Improved interface and operation
One criticism I had of version 7.0 ( ; October 2004 ) was that several critical tasks involved too many arcane steps. Extensis designers have addressed those issues and have streamlined additional functions. For example, creating a Smart Gallery—essentially a saved find that automatically updates the contents when you open a file gallery (a subset of a media catalog or database)—is now a simple step when you perform a find. In version 7, you had to save the find, create a new empty gallery, and then set up the gallery to use the saved find.
In addition, the program now automatically rotates digital images while importing them from your camera, so you don't have to do it manually.
With this version, Extensis has also consolidated all metadata information into a single Properties dialog box. And because Portfolio 8 supports so many different types of metadata labels, you can also create your own custom list in the Properties dialog box to shorten the list of metadata types that appear in the user interface. A thoughtful touch.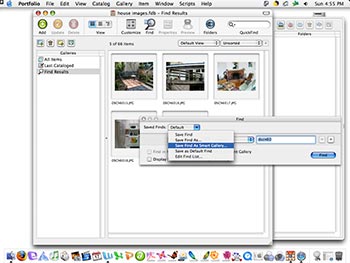 Portfolio 8 features streamlined creation of Smart Galleries. By automatically updating saved finds, images are available immediately. (Click image to open full screenshot)
Faster access to new images
In version 8, importing images into a catalog takes significantly longer than it did in version 7. On my 450MHz Power Mac G4, it took 7 minutes and 15 seconds to import and process a batch of 79 images (that includes reading the metadata, generating thumbnail images, auto-rotating, and logging the file creator, date, and type); that's a 26 percent slowdown from version 7, which took just 5 minutes and 48 seconds for the same operation. However, thanks to the new Fast Cataloging feature, I could start working on images (for example, adding metadata) approximately 10 seconds after starting an import—something I could not do in version 7. So the net result is faster access to at least some imported images.
Deeper functionality
In several instances, the company has extended existing functionality to make the program much more useful. A great example is the new Scratchpad gallery, which you can either generate yourself, or Portfolio can create when you do a find. A Scratchpad gallery is a temporary gallery for experimentation. If you like the results, you can save it. If not, you simply close it. That's a lot more convenient than creating new galleries for temporary work and then having to later delete the ones you don't want.
Another enhanced function is Portfolio 8's ability to do custom sorts by letting you simply drag files into the order you want. After all, the appropriate order for presenting images often has nothing to do with file name, image size, file type, or even keyword—the kinds of attributes you would normally have to sort by. With Portfolio 8, you're not limited to such sorting parameters.
The program also features other functional enhancements, such as support for movie file metadata as well as the IPTC Core metadata fields used in Adobe's Creative Suite 2 applications. Both enhance compatibility with audio, video, and other media-creation and production tools.
Increased group focus
Extensis is also emphasizing Portfolio 8's networking capabilities by adding group-oriented features to serve marketing and design workgroups and small companies. For example, the Workgroup edition supports SQL queries (handy for finding items in very large catalogs), and also features a shared catalog in which each user can individually customize the way items are sorted. That's great for corporate departments and tech-savvy design firms. But prices start at $6,300 for the Corporate edition with three user licenses, while the server-only edition costs anywhere from $6,000 and up.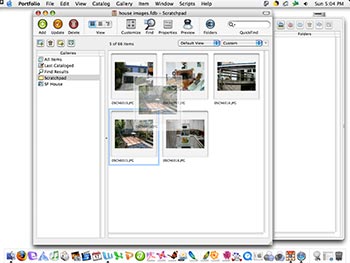 Perhaps the handiest new feature in Portfolio 8 is the ability to arrange media files through drag and drop, allowing you to totally customize the sort order. (Click image to open full screenshot)
Portfolio 8 remains quite useful for individuals, except in one area: the $249 companion program, Portfolio NetPublish 8, which lets you publish catalogs on the Web for viewing by five simultaneous users. (Portfolio comes with a demo version of NetPublish, which supports only one user connection per hour.)
NetPublish continues to be limited to organizations that manage their own Web servers, using either Apache or Windows IIS servers. Yet most small shops employ a Web host rather than manage their own Web server, so they can't use NetPublish to communicate with clients and other designers. NetPublish 8 is also, by and large, unchanged from its previous version. What's new is its ability to publish a portion of a media catalog (a feature that's also new in Portfolio 8).
Macworld's buying advice
With Portfolio 8, Extensis continues to make it easier to manage your media files and work with subsets of data for projects and presentations. But version 8 is not a major feature upgrade; it merely refines what the previous version already offered, so many users who are happy with Portfolio 7 may be tempted to skip the new version. I can't really argue against that logic, unless you use Portfolio so often that the interface enhancements and other improvements become worth the cost of upgrading.
[ Former Macworld Editor and veteran technology writer Galen Gruman has written 20 books on desktop publishing, including QuarkXPress to InDesign: Face to Face (Wiley Publishing; 2005). ]