At a Glance
Expert's Rating
Pros
Several connection options
Tight integration with the car
High quality audio
Cons
Screen isn't as crisp and clear as it could be
Control wheel doesn't "accelerate" as well as the iPod's own Click Wheel
Our Verdict
Until Harman Kardon released its Drive+Play, iPod owners that wanted to use their player in the car had a couple of basic options that were less than elegant: an FM transmitter or a cassette adapter. (A few lucky souls had a direct input jack, but until recently, those were rare.) The choice between these options left most people wanting much more.
With the Drive+Play, Harman Kardon gave users of most automobiles the option to hardwire their iPods directly into their car's audio system, providing both better sound quality and easier in-car control.
Hooking it up
The Drive+Play allows users to connect it to your car in three ways: It can connect directly to any car stereo with an auxiliary input jack (via a standard audio cable); to most stereos with a CD changer connecter (using an optional third-party adapter); or, for those who don't want to go to the trouble of a more complex installation, via the Drive+Play's built-in FM transmitter.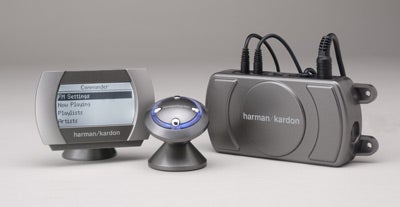 Drive+Play's components
Even though my car is only two years old, I was not able to connect the unit directly to my car's stock stereo—it has no auxiliary input jack, and the CD changer connection is already taken up by an in-dash 6-disc changer. Fortunately, I have a built-in entertainment unit with DVD and all the extras, so I was able to test the Drive+Play using that.
How does it sound?
I was most interested in how the Drive+Play's sound compared to what my CD and DVD player produces. Most iPod car solutions I've tried have provided poor audio quality, leading me to not use them. While ease of use is very important to me, I would be willing to go through a little hassle for superior audio. With the Drive+Play, I had to make no such sacrifice.
The first connection approach I tried was the Drive+Play's built-in FM Transmitter. As expected, the audio quality was less than stellar. I'm not a fan of any FM Transmitter solution—perhaps it's where I live, but none of them seem to work well for me. I have talked to a couple of people that found the Drive+Play's FM Transmitter worked fine for them. I just wouldn't rely on a unit that only had the FM option.
Next, I connected the Drive+Play to my entertainment unit. This turned out to be a real plus for testing the system's sound quality because I was able to use headphones to listen, switching between CD, DVD and Drive+Play inputs.
Using the standard iTunes settings for the songs on my iPod and music CDs and DVDs that I burned, I was hard pressed to tell the difference. The Drive+Play performed remarkable well, even surpassing my initial expectations. I tested it against store-bought discs as well and while there was a slight difference in sound quality, it was just that—slight. In other words, the sound quality your iPod is likely to be limited by the quality of the music files on it and by your car's stereo, not the Drive+Play.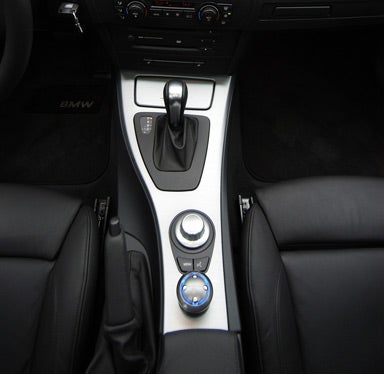 Drive+Play's click wheel knob
When it comes to ease of use, the Drive+Play easily beats the other in-car solutions I've tried. A small screen mounted on your dashboard gives you the familiar iPod interface to navigate through your music. The included click wheel knob (which you also have to mount—preferably somewhere comfortable for you to reach) mimics the functions of the iPod click wheel for navigating the device.
Scrolling through a large amount of songs is very smooth and quick. I have about 4,500 songs on the iPod I tested, and I was able to scroll through songs, artists, and genres, quickly jumping between the lists. The Drive+Play was able to keep up with me the whole time. Of course, if you are scrolling through that many songs, finding one at the end of the alphabet will still take some time.
The only thing I was disappointed in with the Drive+Play is the screen. Although the screen is functional, its monochrome interface isn't nearly as crisp and clear as the iPod's own screen. A crisp color screen would have elevated the Drive+Play to untouchable heights. Still, that is a small issue when you consider all of the things the Drive+Play brings to the table.
The Lowdown
With a Drive+Play, you won't have to fumble around, reaching awkwardly for your iPod as you drive down the highway at 70 miles an hour. The Drive+Play solves many issues iPod users have had from the first time they wanted to incorporate their music player into their car. From sound to safety, if you want an iPod in your car, there is nothing like the Drive+Play.
[ Jim Dalrymple is News Director for Macworld.com. ]