At a Glance
Expert's Rating
Pros
Easy to use
Beautiful templates
Simple visual controls
Support for blogs and podcasts
Well-integrated media browser
Cons
Sometimes converts text to images
Often uses PNG as an image format instead of JPEG
Inconvenient to publish sites via FTP
No true image-optimization
Our Verdict
As Apple's first entry into consumer-based desktop Web publishing, iWeb 1.0 is designed to let home or small-business iLife users with no HTML or design skills build simple, beautiful Web sites. Thanks to its integration with the rest of the iLife '06 suite, iWeb also makes it easy to incorporate audio, video, and still photographs into those sites. But while iWeb is ideal for novice publishers, people with more experience and higher expectations will probably find it limiting.
Instant Web pages
If there's an easier way than iWeb to design and publish a Web site with a desktop app, I've yet to encounter it. (Here's a Web page I built with iWeb as part of my testing for both this review and my first look at the application.) Apple has done a superlative job of incorporating the multimedia, blogging, and podcasting elements of today's consumer Web publishing environment into iWeb. It's not only valuable for a typical online photo album, but also functional for a wide variety of personal and business material you may want to publish on the Web.
You access iWeb via a window with three primary parts. The Canvas, located in the middle, is the workspace where you choose a template; fill that template with images, text, and background graphics; and create new headlines and text boxes. A resizable Site Organizer, which lists all of your pages in order, is located to the left of the Canvas, and a toolbar at the bottom of the window contains text and image controls.
Though there are only 12 main templates, they are beautiful and easy to change and tweak. Each template comes in several variations—photo album, movie page, blog, podcast, and others—so you can create multiple types of pages with a uniform look-and-feel. An About Me page style within your chosen theme is designed to be flexible so you can add any combination of images, text and links to it. However, if you intend to publish a podcast or a blog, it's a good idea to use the page designated for it, since those pages are encoded for easy RSS subscription and contain a built-in Subscribe button. Movie pages contain a window designed to hold one video clip at a time per page.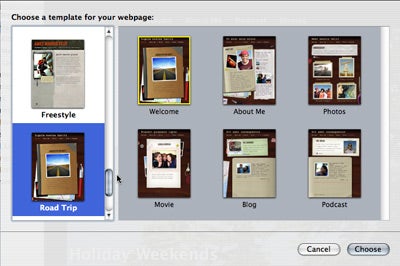 With iWeb's 12 templates, your Web pages come out fully formatted; blogs and podcasts, for example, are automatically formatted for RSS subscription and have a built-in Subscribe button.
You can alter elements on your pages, without destroying the expertly designed Apple templates, via iWeb's Inspector window. Using the window's seven panes, you can change page dimensions and color; add backgrounds; choose text attributes such as typeface, size, and line spacing; set margins, word wraps, and lists; add drop shadows and reflections to your boxes and images; and designate links. You can also use the Inspector window to password-protect your site and to track how much space is used on your iDisk. I had no problem with any of these controls: they were swift and dynamic and performed their tasks without a glitch, though text boxes were occasionally a bit hard to grab.
By the time you've finished customizing your page, it may look nothing like the underlying template. But design-challenged folks can be reasonably sure that, if they don't mess too much with the core elements of the page—such as the placement of main images and the size of type—their sites can look both original and well-designed.
iLife integration
iWeb's single window lets you see your page, adjust your site's organization, and drag and drop to add media.
Once you've selected your template, iWeb makes it easy to populate your pages with all the digital media managed by the iLife '06 suite . You use the Media Browser to pull that content into your pages. You can simply click and drag images from the Photos pane, movies from the Movies pane, and audio of any kind, including podcasts, from the Audio pane. You can also drag and drop elements from the Finder if you want to.
The resulting photo-album pages are elegant, and the slide show built into every photo page with two or more photos is exquisite. Watch out for the Adjust Image palette, though—using it can dramatically increase file sizes. One image ballooned from 68K to 80K when I started adjusting its brightness, contrast, saturation, and so forth.
Also watch out for the mysterious text-to-image conversion gremlin. Even if you're using a Web-friendly font such as Times, Arial, or Verdana, iWeb will often convert your text into a PNG image without warning. Such a conversion is detrimental because it adds unnecessarily to the page's file size, and it prevents the affected text from being searched and cataloged by Web spiders.
One-click publishing
Once you've designed your site, uploading it to .Mac is easy: you just click on the Publish button. If you have a .Mac account, iWeb will upload only pages you have changed. This doesn't take long. For example, one test site I built took 13 minutes to upload initially. However, it took only one minute to upload a spelling change to one page.
But here's the weird thing: if you create two—or ten—Web sites in iWeb, and you're using one-click publishing to upload to your .Mac server, you have no choice but to upload all the sites. If you want to separate your various sites—to send them to different servers, for example—you can use the program's Publish To A Folder command, which separates the iWeb file into its component folders. But that process may scare off real Web newbies.
With your .Mac account, you can work on the same iWeb sites from different locations, such as your home and your office, but the procedure for doing this wasn't explained in the documentation available at the time of this review; Apple has subsequently published a tech note explaining the procedure.
Design deficiencies
While iWeb can create very attractive sites, some elements of the program's templates can be inflexible. You can't move the navigation menu, for example. While you can hide certain pages from the template's navigation menu, something that the program creates automatically and changes dynamically, there's no way to create submenus. For example, if you have a photo section of your site that you want to designate as the master page in the navigation, you have to manually create links to all of your individual albums—this is easy, but a submenu would be more elegant. And there's no way to start an iWeb project without using one of its built-in templates.
iWeb has no image-optimization feature, which is something I hope Apple will consider for the next version. Many weekend photographers create large digital images, which will download slowly onto viewers' computers. Large images also take up a lot of space on the .Mac server. Apple says that images are optimized to 800-by-600 pixels, and iWeb does translate non-Web image formats such as Raw and TIFF to the Web-friendly PNG format, but that's not the same thing as reducing the file size to attain a reasonable download time.
Moreover, Apple most often uses PNG as the image format for iWeb—instead of the more popular JPEG—despite the fact that, in most cases, PNG files are larger than JPEGs. While your JPEG photo-album images are not converted into PNGs, the formatted thumbnails for your album covers are. Apple says that it favors the PNG format because it supports transparency, as well as other effects featured on iWeb pages.
Clunky FTP
While iWeb heavily favors .Mac as a publishing vehicle, you can use the app to post a Web site to a non-.Mac server. To use the Publish To A Folder command, navigate to your user folder /Sites, find the files you want to copy, and upload them via FTP. But if you're accustomed to old-fashioned Web publishing—creating pages in a tool like BBEdit or Dreamweaver and then uploading the results via FTP—that process may seem unnecessarily complicated.
If you do use an FTP program to send selected iWeb pages, updating your Web site isn't simple. Because you're bypassing iWeb's upload-everything process, you have to download the HTML file you want to change, view its source in your browser, copy and paste that source code into BBEdit or TextWrangler, make the changes you want, and then upload the saved document to the server.
Finally, if you don't use .Mac to publish your site, iWeb's signature slide-show, hit-counter, and password-protection features will not work (though you will get a plainer, perfectly serviceable, slide-show).
Macworld's buying advice
If you have a .Mac account, no Web skills, and a desire to build a well-designed Web site, iWeb 1.0 is definitely for you. If you use any iLife app and have a .Mac account, iWeb will be well worth your time. But if you're accustomed to traditional Web publishing, the debut version of iWeb will disappoint, both in terms of convenience and in important areas such as image optimization, menu navigation, and site portability.
[ Jackie Dove is Macworld 's Senior Reviews Editor. ]
Editor's Note : This article was updated on February 3 at 4:24 p.m. PT to clarify information about non-.Mac slide-shows and on February 10 at 5:41 p.m. PT to add a link to Apple's tech note on working on iWeb sites from different locations.
[ EDITOR'S NOTE: On February 15, after this review was originally published, Apple released an update to iWeb. The update addressed a number of issues raised in our original review; please read our updated review of iWeb 1.0.1. ]