At a Glance
Expert's Rating
Pros
Features keyword suggestion tool
Extensive report customization
Flexible preferences
Cons
Some small bugs
Difficult to use with heterogeneous sites
Minor interface glitches
Doesn't show page titles
Our Verdict
Webmasters whose sites depend on traffic from search engines need to know how easily potential visitors can find them. Before you can take any steps to modify or market your site to get higher rankings (a process known as Search Engine Optimization, or SEO), you have to know where it stands and what its competition is. Advanced Web Ranking Professional (AWR) 4.1 delivers that information quickly and efficiently.
AWR can query more than 300 search engines, using keywords that you specify, to determine where your site appears in the results. It automates the entire process, delivering not merely today's ranking for each keyword on each search engine, but detailed reports and graphs showing how your site's rankings change over time, how your site stacks up against competing sites, and dozens of other morsels of data.
You begin by creating a new project and choosing which search engines to use, which keywords to search for, which URLs to track in search results, and how often to perform automated searches. Then you click the Start Update button and AWR begins collecting data. When it finishes, you can display, sort, and filter the results in a table, or export them as tables, charts, or both, in any of several formats—PDF, Excel, HTML, CSV, Text, or XML. If you set up a schedule, AWR can even e-mail customized reports to you each time it runs, or upload them to an FTP server. The application also has links and helpful tips for submitting your site to search engines that do not already index it.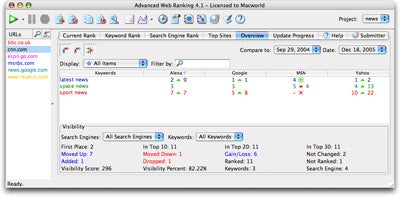 Advanced Web Ranking Professional's Overview tab displays the ranking of a given URL on each of several search engines for a variety of keyword searches and shows how the rank has changed since a previous search.
More work for diverse sites
AWR works exceptionally well for highly focused sites in which most pages pertain to a single topic. But if your site is more diverse, you may have to go through a lengthy set-up process to get exactly the data you want. That's because all the URLs in any given project share a set of keywords. For example, if you have a site about travel and you want to track the ranking of your Paris page using one set of keywords, and your Venice page using another set, you must create separate projects (collections of all AWR settings and data) for each page.
Currently, AWR is the only application of its kind for Mac OS X, and if you need frequently updated ranking statistics, it's a competent tool. But it does have some rough edges, including several small interface glitches that betray its Java core, and a few minor bugs (such as incorrect parsing of relative URLs in pages you import). In addition, the interface shows only page URLs, not page titles, which would be more useful for large sites. The developer plans to address all these issues in a future release.
The Standard version of AWR, which costs $59, has fewer customization and export options for reports, lacks the Search Engine Submission tool, and can't send reports out automatically via e-mail or FTP.
Macworld's buying advice
If your Web site is relatively homogeneous and relies heavily on search engine results, Advanced Web Ranking 4.1 is the best and easiest way to compile detailed ranking data. The Standard version is an excellent value for Webmasters with modest reporting needs; the Professional version is more appropriate for those who spend hours every day optimizing their sites for search engines.
[ Joe Kissell has written several ebooks about Mac OS X. His secret identity is Curator of Interesting Things for Interesting Thing of the Day. ]