At a Glance
Expert's Rating
Our Verdict
In the ubiquitous "Lazy Sunday" video—now officially over-saturated since it's being quoted in software reviews— Chris Parnell and Andy Samberg are moved by Google's map features to observe, "Google Maps is the best/True dat/Double true!" One wonders what Google Earth ( )—a 3-D mapping tool that made its Mac debut last month—would inspire them to say. The application's Macworld Expo-week release probably generated the most buzz of any non-Apple-made product during Expo, and for good reason—it's a visually breath-taking and remarkably addictive tool.
Google Earth is a free, stand-alone earth simulation program that integrates maps and satellite imagery with Google search capabilities. In a sense, it's not all that different from the satellite view option you get with the online version of Google Maps. Then again, that's like saying the notepad doodle you sketched during your last office meeting is not all that different from a Rembrandt. Sure, both are artist renderings, but one is just a wee bit more full-featured than the other.
For starters, Google Earth resides on your desktop. You don't need to have a browser open to run it, though you will need an Internet connection. (Otherwise, the application will stall when it tries to login to the Google Earth server after launching.) Also, this is not just a flat, overhead view—Google Earth features a curved, horizontal view that's more like what you would see looking out an airplane window. You can zoom in and out as you would with a flat map, but you can also tilt the horizon up and down and rotate the picture for a more panoramic view. Search for a city or an address or a landmark, and Google Earth will zoom in; do another search, and the application zooms out and pans over with the globe tilting appropriately all the while. It's an arresting effect.
Graphical acrobatics aside, you essentially use Google Earth for the same reason you use any of Google's online mapping tools—to find out where things are, what's nearby them, and how to drive there. (Or, at least, you use Google Earth to do that once you get over the giddy thrill of checking out what your house looks like from space courtesy of the satellite imagery the application relies on.)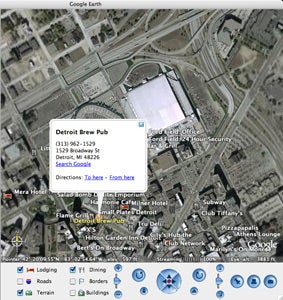 Say you're in Detroit for this week's Super Bowl, and you'd like to grab a bite to eat around the stadium. Just type Ford Field, Detroit into Google Earth's search bar—once you've zoomed in to the neighborhood, click the check mark box next to Dining (located in both the navigation bar on the bottom of the main window as well as the Layers pane on the left side). Google Earth will display the restaurants in the area by name and with a fork-and-knife icon; click on that icon to get an address, phone number, or driving directions.
Restaurants aren't the only thing Google displays. You can select everything from gas stations to golf course to ATM locales. Other layers display commuter rail lines, congressional districts, and even crime stats. One of the more interesting layers is one for buildings—clicking on that will display 3-D images of cityscapes for 38 U.S. cities, like the image of downtown Baltimore below. It's eye-catching, although the 3-D building images are merely gray shapes and not color-renderings, give your map an early Sim City kind of feel.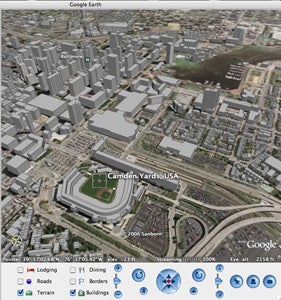 You can augment the data layers that come with Google Earth by downloading ones created by other Google Earth users in KML geographical markup language. I tried a few that Google makes available after you download Google Earth—a layer that shows hotels, another displaying links to Wikipedia articles, and so forth. I found them to be of varying degrees of usefulness, but you'll want to explore them on your own.
It's driving directions where Google Earth really shines. After selecting the Directions tab, type in your starting point and your destination. The pane below the tab will list step-by-step directions on how to get from Point A to Point B, with total distance and estimated travel time. The main satellite map will draw a purple line from your green starting point to your red destination—yellow visual cues along the route keyed to the written directions show you when and where to turn.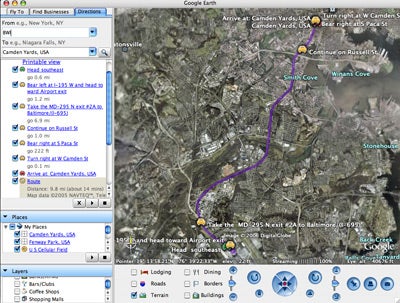 Ah, but it gets even better. Click on the Play button at the bottom of the written directions, and Google Earth will begin to drive the route for you, giving you a bird's eye view of all the twists and turns you'll take. As the satellite image moves from point to point on the route, the appropriate directions are highlighted in the pane on the left.
As you might have guessed, features like this require some processing oomph. Google Earth requires machine with at least a 500MHz processor and 256MB of RAM running OS X 10.4—but that really is a bare minimum. I did most of my testing on a 1.5GHz PowerBook G4 with 1.25GB of RAM, and I still noticed the occasional hiccup—not enough to diminish my enjoyment of Google Earth but enough to notice it was happening. Running the app on a dual-core 2GHz Power Mac G5 produced more consistent results.
There are more bothersome quirks than the occasional stutter. As your Fly To searches grow, the My Places and Layers panes get compacted—I'd like more control over how those panes expand and collapse. Also, Google Earth can occasionally get stuck in certain locales. After doing aerial searches of the Orlando, Florida area grew tiresome—so that's what Epcot Center looks like from 3,000 feet—I decided to jump over to Lihue on the island of Kauai. Trouble was, just typing Lihue made Google Earth think I was looking for things named "Lihue" in and around Orlando. Typing the city name plus the state name finally did the trick. (Searching by airport codes or zip codes also seems to work.)
These minor frustrations aside, Google Earth is a great searching and information tool. Doubtlessly, we can look forward to someone rapping its praises in the next over-exposed Saturday Night Live video to come along.