With the recent news that GM plans to ditch Apple CarPlay, anyone invested in Apple's ecosystem might be wondering if other car companies will do the same. Apparently, you won't see Ford following that bandwagon, as the company told 9to5Mac that it remains committed to CarPlay.
"We continue to offer Apple CarPlay and Android Auto because customers love the capability that enables easy access and control of their smartphone apps–especially our EV customers because some EVs currently do not offer the features," a Ford spokesperson said to 9to5Mac.
9to5Mac points out that Ford's executive ranks include Doug Field, who was once at Apple as a vice president of special projects. Speculation was that Field oversaw the long-rumored Apple Car before he left for Ford. So Field's influence and insight into Ford's EV development may have played a part in Ford's commitment.
Ford's statement may be reassuring to Apple users, especially after GM's announcement, which comes at a time when companies that specialize in electric vehicles (such as Tesla and Rivian) do not support CarPlay or do not prioritize functionality with Apple apps in its car software UI development. Tesla only recently began supporting Apple Music in its cars.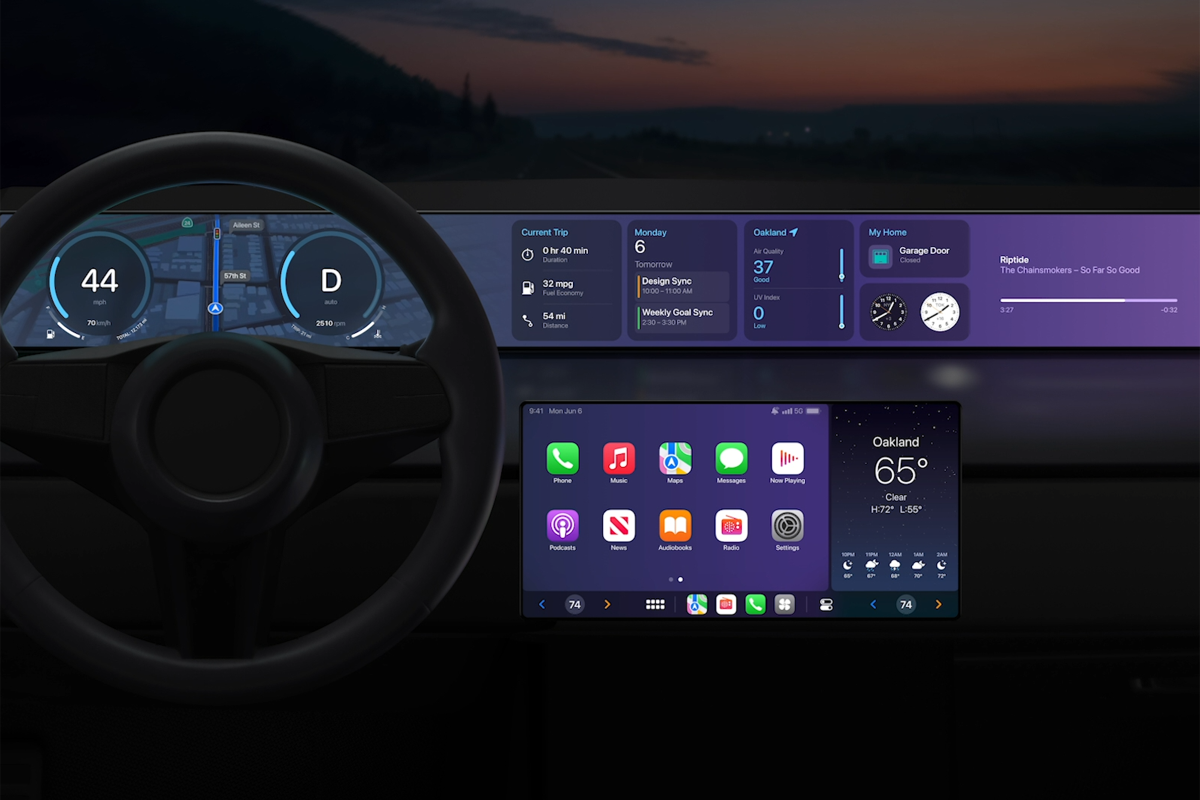 Apple
At WWDC last year, Apple's keynote included a preview of a new CarPlay experience, one that had CarPlay displayed as the complete dashboard experience, including the speedometer, engine RPM, temperature, fuel/battery gauge, and more, in addition to the entertainment and navigational tools. Apple said a list of vehicle announcements for the next generation of CarPlay will come at the end of 2023.
Ford did not elaborate on the extent of its CarPlay commitment, so we don't know if Ford is going all-in on the CarPlay experience. But Ford is making a big play with its EVs. In 2021 the company announced that it plans to invest $22 billion, but will lose $3 billion this year in EV sales despite growing sales. So to help Ford reach profitability, it may see CarPlay implementation as a way to save development costs and attract customers.
Companies such as Tesla and Rivian have software development as a much larger part of their car production, so they use their proprietary dashboard software. GM plans to use a new Google onboard navigation system, and it may feel a backlash on its CarPlay decision. The trend is an onboard system that does not rely on a smartphone, which also means that the car will have connectivity built-in. These new onboard systems (CarPlay included) could also be a way for car companies to create a new subscription-based revenue stream, where fees are paid for access to navigational systems and streaming entertainment services.