Every time a new Mac hits the market, this guy in Japan goes out and buys one, then proceeds to rip it apart. Why? So he can photoblog the results, of course. Mac geeks love it, because they get to see the guts of the new machine. But some of us cringe at the thought of a perfectly good Mac put to waste.
But I can't cringe anymore. For an upcoming issue of Macworld , we decided to do a photo-dissection of the new Intel-based iMac. So I spent the morning at a photographer's studio, progressively peeling away the plastic case, LCD display (which I'm holding, in pieces, in the picture below), insulating tape, circuit boards, and cooling systems, letting the photographer take a shot as each layer was uncovered. We'll Photoshop the results together and add captions to identify all the various bits.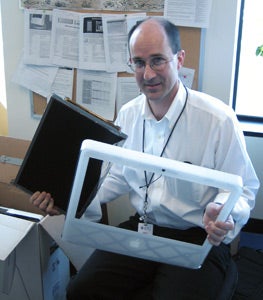 That dissection was guided by little more than previous experience with iMac G5s, some vague hints gleaned from the Web, and my own guesswork. It started with sticking a spatula into the cooling vents on the back to trip a couple of latches, continued with ripping strips of EMI tape from around the LCD and detaching innumerable cables from the circuit boards, and ended with a thoroughly mangled Mac posed delicately on the photographer's lighting stand.
That mangled hulk is now sitting in its box in my office—silent, inoperable, accusing. I'm going to try to get it operational again, but I'm not optimistic.
One thing I am sure of: This thing is not user-upgradeable. Believe the manual: "Your iMac doesn't have any user-serviceable parts, except the memory…Do not attempt to open your iMac." True, some adventurous types have already done just that to add bigger hard drives. But for the great mass of users, Intel iMac upgrades will be confined to opening the little RAM door on the bottom and adding a new SODIMM. Anything more is best left to your local Apple Authorized Service Provider, the very foolish, the very rich, or those who think warranties are for sissies.