As the subject hasn't yet come up in the MacMania IV blog entries Jason Snell and I have proffered over the past couple of days, I thought it worth mentioning that while the geeks aboard this Geek Cruise are thrilled to be talking tech with the likes of me, Jason, Bob LeVitus, Andy Ihnatko, Leo Laporte, Woz, and Apple's Sal Soghoian and Janet Hill, the other passengers aboard the ms Oosterdam have a different impression of our passion.
They think we're nuts.
After a long day of excursions (the estuary-birding/hayless hay-ride photo-god Ben Long, Jason, Sal and his wife Naomi and I took part in during our stop in Mazatlan was particularly time-stretching) the "normal" passengers are ready for a night of merry making—taking in a show, dancing, gambling, or strolling the deck in the temperate Mexican moonlight.
The geeks? We're clustered outside the ship's Internet Center, banging away on our PowerBooks and iBooks during impromptu brain dumps between geeks, faculty, and those passersby who, brave enough to approach those so apparently out of touch with reality, are curious to know what could be so enticing to drag us away from the many, less-cerebral onboard pleasures.
I admit, at first, I was put off by the snickers our activities elicited from the Great Unwashed. We were here because this stuff intrigues us, so where's the harm?
And then something happened that offered a glimpse of how the other half thinks.
Near the conclusion of the estuary excursion I mentioned earlier, we were taken to a beach-based restaurant for quesadillas, fish, and cooling beverages. Jason, Ben, and I set up camp at the edge of the outdoor establishment, looking over the blue Pacific and a couple of guano-stained crags. After cruising through endless mangrove swamps, being dragged behind a tractor through a similar acreage of coconut groves, and consuming a couple of necessary cervesas , I had to break away from the idyllic scene for a much-needed facilities break. Upon my return did I find Jason and Ben gazing contentedly out to sea, vowing to fulfill their long-repressed dreams of trading it all in on a sloop for a leisurely sail to Tahiti?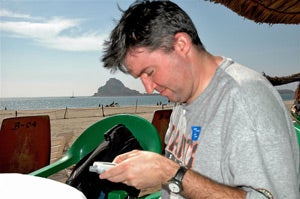 Hardly.
As the photograph attests, Jason was raptly engaged in a game of Joust on Ben's Treo while Ben waxed rhapsodic about the glory days of Williams coin-op arcade machines.
Nuts, the both of them.
Nothing touches The Bride of Pinbot.