At a Glance
Expert's Rating
Pros
Easy to use out of the box
Innovative combination headphone and lanyard design
Great voice- and FM-recording capabilities
EQ presets and custom setting plus SRS option help songs sound even sweeter
Ultra-compact form-factor great for traveling light
Cons
Small buttons and display make navigation difficult
Poor FM reception
Display shows filenames rather than artist and track info
No iTunes integration
Our Verdict
MobiBlu's diminutive MP3 player, the DAH-1500i, packs a few miles of features into a player that measures less than one cubic inch. In addition to the MP3 player, it sports an FM tuner and recorder, voice recorder, file storage, and a clock. It also has an equalizer with five presets and one user-defined setting, and an SRS function to enhance bass and surround sound.
Although the MobiBlu is not iTunes-compatible, loading songs is a snap. The MobiBlu shows up as an attached drive in both Windows and Mac systems when you plug it into a USB port using the included cable. (As previously mentioned, you can also use the player as a USB thumb drive for portable file storage.) Simply drag and drop audio files to load them on the player. In addition to MP3, MobiBlu supports WMA and protected WMA files, meaning it's compatible with a variety of online music services, such as Yahoo Music Unlimited and Napster, but not iTunes.
The play, pause, volume, skip forward, and back buttons are, let's just say, arranged remarkably similar to the iPod's; if you've ever used an iPod, you'll be happy and comfortable with this button placement.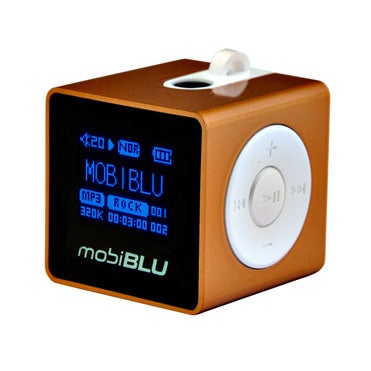 MobiBlu DAH-1500i
The MobiBlu's FM radio will scan and set stations for you or allow you to do it yourself. Setting presets automatically is fairly straightforward: You access the menu while in FM tuner mode and then select Auto Preset. Manually setting stations requires considerably more finesse, navigating the menu with the MobiBlu's ultra-small buttons—which are on a different side of the cube than the display.
Unfortunately, likely due to the unit's small size, the MobiBlu's radio doesn't get very good reception. Although it was aces outside, I found that when I entered my office, coffee shops, and other buildings, reception suffered dramatically unless I held the player in my hands. Also, if I wanted to pick up stations without static—inside or out—I had to wear the player on the outside of my clothes, particularly if I was wearing a heavy sweater or a jacket. (The "bling" effect wasn't necessarily the one I was shooting for on the bus.)
Recording FM stations is done by simply hitting the play button in record mode; hit it once more and the recording stops. Voice recording is similarly easy, although in my testing it picks up a lot of background noise. The microphone, which doubles as a recessed reset button, is on the bottom side of the player. The MobiBlu records in MP3 format at bitrates of 64 to 160 KBps.
The audio quality of the MobiBlu is good, though the included earbuds—like those that come with most portable players, including the iPod—beg to be upgraded. The included headphones also serve as a lanyard, which is a nice touch that keeps the headphone cables from getting tangled.
Unfortunately, packing all these features into such a small package has other drawbacks in addition to those already mentioned. For example, when you want to switch between modes, adjust settings, or even try to get from one song to another, you're left squinting into a tiny screen and trying to press even smaller buttons. Depending on what you're trying to do, sometimes need to simply press and release a button, whereas other times you need to hold that button down—most of the time I wanted to give up in frustration. By way of comparison, the 1GB iPod shuffle is dramatically easier to use, largely because it doesn't try to do as much.
Another annoyance with the interface is that instead of displaying the current track's ID3 information (such as artist, album, and track name), the MobiBlu simply displays the file name. Furthermore, because the display is so small, it can only show two track names at at time, requiring much patience when scrolling through the track list. Why bother displaying information if it's not useful?
If my only expectations of the MobiBlu were to play songs, skip to the next song, or shuffle songs, I would have been happier with it. Yet because it promises more than that and fails to deliver—at least in a way that makes it easy to use—the MobiBlu left me feeling, well, blue.
Oddly enough, my final complaint is that the MobiBlu is too big. (Or at least too thick .) Although it's nothing in terms of cubic inches—less than one—it's actually thicker than any iPod and than most current flash players from other manufacturers. Its cube shape makes it somewhat uncomfortable when worn either around the neck on the lanyard on when placed in a pocket.
The Lowdown
In short, the MobiBlu does a lot of things in a little space. Unfortunately, while it does some of them quite well, others features suffer thanks to the player's size restraints. If you want a gee-whiz gadget that's the smallest (for now) thing out there, and you don't necessarily care about the interface, this is a great little device. However if you're more interested in an on-the-go music player, there are a number of flash players out there that accomplish everything the MobiBlu while being easier to use—granted, other players are slightly larger, but they're still small enough to slip easily into a coin pocket.