At a Glance
Expert's Rating
Pros
Lots of themes to choose from
Easy-to-build Web sites
No HTML experience needed
Familiar iLife-app interface
Changing site designs is remarkably easy
Integrates seamlessly with iPhoto and other applications
Works well with .Mac
Cons
Slow, buggy FTP publishing
No native commenting system for blogs
Our Verdict
RapidWeaver 3.2.1 is a basic Web site-creation tool that anyone can use—even people without Web-publishing experience or HTML knowledge. I used RapidWeaver to design and build a personal site complete with a Weblog, photos, and contact-information pages, as well as a four-page site designed for a home business. Despite some minor problems, I found RapidWeaver to be a very effective application for simple Web publishing.
Easy site creation
RapidWeaver uses preset design templates, or themes, to help you build a site. It comes with more than 20 of them, and users can either download additional ones from Realmac or create them in a text editor. You can apply themes to Weblogs, photo and movie albums, or custom pages you create yourself. It's easy to change themes across your entire site with a click of the mouse, or to set some pages to one theme, and others to a different one.
It was also easy to make basic modifications to themes (though power users might want a program with more flexibility). For example, when I made changes that affected the way pages displayed—such as adding a graphic or inserting an iframe (inline frame) that was wider than a theme's default width—RapidWeaver's Page Inspector allowed me to change the page width so that it would render properly. You can also use Page Inspector to add metadata, CSS, and JavaScript elements, or even make site-wide changes.
For creating personal home pages, RapidWeaver is hard to top. It uses an interface similar to Apple's iLife apps, so it should instantly feel familiar to most Mac users. Photo pages seamlessly integrate with iPhoto, making it a cinch to publish complete iPhoto albums or individual pictures. RapidWeaver generates attractive online albums, and I actually preferred them to the default albums in iPhoto.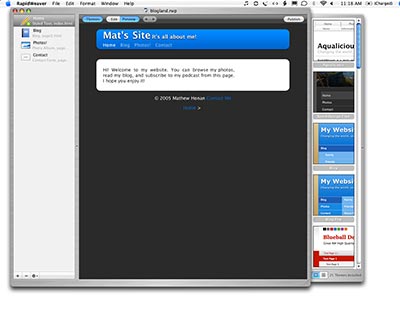 Rapidweaver makes it easy to apply a new theme to individual pages or to your entire site.
Easy blogging
Designing and publishing a Weblog to a .Mac address and a personal domain is much simpler with RapidWeaver than it is with most online-only tools. To create a new blog, simply select a theme, enter your server information, and you are on the Web. To generate a new blog entry, all you have to do is click on a button; plus, RapidWeaver will automatically create index and archive pages for all of your posts.
The program also includes tools for creating feeds with your blog, and you can enclose audio files for podcasts via drag and drop. When I subscribed to these feeds in NetNewsWire and iTunes, they worked perfectly.
Posts can have both categories and comments. However, RapidWeaver does not generate or track comment forms. Instead, it incorporates the third-party HaloScan commenting system into its template, requiring you to sign up for a free account there if you want comments. And though it is not a strike against RapidWeaver, I prefer online Weblog publishing services such as Typepad or Blogger, which you can access from anywhere you have an Internet connection.
FTP trouble
Although publishing to a .Mac account was a breeze, I ran into trouble trying to upload a site to my personal server via RapidWeaver's FTP function. Publishing repeatedly stalled out during the upload process, and it ended up taking more than five hours to upload my simple four-page site.
When I contacted Realmac about the problem, the company noted that my experience was not typical and suggested I try publishing from another physical location. That did not improve performance, nor did publishing from a second machine. However, I did find a solution to the problem in RapidWeaver's help file (suggesting that it is a known issue). By exporting the site (so that those files are converted to HTML, PHP, or another markup language, with the file tree structured the same way it will be online) and then using the third-party FTP program Transmit ( , July 2005 ), I was able to upload files to my server within a few minutes.
Macworld's buying advice
RapidWeaver 3.2.1 is an excellent program for building personal and small-business Web sites. If you just want a Weblogging service, you might want to stick with online-based tools. But for more full-featured sites, RapidWeaver greatly expands on what those services offer.
[ Mathew Honan is a San Francisco-based freelance writer and photographer. His blog can be found at www.honan.net.]