Delete incorrect Mail addresses
I've entered some incorrect addresses when addressing new e-mail messages in Apple's Mail. Now when I create a new message and enter the first couple of letters of an address, these unwanted addresses appear. Since they haven't been entered on a card in Address Book, I can't find them to delete them. How can I rid myself of these bad e-mail addresses?—Helen Pressel
When you create an e-mail message and type the address in Mail, the program puts the address—whether right or wrong—in its cache. To remove cached addresses in the version of Mail that shipped with OS X 10.2.8, select Window: Address History, select the incorrect address in the resulting Address History window, and click on Remove From History.
In Tiger's version of Mail, go to Window: Previous Recipient and do the same. The command's name is different, but it works in a similar way. In the Panther and Tiger versions of Mail, you can remove these addresses by allowing Mail to automatically complete the incorrect entry, control-clicking on the address, and then selecting Remove Address from the contextual menu (see "Boot Bad Addresses").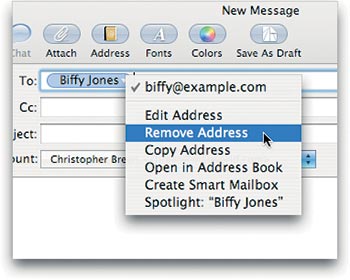 Boot Bad Addresses Tired of Mail using incorrect addresses when it automatically completes them for you? Remove bum addresses by using a quick contextual-menu command.
Raise the dead drive
I installed the Tiger (OS X 10.4.3) update, and now my Power Mac G5 can mount DVD movies but refuses to play them. What's wrong?—Via the Internet
If you've been using your Mac for longer than the life span of a moderately hearty butterfly, you've heard that after installing an OS upgrade—say from OS X 10.4.1 to OS X 10.4.2—you should immediately dash to Apple's Disk Utility (/Applications/Utilities), select your startup drive from the list of drives at the left of the Disk Utility window, and click on Repair Permissions to put any errant file permissions back in line. I've found doing so to be an absolute necessity for this particular update.
After I installed the update on my brand-new 20-inch iMac G5, the SuperDrive refused to read a perfectly legitimate software CD. Spin enthusiastically, it would, but mount, it would not. When I repaired the Mac's permissions, a slew of out-of-whack ones appeared in Disk Utility's main window. With these fixed, the drive worked as it was supposed to.
I'm aware that a new update may be out by the time you read this. Regardless, this advice applies from now until Apple says there's a better way. Repair permissions after every update.
Save your receipts!
I can't use Apple's Disk Utility to repair permissions on my 500MHz Titanium PowerBook G4. When I try, I see an error that reads "No valid packages." What's going on?—Ayrton Camargo
You can't repair permissions if you've moved the BaseSystem.pkg file in your Mac's /Library/Receipts folder. Regrettably, there's a notion floating around the Web that it's perfectly okay to toss the contents of this Receipts folder to free up space. But if you misplace this particular file, which was created when you installed OS X, you encounter this error.
Each package, or .pkg file, in your Receipts folder contains a bill of materials, or .bom file, that keeps track of permissions for the items installed from that package. Disk Utility uses that information to compare the permissions of files on your hard drive with the permissions listed in these .bom files.
If a receipt (and its accompanying .bom file) is missing, Disk Utility can't verify the permissions at all. In most cases, this isn't a huge problem. Disk Utility goes on about its business because it's unaware of the missing receipt. But it becomes a big problem if the BaseSystem.pkg file is missing, because Disk Utility relies on this particular package to do its job.
The solution to the problem is to put the BaseSystem.pkg file back in the Receipts folder. If you've intentionally removed and deleted it, either pull a copy of the file from a backup you've created or find a Mac buddy who's running your PowerBook's version of Mac OS, grab a copy of this file from his or her computer, and plunk it into the Receipts folder on your Mac.
If you're buddyless, you can put things right by performing an Archive & Install installation of Mac OS.
Resurrect Sherlock
My copy of Sherlock appears to be dead, and I don't know how to get it up and running again. It worked well under previous versions of OS X but broke when I installed OS X 10.4.—Louise Wazbinski
This behavior could be seen as a fairly broad hint that Sherlock's days are numbered, because most of its capabilities are duplicated by Tiger's Dashboard widgets. (Hold those angry cards and letters, please—I'm not saying that widgets are better than Sherlock; I'm saying only that the writing is on the wall.)
But that doesn't mean Ican't help you. You simply need to clear Sherlock's virtual throat and allow it to start fresh. Dig through your user folder and toss the following folders and files into the Trash:
> / your user folder /Library/Caches/Sherlock/
> / your user folder /Library/Preferences/ Sherlock/
> / your user folder /Library/Preferences/com .apple.Sherlock.plist
Dot not
I used Panic's news reader, Unison, to download a folder full of files. I can't find that folder anywhere on my hard drive, and Spotlight can't find any of the files. Yet when I click on the Show File icon in Unison's Downloads window, the file appears in the group folder that contains it. Where is everything?—Bill Phillips
This quirk from an earlier version of Unison has now been addressed. If you used a utility such as Marcel Bresink's free TinkerTool to make your Mac's invisible files visible, you'd find your folder right where it should be—inside the group folder ( alt.binaries.sounds , for example) where Unison stores its downloads.
The problem is that the file or folder's name probably begins with a period (.). You see, the Finder won't allow you to create a file or folder with a name beginning with a period, but it's possible to download one. Unfortunately, that's the naming convention for special items reserved for the system's use. OS X makes all such items invisible so you can't mess with them by accident.
The trick to making the folder visible is changing its name, but the Finder may prevent you from doing so in the normal way—highlighting the name in the Finder and removing the period. Instead, select the folder's name, press Command-I to bring up the Info window, and rename the folder by typing in the Info window's Name & Extension text field.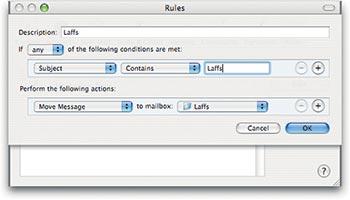 Get the Joke Don't let yourself be overwhelmed by e-mails that you want to save but that have unhelpfully generic subject lines. With the aid of a nonsense word and a well-constructed Mail rule, you'll have the last laugh.
Change the subject
A friend sends me tons of funny e-mails, but they all have the subject heading "Humor." I save the ones I like in a folder, but I can't tell them apart. If I could change the subject heading, reviewing the items in this folder would be a lot easier.—Jim Ross
The most effective solution would be to contact the sender and ask him or her to create a subject heading that reflects the contents of each message. But I imagine you would have contacted Dear Abby instead of Mac 911 if you wanted the social solution to your problem. To avoid what could be an awkward e-mail exchange, try this instead.
Launch Mail, hold down the Command and option keys, and click on the transparent button in the upper right corner of the window to produce the sheet that lets you customize the toolbar. Drag the Redirect icon to the toolbar.
When you receive a joke that you like, click on the Redirect button. In the message window that appears, enter your name in the To field and type in a subject heading that more accurately describes the yuckfest within. Send the message to yourself.
To more easily file the message when you receive it, add a made-up word to the subject that will help you filter the message with a rule. For example, you could use the fake word Laff in the subject line—"Laff: Chicken Crosses Road." Click on the plus-sign (+) button at the bottom of Mail's Mailboxes pane and create a new mailbox named Laffs. Now choose Mail: Preferences, click on the Rules tab, click on Add Rule, and create the following rule: If Subject Contains Laff, Move Message To Mailbox Laffs (see "Get the Joke").
If you'd rather not e-mail yourself, go ahead and click on Redirect, enter any e-mail address you like, change the subject, and then click on Save As Draft. Mail will move the message to its Drafts folder; then you can move it to another folder.
Shrink slide shows for TV
Tip of the month: You can make beautiful slide shows in iPhoto. But when you try to burn them to DVD to watch on a TV, you'll find that 10 to 20 percent of the image area disappears. Here's how to create a slide show that fits, with Apple's iLife '05 ($79) and QuickTime Pro ($30).
Start by creating a slide show in iPhoto and choosing Share: Send To iDVD. Quit iDVD. Open the slide show (it's in / your user folder /Movies) in QuickTime Player Pro. Choose Window: Show Movie Properties, and make a note of the slide show's length.
Using an image editor, create a black image and save it as a 640-by-480 JPEG file. Launch iMovie, create a new project, and drag the black JPEG image into the Clips area. Drag the black image into iMovie's timeline and then double-click on it. In the Duration field of the Clip Info window that appears, enter the duration of your slide show and click on Set. Choose File: Share and, in the resulting pane, click on the QuickTime tab. Choose Full Quality from the Compress Movie For pop-up menu, and click on Share.
Double-click on the black movie file to open it in QuickTime Player. Locate your slide-show movie, and open it in QuickTime Player as well. Click here to download the QuickTime Player scripts. Install the script collection, using the instructions with the file. Return to QuickTime Player and choose AppleScript: QuickTime Player Scripts: Edit: Merge Movie 1 Into Movie 2. This merges the contents of both movies into one movie.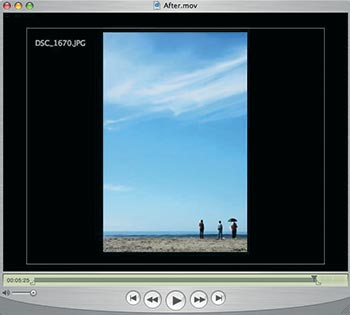 Shrink to Fit When you display iPhoto slide shows on a TV, some of the picture gets cropped out (left). But you can make them fit by scaling the size of your slide show and placing it against a black background (right). The lines indicate what would be visible on the tube.
Choose Window: Show Movie Properties. You'll see two video tracks. Select Video Track 1 (which should be in the DV/DVCPRO – NTSC format), deselect the Preserve Aspect Ratio option, and enter 640 and 480 into the Scaled Size fields. Enable the High Quality option.
Now select Video Track 2 (in MPEG-4 Video format). Enter 544 and 408 in the Scaled Size fields and 48 and 36 in the Offset fields. Doing this centers the images in the black background field. Enable the High Quality option here, too. Save the file and import it into iDVD. The entire picture will now fit on the TV screen (see "Shrink to Fit"). —Carl Sunshine
Rigging a safety net
Cool as your Mac may be, without the data you so carefully create and manipulate on it, it's little more than a pretty box. To help keep your data intact, I'd like to recommend a few items that any good office (home, mobile, or otherwise) should have.
• Uninterruptible Power Supply (UPS) A UPS can help protect your data by standing in the way of power fluctuations and providing battery backup should power fail completely. You can buy a UPS from companies such as APC, Belkin, and Tripp-Lite. Most cost between $70 and $150, although you can find them for as little as $35 or as much as $500.
When seeking a UPS, look at its load capacity, measured in volt amps. An iMac or a laptop will get along fine with a 350VA UPS. If you have a Power Mac G5, look for a 1,000VA model. Also see that it supports Automatic Voltage Regulation (AVR)—a feature you won't find on the less expensive models. This helps ensure that the UPS reacts quickly to changes in power, providing your Mac with a steady stream of the right power.
• Hard Drive and Backup Software You've heard the "some day your drive will die, and without a backup, you're meat" lecture time and again, so I won't repeat it here. But if you really want to protect your data, get an external hard drive and backup software that can copy your data on a schedule. (See our most recent review of external FireWire drives.) You can find 300GB FireWire hard drives for less than $250. And you needn't spend a fortune on backup software. Some hard drives ship with EMC Dantz's Retrospect Express ). Shirt Pocket's $20 SuperDuper ) does a great job for little money. And if you're a .Mac subscriber, you get Apple's Backup 3 for free.
• USB Key Drive If you can't back up on a schedule, drop a couple of dozen dollars to purchase a USB key drive from a company such as SanDisk. Plug it in whenever you're working on a hot project and make copies of your five most important documents. If you carry the drive on your keychain or around your neck, you'll have the documents whenever you need them. This is also a good way to protect files you're changing quickly. A backup that fires off once a day might not be enough to save the right version.
[ Senior Editor Christopher Breen is the author of Secrets of the iPod, fifth edition , and The iPod and iTunes Pocket Guide (2005, Peachpit Press). ]