One of iPhoto 6's hot new features is photocasting . If you're a .Mac subscriber, you can use photocasting to easily and automatically share your photos with friends and colleagues. Even if they don't have .Mac accounts—or Macs—they can still subscribe to your photocasts via any RSS-compatible browser or RSS reader. While this sounds great in theory, there have been problems in practice. It turns out that Apple's RSS format for photocasts isn't completely compatible with 100 percent of the Windows RSS readers.
While this is far from ideal, it wouldn't be so bad if the photocasting tool let subscribers know there could be issues viewing the photos from certain RSS readers. Alas, it doesn't. When you publish a photocast from iPhoto, you can choose to send an announcement e-mail. It contains this blurb (my emphasis added):
"If you don't have iPhoto 6, you can view the photos in this Photocast with Safari RSS or any compatible RSS reader on Mac, Windows or other computers by using the link above. Just click on the link or copy it into the URL field of your RSS reader and bookmark the URL to return to the photos in the future. Learn more about iPhoto 6 at www.apple.com/iphoto."
As you can see, your potential viewers are left on their own to determine which RSS readers may be compatible. But not for long! Last Friday, we described how to modify the subject line in e-mailed iPhotos. This relatively simple procedure required editing a file within the iPhoto application bundle. This week we'll look at making another change in that same file. But by modifying the Localizable.strings file within iPhoto's application bundle, you can modify your photocast announcement to give your viewers more information, including links to some Mac and Windows RSS readers that do work.
First quit iPhoto, and then navigate to your Applications folder, where iPhoto should reside. (If you've customized your installation, go to the directory holding the application). Control click on iPhoto and select Show Package Contents from the pop-up menu, then navigate into Contents -> Resources -> English.lproj. (If you're running OS X in another language, look inside the appropriate folder—-for example, French.lproj.) Find the file named Localizable.strings and make a duplicate of it. You can do this by clicking on it once, pressing and holding the Option key, then dragging the file to your Desktop (or another safe location). If all goes well, you won't have to touch this file again; it's just for safety's sake. (And yes, the above is an exact duplicate of a paragraph you read in last week's column—it only makes sense, since the instructions are identical!)
In the English.lproj directory, open the Localizable.strings file in your favorite pure text editor-—TextEdit (in plain text mode) or Bare Bones' free Text Wrangler, for instance. (I'll assume you're using TextEdit for these instructions.) Type Command-F to bring up the search box, and then type AlbumPublishAnnountEmailBody as your search term and click Next. TextEdit will jump to this section of the file:
You're going to want to modify that long block of text to the right side of the equals sign. As before, you can use any text you wish, but there are some rules to follow with this long block of text:
Do not use actual line breaks of any sort. Type your text as one long line.
Anywhere you'd like to see a blank line, insert two "new line" symbols— nn. If you use just one, n, you'll get a single carriage return, not a blank line.
Do not forget to include the link to your photocast, which is indicated by the %@ code. If you don't include this bit, then nobody will actually have the URL to your photocast, so they won't be able to subscribe!
Remember to put a new line command ( n ) at the end of the text, to make it easier to type additional text in the actual e-mail message when it opens.
Leave the quotes intact, and don't use any double-quotes inside the body text.
Now that you know what to do to edit the file, all you need to do is find some photocasting-compatible RSS readers to include with your next text. Thankfully, I've done some work for you already. The following RSS readers work for viewing photocasts:
To make this entire process easier for you, we've created a revised version of the message, complete with links to the applicable RSS readers. Just copy the text in the below box, and then paste it into the AlbumPublishAnnountEmailBody variable in the Localizable.strings file, replacing the text that's already there:
"Hello!nnI've published a Photocast using iPhoto that I'd like to share with you. To subscribe, just click on the following link:nn%@nnIf you have a Mac running iPhoto 6, this Photocast will appear in your iPhoto Source list, and you can use its photos just like any other photos in your library — for slideshows, your desktop, custom photo books, etc. Whenever you are connected to the Internet, iPhoto will automatically update this Photocast so you see the latest photos. (Note that this requires Mac OS X version 10.4 or later.)nnIf you don't have iPhoto 6, you can also use Safari, or one of these RSS readers:nn<http://ranchero.com/netnewswire/> – NetNewsWire (and Lite)n<http://freshsqueeze.com/products/pulpfiction/> – PulpFiction (and Lite)nnIf you're using Windows, you can still view the Photocast. To do so, you'll need a Photocast-compatible RSS reader. The following programs work, and both are free:nn<http://www.tts.co.uk/software/products/> – dmAlbumsn<http://www.feedreader.com/> – FeedreadernnJust click on the photocast link above (or copy it into the URL field of your RSS reader), and bookmark the URL to return to the photos in the future.nnNote: If this Photocast is password protected, please contact me for the username and password.n";
When you're done, it should look like this: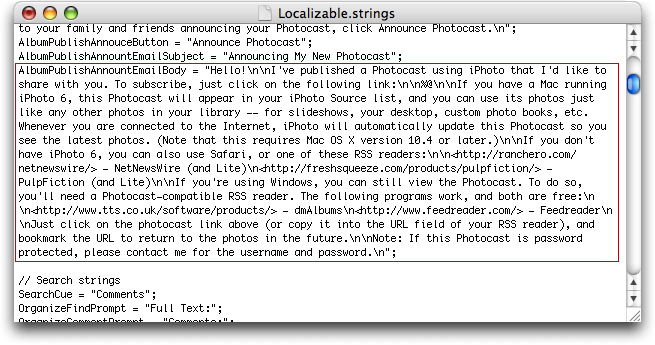 Save the file, quit the editor, and relaunch iPhoto. Select your photocast, then click on the URL link in the Information window to bring up the publication announcement dialog box. Click the Announce Photocast button, and check the text to make sure it matches what you wanted to say. You don't need to use my words, obviously—think of the text as a template from which you can develop your own personalized message.
Bonus tip: As long as you're editing the file again anyway, feel free to change the AlbumPublishAnnountEmailSubject variable—you'll find it immediately above this one. That line controls the subject of your photocast announcement e-mail message. You may wish to go with something a little more interesting than just "Announcing My New Photocast."