At a Glance
Expert's Rating
Pros
Excellent sound quality
Responsive controls
Color screen supports photo viewing
Skip-proof flash memory
Provides "full" iPod experience at the lowest price yet
Cons
No AutoFill feature
No syncing via FireWire
Review unit's screen not as bright and clear as that of 2GB/4GB models
Cannot view photos on a television
Our Verdict
When Apple announced, at a special event last September, that the company was dropping the immensely popular iPod mini and replacing it with the iPod nano, many observers questioned the move. Besides replacing Apple's most popular product, the nano offered less storage space (2GB or 4GB) than the iPod mini (4GB or 6GB) at the same $199 and $249 price points. But when Apple recently announced that 14 million iPods had been sold this past holiday season, with analysts estimating that the bulk of those sales were nanos, you could almost hear Apple executives thinking, "We told you so." The iPod nano's sleek design, color screen, and new features won over even many iPod-mini-loving critics—reports of easy scratching notwithstanding.
The runaway success of the nano has led to much speculation over the past few months that Apple would eventually add a screen to the less expensive, but similarly flash-based, iPod shuffle. But last week, Apple went the other way, instead introducing a smaller-capacity iPod nano. This 1GB model offers everything its "larger" siblings provide at the lower price of $149—only $20 more than the price of a 1GB iPod shuffle before Apple's recent round of shuffle price cuts (announced the same day as the 1GB nano's release).
Less of the same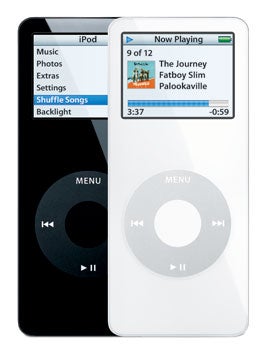 iPod nano
Playlist reviewed both the 2GB and 4GB nanos (

) back in September, and apart from their larger capacities, there's little difference between those models and the new 1GB version. Like the iPod shuffle line, the 1GB nano uses skip-proof flash memory instead of a relatively fragile hard disk; but like full-size iPods, it has a bright, color display that both makes navigating the iPod's menus easier than older monochrome versions and can be used for viewing photos and album art synced to the iPod via iTunes. The 3.5- by 1.6- by 0.27-inch body has the same metal back and acrylic face as the original nanos, available in black or white, with headphone and dock-connector ports on the bottom and Apple's acclaimed Click Wheel on the front; a hold switch sits on the top edge. The new nano syncs with your computer via USB 2.0 (or, slowly, via USB 1.1) and can charge via USB or FireWire.
The sound quality of the 1GB nano is identical to my ears to that of the original nanos. Battery life is also similar, with the 1GB version providing just under 15 hours of continuous playback based on a repeating playlist of 206 tracks purchased from the iTunes Music Store. (During battery testing, the iPod was driving Apple's earbuds at just over half of full volume; backlighting was disabled.) In terms of data transfer speed, those 206 tracks synced to the nano in a speedy 2 minutes and 51 seconds over a USB 2.0 connection to a Power Mac G5. (You can thank the nano's flash memory for this speed, which is also responsible for the nano being the most responsive screened iPod in terms of controls, onscreen interface, and photo display.)
Finally, the nano shares its fraternal twins' software features list, including the new Stopwatch, Screen Lock, and multi-zone Clock features, as well as podcast played/unplayed indicators and lyrics display. It lacks full-size iPod features such as audio recording, camera-connector photo downloading, and video output. (And, like all newer iPods, you can no longer boot a Mac from the player.)
(For more on the nano, Christopher Breen covers all of the its features in his original iPod nano review as well as in a first look at the nano right after its Fall 2005 launch.)
Kind of blue
One minor difference between our 1GB iPod nano review unit and the 2GB and 4GB nanos we have on hand is that the newer model's screen appears to be of a slightly lesser quality than those of the older units. Although the 1GB model's screen looks very good on its own, when compared directly with those of our "larger" nanos, the 1GB screen is slightly dimmer with a faint blue tinge. The image below shows relative brightnesses well, but doesn't quite capture the slight color differences:
iPod nano screens: 1GB on left, 4GB on right
To be clear, the differences we're seeing could simply be due to manufacturing variations, rather than a difference in the actual quality of screens used in the various iPod nano models; however, we've seen similar reports around the Web.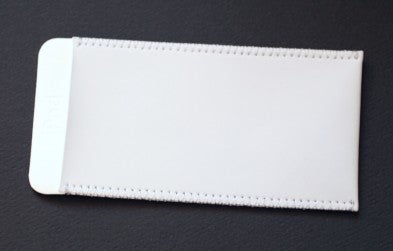 iPod nano sleeve
On the case
Like the original iPod nano models, the 1GB version comes with Apple's signature white earbuds, a USB dock connector cable, Apple's new model-specific adapter for "Universal Dock" accessories, and an iPod/iTunes software CD. The 1GB model also includes a thin "sleeve" case, much like the one introduced with the iPod with video and now included with all iPod nano models.
In need of Autofill
When Apple introduced the iPod shuffle in January 2005, it also touted a new shuffle-only feature of iTunes called Autofill. Based on the assumption that most iPod shuffle owners would have much more music than can fit on a shuffle, Autofill automatically picks an assortment of songs—from either your iTunes Library as a whole or a playlist of your choosing—to fill up your iPod. If you prefer, you can have iTunes choose those tracks randomly and/or choose higher-rated songs over lower-rated ones, and you can even have it pick a new group of tracks each time you connect your shuffle.
Autofill quickly became one of the most popular features of the iPod shuffle, so much so that many iPod mini and nano owners—who also often had more music than their iPod could hold—called on Apple to make the feature available for their iPods, as well. It hasn't yet happened, and in the case of the 1GB nano, that's a shame, as the nano has the same memory limit—and thus the same need for the Autofill feature—as the larger iPod shuffle. Hopefully Apple will enable Autofill for the nano (or, even better, all iPods) in a future software update.
An iPod for everyone
Apple also made two other changes to the iPod lineup last week, lowering the 1GB shuffle's price from $129 to $99 and reducing the 512MB model's price from $99 to $69. These prices make the already affordable shuffle models (

; review ) a bargain compared to many competing products. Think of it this way: for $20 to $30 more than many vendors charge for a 512MB or 1GB flash drive, you get a flash drive with a screenless iPod "built-in." With these lower iPod shuffle prices and the addition of the 1GB iPod nano, Apple's iPod lineup now ranges from $69 to $399, with intervals at $99, $149, $199, $249, $299—an iPod for nearly every budget. (And a bit of "If I just spend a little more" temptation at every price point, which is likely exactly what Apple has in mind.)
The Lowdown
Although the iPod shuffle is still the least expensive and (thanks to a lack of a screen and no easily-scratchable surfaces) most durable iPod, the 1GB iPod nano is an attractive alternative, in more ways than one. My colleague Christopher Breen had this to say about the 2GB and 4GB nano last fall:
A clear color screen, responsive and manageable controls, photo viewing, fast syncing, and impossibly thin. In my view the iPod nano is a nearly perfect fit for the middle of the iPod lineup, sounding great and mixing the best features of the shuffle, mini, and color iPod. While some may be disappointed by the lack of FireWire sync and consider the price of admission high given what you can have for $50 more than the 4GB model, your decision to purchase this slick little iPod may simply boil down to this: What are you willing to cough up for cool?
Those sentiments hold true for the 1GB model, as well. If you've got a lot of music or are looking for the the most storage space for your money, a full-size iPod (with video) is the way to go. But if you don't need immense space—or if you're in the market for a second, smaller iPod—the new 1GB nano gives you yet another option, with the added bonus of the 1GB model's even lower price: For $20 more than the 1GB iPod shuffle cost a week ago, you now get the same amount of storage but with all the stylish, Click-Wheeled, color-screened glory of an iPod nano. The lack of access to iTunes' AutoFill feature is missed, but many users will quickly overlook that omission after a few seconds holding the sleek nano in their hands.