I must admit, when I first heard about the podcast creation tool Cast Easy ( ), I was skeptical. Cast Easy's Web site doesn't provide much information beyond its slogan, "Podcast Publishing Reborn." And after all, how many more audio applications do we need? I'm plenty happy with my current podcasting set-up, recording and editing in Digidesign's Pro Tools. So why would I need another program, even if, like Cast Easy, it costs only $20?
Then again, I missed the main part of Cast Easy's slogan: publishing . Because that's exactly what the application does quite well.
Cast Easy publishes podcasts with great ease. It takes the drudgery of podcast creation—putting in ID3 tags in iTunes, manually uploading a podcast to a Web server, and making sure the XML files are configured properly—out of the equation. Currently, to push a Macworld Podcast live, I have to perform these tasks for every episode. Using Cast Easy, however, all I have to do is set up the information once; Cast Easy remembers it for future podcasts, streamlining the entire process.
Cast Easy has also done quite a job to make the interface as Mac-friendly as possible. Even from the opening screen, it evokes GarageBand with its small icon and adjacent right-aligned text. And just like iWeb, Cast Easy allows you to incorporate individual episodes inside of greater podcasts, just like individual pages inside whole Web sites.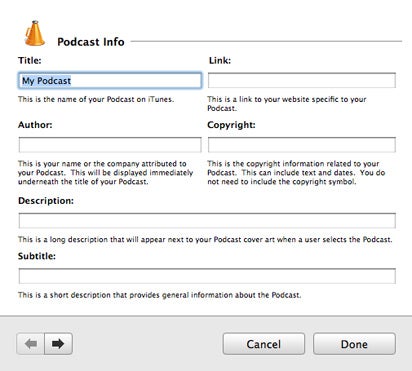 Cast Easy is very easy to use and very self-explanatory. Click through from the main screen to start a new podcast and fill out the Podcast Info and all the other fields. This information will be saved for your podcast as a whole; each individual episode can be given the appropriate episode-specific information, with the recurring information generated automatically.
After clicking through in the Add Episode screen, you'll find that Cast Easy supports audio, video, and PDF (who has a PDF podcast?) podcasts. So for all of you podcasters out there who are exploring different media, you can keep the publishing aspect right in one place.
Probably the best feature of Cast Easy is its ability to save server information. From the File menu, choose Preferences. Then under the Servers tab, click the plus sign at the bottom. Cast Easy supports many different types of servers, including .Mac, FTP, SFTP, WebDAV, or even to a folder for offline publication. Once the server information is set up and your podcast information and episodes are also set up properly, you just have to click Publish Podcasts in the main screen—off they go to the iTunes Music Store or wherever else you have them set to publish.
I was so impressed with Cast Easy that I may start using it as part of my workflow for producing the Macworld Podcast. Having to retype ID3 tags over and over again is not my idea of a good time.