Apple has made it pretty easy to sync an iPod with a computer, but what happens when things get a bit more complicated? You may have an entire family fighting to synchronize several iPods with one Mac. Or you may need to share sync duties between your home Mac and a Windows PC at work. If you have more music players or more computers than you know how to deal with, the following tips and tools can help.
Multiple iPods on the same Mac
Apple includes a unique identifier in each iPod, so iTunes can easily differentiate between multiple iPods and manage settings for all of them. When you use multiple iPods with one computer, assigning each a unique name will help avoid confusion. If you need to change an iPod's name, double-click on that name in the Source menu and enter a new one.
With multiple iPods, iTunes can load each player with the same collection or sync each device with its own customized playlist(s). By default, iTunes is set to Automatically Update All Songs And Playlists. If you want manual control, or if you're connecting an iPod that's synced with one computer to another system and don't want to overwrite all the music on it, you'll want to switch to manual mode. Connect the iPod, click on the No button if iTunes asks whether you want to link that iPod to the new library (you'll be asked only if the iPod has been previously linked to another computer), click on the iPod icon near the bottom right-hand corner of the iTunes window, and select Manually Manage Songs And Playlists in the resulting window (see "Let Me Decide").
Since each person sharing the computer may prefer to maintain unique iTunes settings, you can set up multiple OS X user accounts, each with its own iTunes library and settings. A downside of this approach is that, by default, iTunes stores its music in each user's Home folder, which means that duplicate copies of shared songs will be maintained for each person.
Let Me Decide For more control—or to avoid overwriting an iPod's existing files—when you're connecting multiple iPods to a single computer or a single iPod to multiple computers, activate manual syncing.
To avoid having duplicate files, consider setting iTunes to store its Music folder in a location that each user can access, such as a FireWire drive, a network drive, or a part of a local hard drive accessible to all users. To relocate the folder, find its current location by looking at the General tab of iTunes' Advanced preference pane. Quit iTunes and move (or copy) the iTunes Music folder you just found to a new location. Relaunch iTunes, and specify your folder's new location by clicking on the Change button and pointing iTunes to the folder (also under the General tab of iTunes' Advanced pane). Repeat this process for other user accounts on the same computer, and you're set.
If you don't have multiple OS X user accounts, another solution is Doug Adams's $5 iTunes Library Manager 4.2.5, which lets you create multiple iTunes library and preference configurations without duplicating files. Once this AppleScript applet is installed, you run it by choosing it from the Scripts menu in iTunes' menu bar. The first time you launch the applet, it will prompt you to save the current library. You then create as many configurations as you need, and you can load each one as necessary. A similar program, Steve Roy's $10 Libra 2.0.4, also works with Windows.
Multiple computers
When connecting an iPod to more than one computer, you may want to have all the same music and associated ratings available on each system. There are several ways to do this.
Networked Computers Synchronizing iTunes manually between computers can be a laborious task. Oligrob Software's free syncOtunes 0.95 ( ) can ease this chore. It's designed to sync libraries and settings, provided that the computers involved can communicate directly over a network.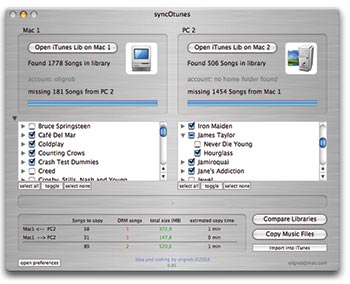 It's All the Same You can use syncOtunes to easily synchronize iTunes libraries between two networked computers.
After installing syncOtunes, select your local iTunes Music Library.xml file, and then select the same file on the remote computer across the network. Click on the Compare Libraries button to display the number of songs needing synchronization and to select which songs and artists to copy (see "It's All the Same"). Clicking on the Copy Music Files button will then copy the appropriate files into the iTunes Music folder on each computer, which may take quite a while depending on the speed of your network. Once the files have been copied, click on the Import Into iTunes button to open iTunes on the local computer and begin the import process. Then you'll need to run the import manually in iTunes on the remote computer.
Non-Networked Computers For syncing between distant computers—say, a home system and an office computer behind a firewall—using an iPod for transporting files can be more convenient. Because iTunes is set by default to autosync with iPods, be sure to switch to manual mode to avoid losing files.
To prevent the pirating of copyrighted files, Apple designed the iTunes synchronization process to work only in one direction—moving files from a computer to an iPod. While Apple doesn't let you move files off of the iPod the same way you put them on, there are easy ways to do so. Whitney Young's free Senuti 0.31 ( ) lets you copy single songs, songs grouped by artist or album, or entire playlists from an iPod into iTunes.
If Senuti isn't to your liking, there are many additional synchronization utilities available as well. Two that stand out from the crowd are Sci-Fi Hi-Fi's $8 PodWorks 2.8.5 and crispSofties' $35 iPod.iTunes 3.0.3. Both programs can also transfer metadata along with songs and playlists, but iPod.iTunes has the added feature of avoiding duplicate files by checking for files already in iTunes before synchronization.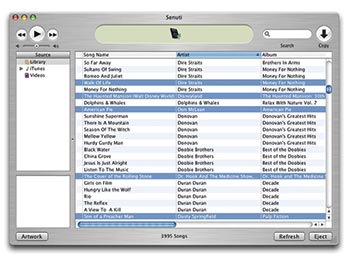 Pull It Down Senuti lets you copy the contents of your iPod into iTunes on your Mac.
Another option is a new service called MP3tunes, which provides syncing tools and unlimited online storage space for all your music files for $40 a year. Remember that you can authorize only five computers at once to play songs purchased from the iTunes Music Store.
Syncing across Platforms Syncing iPods between different operating systems can be more complex. Officially, Apple doesn't support using a Mac-formatted iPod on a Windows PC. However, cross-platform syncing is possible. Windows-formatted iPods make for the easiest cross-platform syncing: Macs are natively capable of accessing the FAT32 standard used on Windows iPods, so a Windows-formatted iPod will appear in iTunes on a Mac and can be accessed seamlessly (though transfer speed is likely to be slower than it would be with a Mac-formatted iPod).
Windows does not natively support Mac-formatted iPods, so syncing a Mac-formatted iPod to a Windows PC requires a third-party utility such as Mediafour's $30 XPlay 2.2. In addition to its own Windows-to-iPod syncing capabilities, XPlay 2.2 can be used in conjunction with iTunes. The program also lets you move files from an iPod to a PC.
Using the restore feature provided by Apple's iPod Updater, you can convert an iPod from Mac to Windows and vice versa. But all data is erased from the device during the restore process, so use one of the methods mentioned earlier to back up any data unique to the iPod before you attempt a conversion.
With a little patience and the right settings and tools, even the most complicated group of iPods, Macs, and Windows PCs can make beautiful music together.
[ Matt Vance is a technology consultant, Web developer, and freelance writer in Austin, Texas. ]
EDITOR'S NOTE: 2/23/06 – Mistaken information about Senuti not being able to copy rating and play count metadata was removed.