Apple Card now has another benefit for cardholders, at least those in the U.S.: a high-yield savings account that gives you daily compound interest with a 4.15 percent APY interest rate. Apple Card Savings is billed as a destination for your Daily Cash–the cashback you get when making Apple Card purchases–but you can transfer money to the account from a linked bank account, and withdraw money at any time with no fees.
Like Apple Card, this is currently only available to users in the United States. You must be 18 years old, have a social security number or individual taxpayer identification number, have a valid physical U.S. address, and have two-factor authentication set up on your iPhone. (If you have Apple Card, you already meet most of these criteria.)
Here's how to get started setting up your Apple Cash Savings account.
Time to complete:

5 minutes

Tools required: none
Materials required: iPhone with Apple Card account
Cost: 0
1.
Open Apple Card and select Daily Cash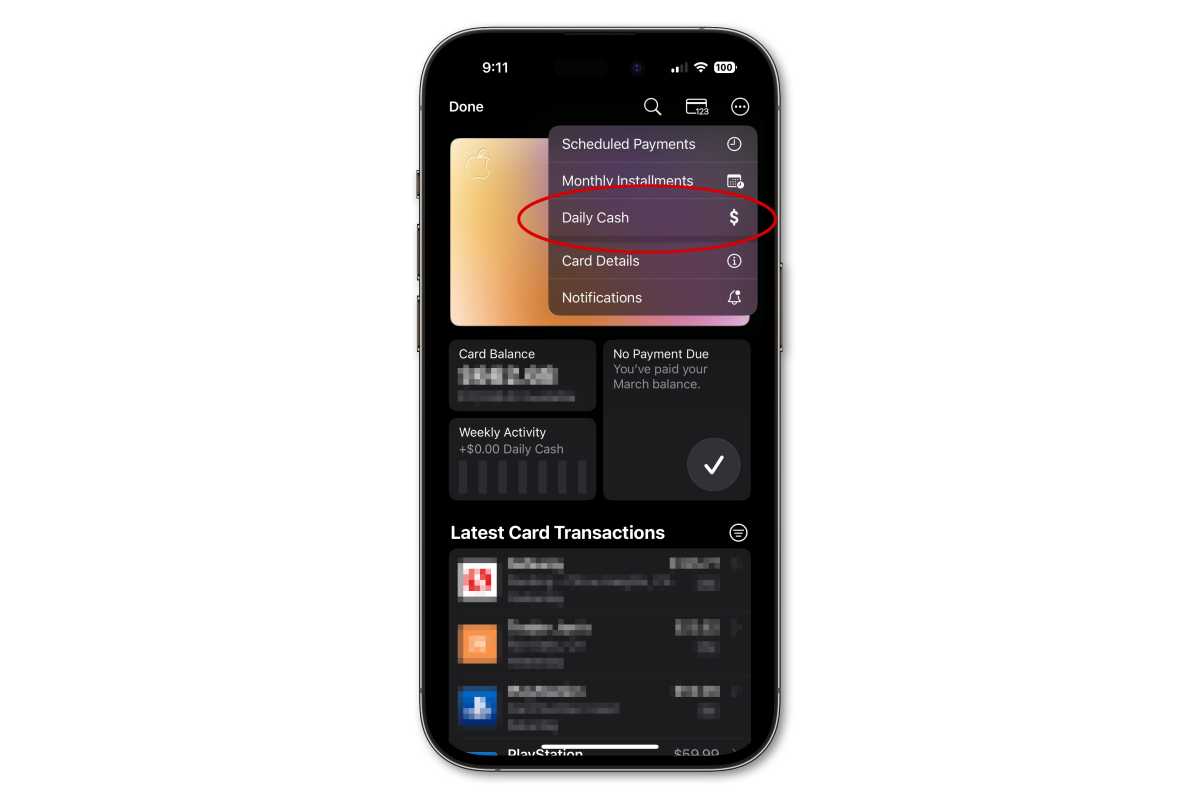 Foundry
First, open the Wallet app and select your Apple Card.
Then tap the More button (…) in the upper right and choose Daily Cash.
2.
Change Daily Cash option to Savings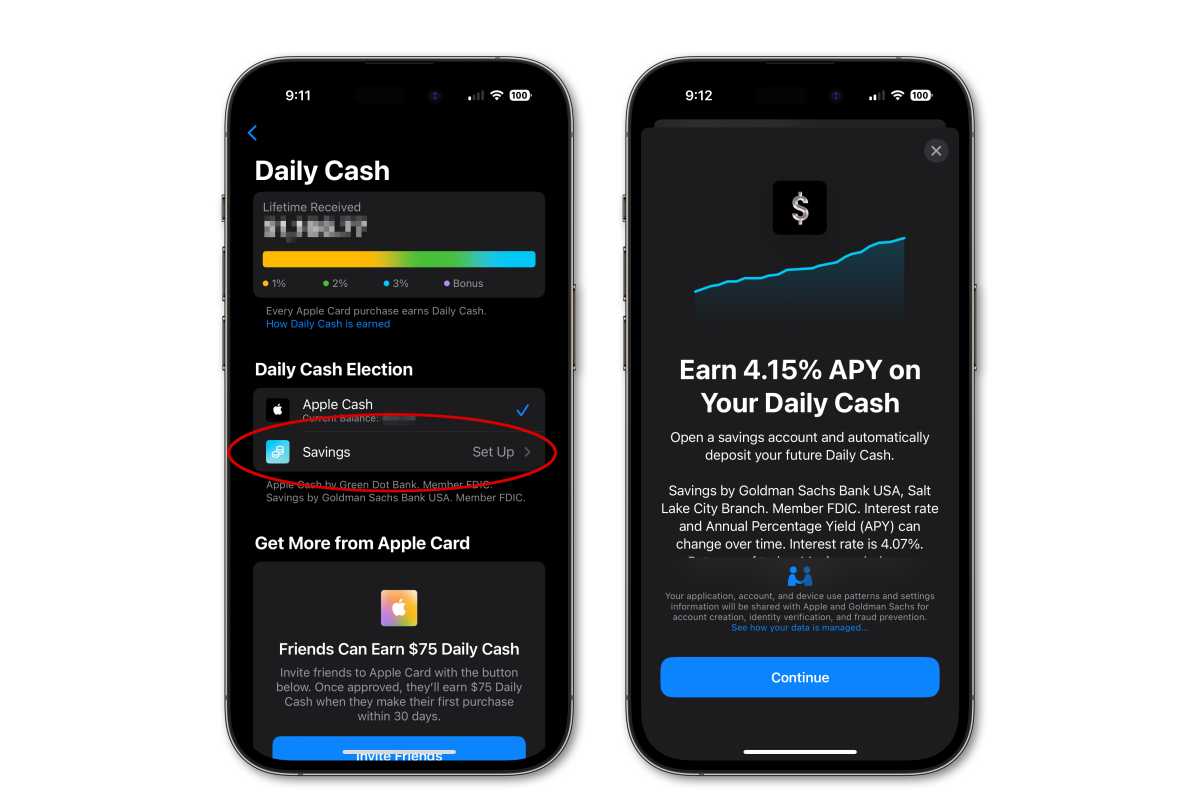 Foundry
From the Daily Cash section, tap Savings under Daily Cash Election. If you have been using your Apple Card for a while, you'll almost certainly have an Apple Cash card selected.
You'll see a splash screen telling you about Apple Cash Savings. Tap Continue to get started.
3.
Provide info and agree to terms and conditions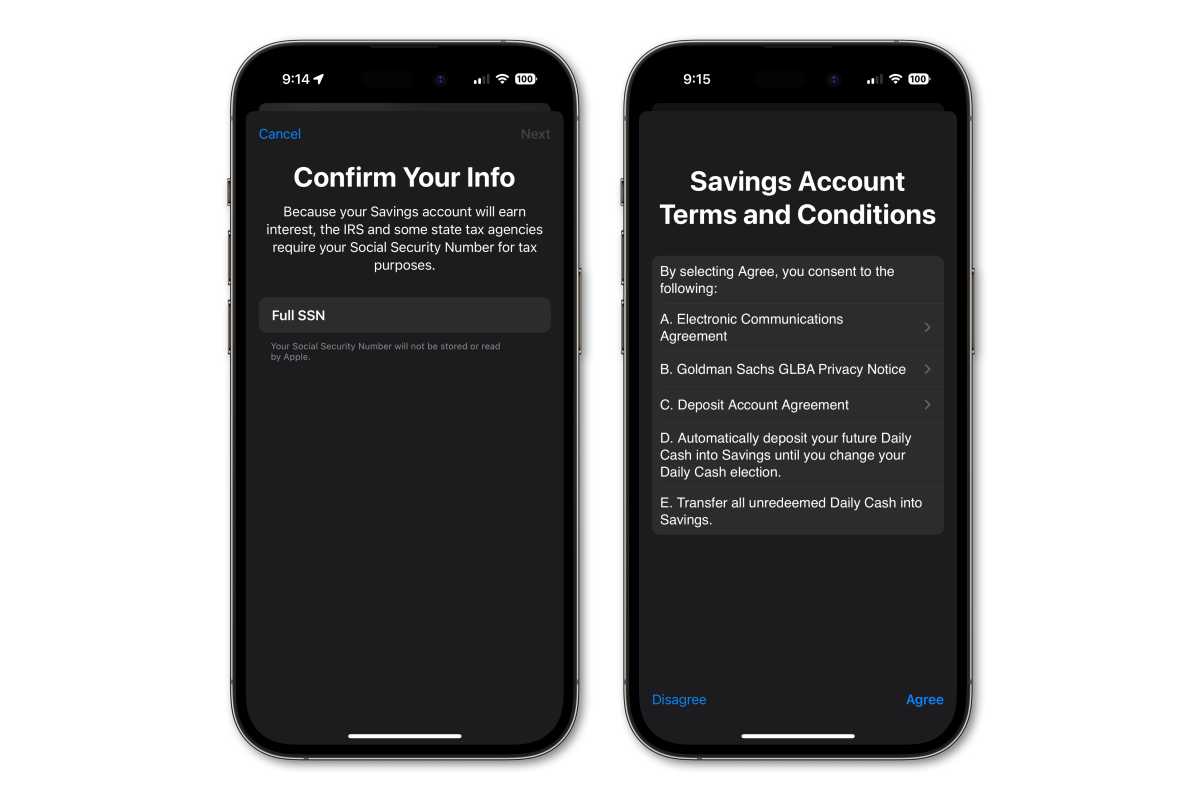 Foundry
You will have to verify your Social Security Number or Tax ID number. Apple will not store or read this info–it is sent to Goldman Sachs as part of your account application only.
After providing the necessary info, there is a lengthy Terms and Conditions to agree to.
4.
Open your account and transfer Daily Cash
Foundry
You'll have to state whether you are subject to IRS backup withholding (you likely aren't) and confirm that the information you have provided is true and accurate, and then tap Confirm & Open Account.
Your Apple Card Savings account will start empty, but you will be prompted to transfer the balance from your Apple Cash card to the savings account. Afterward, Daily Cash allotments will automatically transfer into your Savings account unless you change the election in the Dily Cash tab to Apple Cash. Interest will accrue daily and deposit into your account on the first of each month.
From the Savings screen, large Withdraw and Add Money buttons do exactly what they say: Let you deposit or withdraw funds either from your Apple Cash card or from a linked bank account.