When Apple released the OS X 10.4.4 update a while back, one of the things they included was a new Calendar widget. At first, I didn't think much of it—after all, I have calendars all over the place, including the main one in iCal. Why would I need one more?
Well, it turns out that the Calendar widget is perfect for figuring out those seemingly never-ending date questions I encounter every day. You know the type; for whatever reason, you need to know which day of the month next Wednesday is, or which day of the week the 27th of the month may be, or what day of the week your anniversary will fall on next year. I used to answer these questions by switching to iCal, but since 10.4.4, I've found the Calendar widget a much quicker way to get the same information.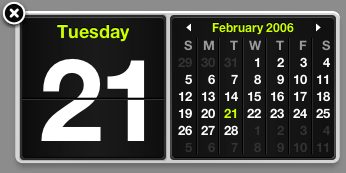 At first glance, the Calendar widget may not appear to be a very efficient tool. After making the month view visible (by clicking on the large day of the month display), it seems you then need to click the arrows on each side of the month's name in order to navigate forward or backward in time, one laborious month per click. Ugh.
But, if you happen to be one of the 0.0125 percent of Mac users who reads the Help files, you'll know one secret speed tip already. It's not easy to find, but if you search help for calendar widget , then open the Using the Calendar Widget entry, you'll see that you can jump back to the current month by just clicking on the currently displayed month's name.
Unfortunately, that's all Help has to reveal in the way of speed tips. So here's the real secret—you don't even need to use the mouse. To move forward and backward a month at a time, just use the Right and Left Arrow keys. And to make truly sizable leaps, jump forward and backward a year at a time with the Down and Up arrow keys. After you're done zooming around through the fabric of space-time, just press the Home key to jump back to the current month. (If you're working on a laptop that lacks a Home key, use Fn-Left Arrow, which is the equivalent of Home.)
Using these undocumented keyboard shortcuts with the Calendar widget, you can make quick work of your calendar browsing.