By adding pro-level tools while keeping a surprisingly low price, Adobe's Photoshop Elements 4 is an important upgrade for any digital photographer who doesn't want to—or simply can't—spend hundreds of dollars on a copy of Adobe Photoshop CS2.
The $89 Elements typically invites comparisons to Apple's free iPhoto image organizer and editor. But a more apt comparison is between Elements and Photoshop itself. While Elements packs a lot of features that make it easy enough for the iPhoto user, the program is also a viable alternative to Photoshop for users who don't need CMYK support, access to individual channels, and some of its sibling's other more powerful features.
The Photoshop-esque capabilities of Elements get another boost in this latest version, as Adobe adds a feature that will be very familiar to anyone who has spent time with Creative Suite 2— Bridge.
While Elements 3 ( ) included a version of Adobe's old-school File Browser, version 4 ships with the image-browsing application used by the Creative Suite apps. Bridge is an excellent file-browsing tool and it integrates well with Elements 4. Elements' take on Bridge leaves a few features that the Creative Suite version provides—there's no access to the Adobe Stock Photo Service, and no support for Version Cue. But these features are unlikely to be missed by the Elements audience. Bridge does provide an excellent slide show feature, something Elements has needed.
Raw shooters will appreciate Elements 4's support of the latest version of Photoshop Camera Raw, Adobe's excellent raw conversion software that allows you to use your camera in raw mode for higher-quality images and greater editing flexibility. It's worth noting that the version of Bridge that ships with Elements cannot host Camera Raw—something the higher-end version of Bridge can do—so you can't offload raw processing to Bridge while you do other work in Elements.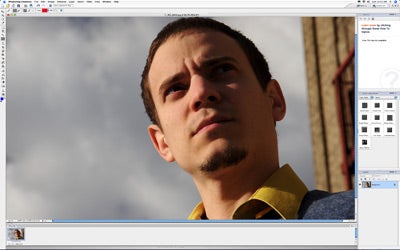 You'll notice few changes in the Photoshop Elements Interface in version 4.
With version 4, Adobe has left Elements' interface mostly unchanged. As with previous versions, the real strength of Elements' interface is not just that it's easy to use for new users, but that investing the time to learn Elements' interface gets you a lot of basic Photoshop skill that transfers directly to the full-blown Photoshop, should you ever decide to upgrade.
Clearing up skin
The human brain is very finely tuned for facial recognition, which means that improperly-rendered skin tones can be extremely conspicuous. Elements 4 provides a new Adjust Color For Skin Tones feature that does an exceptional job of correcting bad skin tones with a single menu choice. In the process making corrections, Elements may skew some of the other tones in your image a little too far, but for most snapshot images, this is a perfectly acceptable sacrifice.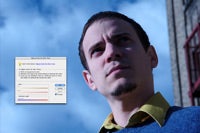 The new Correct Color for Skin Tones lets you select a skin tone in your image. Elements automatically analyzes the skin tone in your source image (shown on the left) and corrects the image to render the skin more accurately (shown on the right).
Once you've got your skin tones corrected, you can use Elements' new Red Eye Fix tool, which can automatically identify and fix any red eye troubles in an image. Previously, Elements sported a Red Eye Brush that required interactivity; the new tool is a single-click fix.
Further boosting overall image quality is the new version's improved noise reduction capabilities. While doing a better job of reducing the noise that can occur when shooting at high ISOs, the new version also does a capable job of removing bad JPEG artifacts. While JPEG artifacting is not really a problem on most decent digital cameras, this feature can come in handy if you tend to shoot a lot of images with a camera phone.
Selecting and extracting
When it comes to image editing, one of the most important differences between iPhoto and Elements is Elements' ability to make selective edits. The program has always included an assortment of basic selection tools—Lasso, Marquis, Magic Wand—but version 4 users now have access to a new Magic Selection Brush.
To use the Magic Select Brush, you simply select it and paint on the object you want to select. In some cases, you need to apply little more than a single stroke. Based on the colors that you paint over, Elements will automatically analyze your image and figure out where the object that you painted on begins and ends, and will then select that area.
Using the Magic Extractor, we only needed to paint these two lines…
When it works, the Magic Selection Brush really does seem like magic, but it can be fooled. If there's not enough difference between the foreground and background, the Magic Selection Brush will extract part of the background along with the area you want removed. Overall, however, if you're working with an evenly-exposed image and if the object you want to select is sitting on a fairly distinct background, then the selection brush will work very well.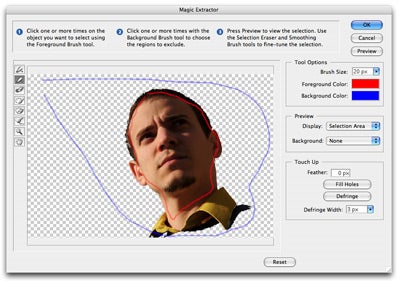 …to extract the face from this scene. With a little tweaking, we can clean up the fringy areas along the edges.
The new Magic Extractor tool can automatically lift an object off of a background, to ease your compositing chores. Like the Magic Selection Brush, you use the Magic Extractor by just painting a few simple strokes, first on the element you want to extract, and then on the background you want to pull it from. When it's finished extracting, Elements knocks the background out to transparent.
The Magic Extractor is very similar to Photoshop CS2's Extract tool with one notable difference—it's easier to use. As with the Magic Selection Brush, if you've got a clear differentiation between your foreground and background elements, it will do a good job of extracting.
Other additions
Elements and iPhoto may not be competing products in the strictest sense. But Elements 4 does go head-to-head with the Apple program's printing service by adding online printing capabilities via Kodak. In addition to prints and photo books, you can also order cards, and calendars.
One critical difference remains between iPhoto and Elements—while iPhoto 6 is available in a Universal-binary format that can run natively on PowerPC and Intel processors, Elements only runs natively on PowerPC-based Macs.
At $89, Elements 4 is priced the same as the download of the Windows version, and substantially lower than Photoshop CS2. Though it may have a small price tag, Adobe has not been stingy with features, making Elements 4 an exciting product for photographers looking for more editing power.
[ Ben Long is the author of Complete Digital Photography, third edition (Charles River Media, 2004) and Getting Started With Camera Raw , (Peachpit Press, 2005). ]