If you're particularly active—or particularly clumsy—Olympus' $400 Stylus 720 SW can take some of the stress out of owning a digital camera. According to Olympus, the compact 7-megapixel camera is not only waterproof in up to 10-feet of water, it's also shockproof—you can drop it from 5 feet without damaging it. (The company's motto for the camera: "If you can take it, it can take it.")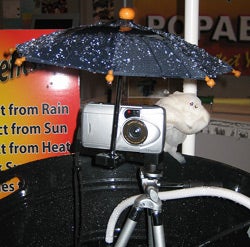 A few aisles away on the PMA show floor, Tom Knightlinger has another suggestion for keeping your camera safe from the elements—give it its own umbrella. His $20 Popabrella (pictured above) screws right into the tripod socket on any camera or camcorder. A tiny umbrella extends from the mount and rotates side to side to keep your camera out of the rain, snow—or sun, for that matter. And don't worry about losing your tripod mount in the name of dryness; the Popabrella fits onto any tripod.
Note: When you purchase something after clicking links in our articles, we may earn a small commission. Read our affiliate link policy for more details.