I'm a big fan of the Mac mini. I have been from the first time I saw it, in January 2005 at Macworld Expo. And once I grabbed a putty knife and cracked one open, I was hooked. It was a marvel of engineering as well as price, and I've now got one in my office and one in my closet at home.
So today's announcement of the Mac mini's second act was, for me, the most interesting part of today's Apple presentation. The new Intel-based Mac minis offer several features that address some serious limitations of the previous models; they've also got some architectural changes that will stir up quite a bit of debate among the Mac faithful. And, of course, that famous $499 Mac system is no more, replaced by a souped-up system with a $599 price tag.
What's new and good. The most obvious feature the first Mac mini lacked was a built-in remote-control interface, something that would let you hook it up to your TV set and home theater and control it from your couch. I spent the better part of a summer trying to program a Keyspan USB remote control to drive various multimedia programs on a Mac mini hooked to my TV set and stereo, and it never really worked well. Mostly because the remote's built-in software wasn't great.
Front Row, introduced with the last iMac G5 models, was obviously the answer to the problem, so much so that everyone immediately began speculating about when Front Row would finally appear on a Mac mini model. Well, now's the time. Although Front Row still has quite a few limitations — read my iMac G5 review for the details — it's still a great remote-driven interface for use when you're sitting across the room on your sofa.
And Front Row's one big new feature — support for video, photo, and music sharing via iTunes and iPhoto — makes the Mac mini an even better home-theater Mac, because you don't even have to load your music, video, and photo libraries onto the Mac mini in order to browse them while sitting in the living room. Fantastic.
Another big hole in the original Mac mini was a lack of support for digital audio output. That's also been rectified in this model, meaning you can attach a new Mac mini to your home theater receiver and watch DVDs will full 5.1-channel audio output. Who needs a DVD player?
One of my personal peeves about the original Mac mini was its skimpy selection of ports: one FireWire and two USB. Well, there's still only one FireWire port — yes, rumors of FireWire's death are still greatly exaggerated — but the new Mac mini has four USB ports. The makers of Mac mini-sized USB hubs might be sighing with resignation, but every potential new Mac mini owner has to be excited about the addition.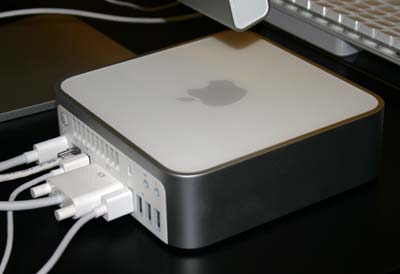 Show us your ports! (Left to right): Power, Gigabit Ethernet, FireWire, DVI, one USB port occupied by the keyboard, and three more USB ports free!
Finally, let's not forget the biggest new thing: the subsystems of the Mac mini itself. These new Mac minis have blazing-fast 667MHz bus speeds and Intel processors — including a dual-core processor on the more-expensive configuration. Faster RAM, a faster bus speed, more processor cache, and a faster processor all add up to a change for the better.
What's changed and gone. If you expected this new Mac mini to have an internal modem, you haven't been paying attention. It's a goner.
Also gone: a traditional video card. Instead, this Mac mini comes with an integrated Intel video processor, the GMA950. Macworld's own Peter Cohen tells me that, at least on paper, the GMA950 is "considerably faster and more capable" than the ATI Radeon 9200 card included on the previous Mac mini. However, there is one trouble spot: unlike other video cards, which have special memory dedicated specifically for them, this video processor uses the Mac mini's main memory.
That means that the Mac mini's base RAM configuration of 512MB isn't really 512. The graphics memory usage is, at minimum, 80MB — meaning that the Mac mini's base RAM is actually 432MB. And it could be even lower, since that 80MB figure is definitely a minimum. Not a problem if you add RAM to the Mac mini (easier now that this model has two RAM slots!) — and I'd recommend that potential buyers consider doing just that.
The $499 question. Fourteen months ago, Mac users were thrilled to see Apple introduce a new Mac with a $499 price tag. But the new Mac mini simply doesn't go that low. I can see how many people would be disappointed with this, but let's not lose sight of the fact that the $499 Mac mini was a bare-bones system. Or as I wrote back then, "A $499 computer can become a $1,203 computer very quickly, and a $599 computer can escalate to a $1,253 machine just as fast — and all without keyboard, mouse, or display, mind you."
If you are someone who is not interested in connecting your Mac mini via AirPort Extreme or Bluetooth, you may grouse about the higher base price of the Mac mini. When the Mac mini was introduced, the price to add AirPort Extreme was $79; for Bluetooth, $50. They're included on every model now, which is good — but, yes, the price is higher, too.
Summing up the day. I'm pretty excited about the new Mac mini. I hope that Front Row continues to evolve, but even in its current state it makes the Mac mini a potentially excellent home-media appliance for the living room, attached to a great home theater sound system and a widescreen TV. I do think that there's room for a cheaper Apple product that's just Front Row and not a Mac as well… but I guess we'll have to wait for a future Apple event to see if such a product really exists.
In the meantime, the new Mac mini seems to be an excellent improvement on its predecessor. I can't wait to get one. And to see what's inside! My putty knife is at the ready.