Apple's iPod Hi-Fi speaker system, unveiled at a Tuesday press event, marks the company's first foray into the big-ticket iPod accessory market. But in seeking to carve out its own space with the iPod Hi-Fi, Apple couldn't help but draw comparisons to speaker offerings already available.
That much was clear during Steve Jobs' presentation, which included images of some of the current "home" speakers on the market, including JBL's $180 On Stage and Bose's $300 SoundDock (which Playlist considers desktop rather than home speakers, incidentally). Jobs' point: Neither of the speakers really offers what he describes as "home stereo quality." Jobs defined that as:
Large sound stage
Precise imaging and separation
Wide frequency range
Room-filling power without distortion
These characteristics seem to suggest a larger subwoofer/satellite system. Instead, the $349 iPod Hi-Fi goes in a different direction. It's a one-piece speaker system 17 inches wide by 6.6 inches high by 6.9 inches deep—more a competitor to Bose's SoundDock, Klipsch's $280 iGroove, ZVOX's $200 ZVOX mini, or XtremeMac's upcoming $200 Tango than to a real home stereo system.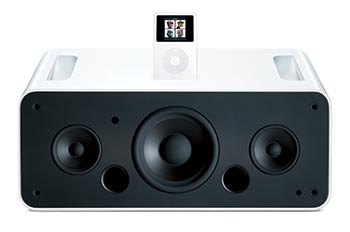 The basics
You might describe the iPod Hi-Fi as a "bigger in every way" SoundDock. The Hi-Fi costs $50 more, is about 5 inches wider, and provides a number of additional features. Like the SoundDock, the iPod Hi-Fi includes a dock that accommodates all dockable iPods (although the Hi-Fi's dock is top-mounted and uses Apple's new Universal design with 10 different adapters included). The Hi-Fi also includes a remote—in this case, Apple's soon-to-be-ubiquitous Apple Remote. Finally, like the SoundDock, the Hi-Fi does not include a dock-connector port for connecting a docked iPod to your computer for syncing; since the system is clearly not designed to be used on your computer desk, this is to be expected.
But the Hi-Fi also includes several unique features. For starters, the Hi-Fi can run off either AC power or six D batteries, making it truly portable (or, at nearly 17 pounds with batteries, "transportable"); dual integrated handles help you lug it from room to room. The Hi-Fi also includes a 1/8-inch (3.5mm) auxiliary input jack that accepts either analog or optical SPDIF input, allowing you to connect an iPod shuffle, a TV or DVD player, or even the optical output of an AirPort Express for streaming music from iTunes.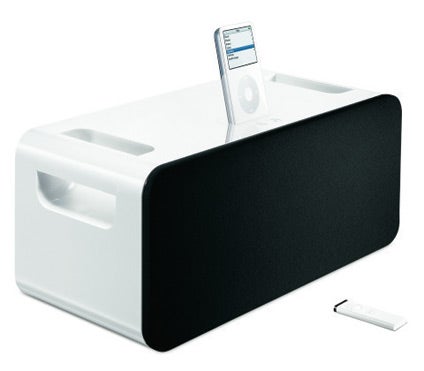 Also of note is the new "Speakers" menu that appears on fifth-generation and nano iPods when you dock them with the Hi-Fi. This Speakers menu—actually provided via iPod Software 1.1 back in early January—allows you to configure several options specific to Hi-Fi-docking. For example, you can choose different EQ (Normal, Bass Boost, and Treble Boost) and backlight settings when docked, as well as choose to have album art remain in full-screen mode during docked playback. Unfortunately, Apple told me that this new menu item and its settings will not be available for older iPods. During demonstrations and conversations with Apple representatives, my colleague Christopher Breen and I also picked up a few other interesting bits of info about the Hi-Fi:
Other tidbits
Input switching: The Hi-Fi can play only one source—iPod or auxiliary input—at a time. However, unlike many iPod-docking speaker systems, which simply mute iPod playback when a second audio source is connected, the iPod Hi-Fi allows you to switch between the two sources using the remote's Menu button.
Automatic volume reduction: To conserve battery power, when you unplug the system's AC power cord and cause the it to run off battery power, the Hi-Fi automatically reduces volume to "ambient" level. You can then adjust the volume as desired.
Touch-sensitive buttons: The Hi-Fi's up/down volume buttons are actually touch-sensitive pads, similar to those on the third-generation iPod.
Auto-Play: When you place your iPod in the Hi-Fi, it automatically begins to play; the volume gradually "ramps up," instead of blasting away immediately.
Volume control for newer versus older iPods: With the iPod nano, Apple introduced a new feature that lets accessories actually change the audio output level of the iPod's dock connector—a feature that now appears on the iPod with video. Older iPods do not provide this functionality. According to the Apple representatives I spoke with, this results in subtle differences in the way volume levels are achieved by the Hi-Fi based on which iPod you're using. When an iPod nano or iPod with video is connected, adjusting the Hi-Fi's volume actually changes the volume of the iPod's output; the Hi-Fi's amplifier level remains constant. However, when an older iPod is connected, adjusting volume changes the output of the Hi-Fi's amplifier. Users will likely never know, or care, about this difference, but it's an interesting technical note.
Remote indicator light: The Hi-Fi features a small indicator light on the lower-right corner of the front of the Hi-Fi (behind the removable grille). This light glows green whenever the system receives a valid command from the remote control and orange when an invalid command is received. Say you press the Menu button when there is no source connected to the auxiliary input jack—that's an invalid command and you'll get the orange light. But the light also glows orange if you try to use another Apple Remote that is already paired with a different Apple device, such as a Mac mini, iMac, MacBook Pro, or Universal iPod Dock. This will be a useful feature in multi-Apple-remote households—it's the Hi-Fi's way of saying, "Hey, buddy, you're using the wrong remote!"
How's the sound quality of the Hi-Fi? It was difficult to do any serious listening, considering the acoustics of crowding 10 to 30 people—all talking loudly— into the various small rooms that Apple set up to demonstrate the Hi-Fi. The units on display were also cranked up to much louder levels than those at which I suspect most people will listen. And while my colleagues and I initially assumed that we were listening to high-quality (e.g., Apple Lossless) audio tracks—after all, wouldn't Apple want to demonstrate the Hi-Fi's best possible playback performance?—it turns out that the songs used in the demos were all standard iTunes Music Store tracks encoded using AAC at 128kbps. This explained some of the artifacts we heard, for example, on a piano track.
The sound
However, with those caveats noted, my initial impressions were that the Hi-Fi offers better bass response and louder volume levels than Bose's SoundDock, the Hi-Fi's most similar competitor. This isn't surprising considering the Hi-Fi's design, which uses two 80mm midrange drivers in sealed enclosures along with a 130mm dual-voice-coil, ported woofer in a larger overall enclosure. Beyond that, I don't want to make any judgments; our upcoming full review will have a more thorough and controlled comparison between the Hi-Fi and the SoundDock, as well as comparisons with other systems in the same general price range, such as Klipsch's $400 iFi, which features separate satellites and a hefty subwoofer.
Apple's tag line for the iPod Hi-Fi is Home stereo. Reinvented . A bit of marketing hyperbole, to be sure—given that there are already several compact, one-piece iPod speaker systems out there, there's little that has truly been reinvented here. Based on my (brief) time with the Hi-Fi on Tuesday, perhaps a more accurate tag line would be Compact stereo system. Refined. : Take Bose's $300 SoundDock, give it a bit more "oomph," add a few features, and enclose the package in an Apple design, and you get the Hi-Fi.
The initial reaction
What several Playlist staffers noted would have been a "reinvention" is built-in wireless so that the Hi-Fi would automatically show up as a destination stereo for AirTunes in iTunes. Also missing—given that Apple is pushing the Hi-Fi as part of your home entertainment system—is a video-out port that would allow you to view your iPod-hosted photos and videos on your TV. But the Hi-Fi is still an interesting addition to the ever-widening world of iPod speakers, and one that will likely attract lots of fans, especially among those looking for a compact system with "big" sound.
Update 3/2/06: Updated article to note that the iPod's Speakers menu is provided via January's iPod Software 1.1.