While we sit around and wait for Apple to finally release a new Mac Pro with Apple silicon (you promised, Apple), we can sit and reminisce about Mac Pros of yore. (I know, nothing will stop us from reminiscing even after Apple releases a new Mac Pro, but humor me.) And the one Mac Pro that Mac users love to hate is the 2013 Mac Pro, affectionately called the "Trash Can" Mac because of its resemblance to the receptacle and the feelings of detestation users had toward it.
But over time, those feelings have turned to appreciation, and maybe you've become so fond of it now that you wish you can buy one. Well, we have good news for you: You can still buy a 2013 Mac Pro direct from Apple with a full one-year warranty. And best of all, you can pay for it in British pounds.
Are you sold? Then head on over to the Apple Refurbished and Clearance Store on the Apple U.K. website. There you will find a 2013 Mac Pro for £5,149 (about $6,400 in U.S. dollars) with its blue Add to Bag button just screaming at you to click it.
What does all that money get you? A 12-core, 2.7GHz Intel Xeon E5, 64GB of RAM, 1TB SSD, and dual AMD FirePro D700 graphics processors with 6GB of GDDR5 VRAM each. This is the maxed-out model that was available when the 2013 Mac Pro was introduced, and its original price (which I actually wrote about nearly 10 years ago) was $9,599 in the U.S. So you save nearly $3,000!
One downside, however: You can't install macOS Ventura on it since Apple stopped supporting Mac Pros made prior to 2019. So no Stage Manager for you.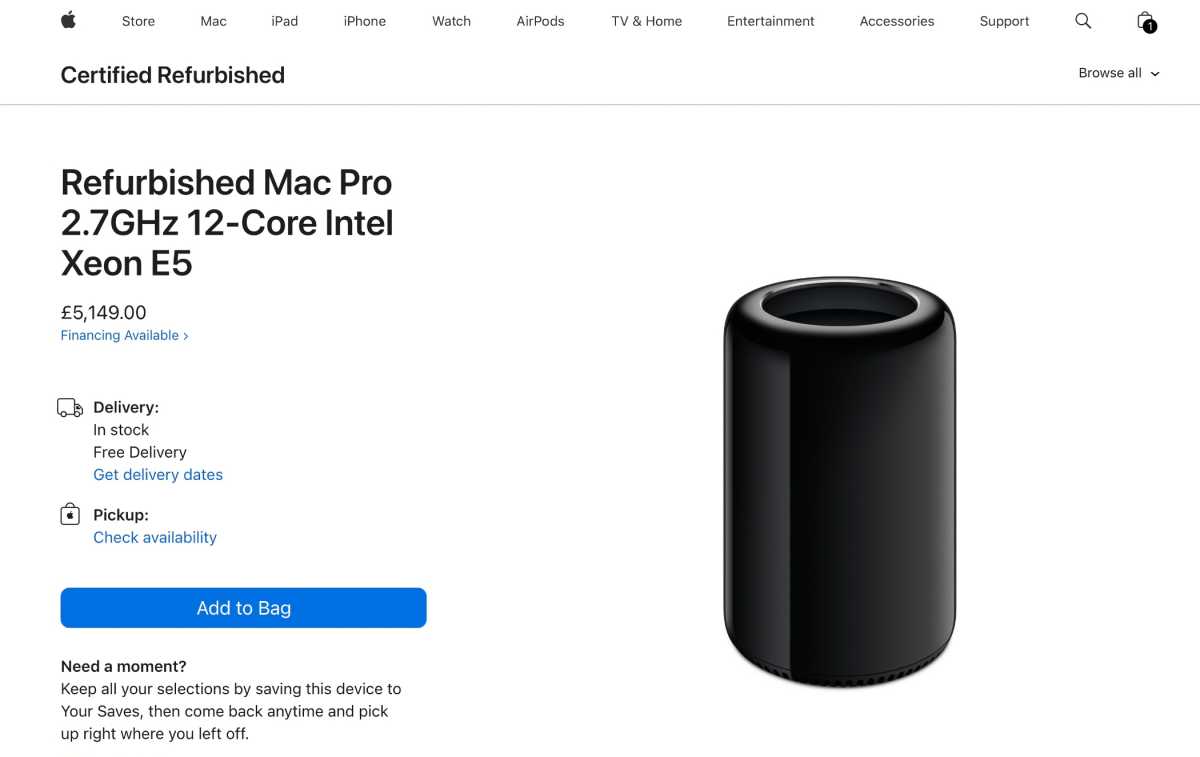 Apple
Apple's refurbished products go through a "rigorous refurbishment process prior to sale," so this Mac Pro will surely be in like-new condition, even after all this time. Apple even offers AppleCare for £299! However, it looks like this U.K. store offers free delivery and in-store pick-up only in the U.K.–but if you call Apple with a bundle of cash I'm sure shipment to the U.S. can be arranged.
The 2013 Mac Pro might be Apple's most infamous Mac. Apple's interpretation of a mini tower created quite a stir with its unique cylindrical design, the amount of processing power in its compactness, and its lack of expandability. Apple eventually returned to an expandable tower design in 2019, but the 2013 model left an indelible mark on the industry.