Years ago, when I first jumped into digital photography, I knew just enough about image editing to be dangerous. After one particularly enthusiastic color-correction session, I sent off my photos to an online service for printing. They'd looked great on my screen, but the images I got back in the mail told a different story—my perfect colors had become over saturated and infused with orange. I vowed to never use the service again. But when I opened the originals on a coworker's screen, it was clear that I'd done the damage myself. The problem, you see, was that I hadn't bothered to calibrate my monitor.
Most professional photographers and creative types understand the importance of monitor calibration. The process helps make sure you can trust what you see on your screen so your editing decisions are based on the right information. But many digital photography newcomers and hobbyists are a harder sell. For one thing, monitor calibrators tend to be on the pricy side. One of our favorites, the Spyder2Pro Studio ( ) costs nearly $300. For another, the process can be intimidating to people who aren't clear on what color temperature means—never mind how it affects their image.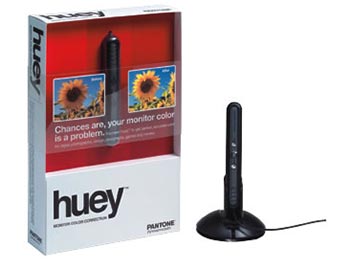 I'm hoping that Pantone's new monitor calibrator, Huey, will help change this. Aimed at casual users and featured at this week's PMA show, the $89 calibrator attempts to take some of the mystery out of the calibration process. About the size and shape of your index finger, this lightweight device suctions onto the front of your CRT or LCD monitor. You plug it into your USB port, load the software and then use a simple wizard to start the calibration process. Huey runs through a series of test, asks some simple questions about your preferences, and lets you compare before and after results.
But because the colors on your monitor can appear different under different lighting conditions (natural light versus florescent light, for example), Huey also gives you the option of activating a Room Lighting Compensation feature. When set in this mode, the calibrator continues to monitor the light in your workspace, updating its profile to match the lighting. You simply place it in a small desktop cradle and then set how often you'd like it to update from the calibrator's preferences.
Huey isn't the only inexpensive monitor calibrator out there, but it is certainly one of the easiest I've ever used. And for people who are getting their feet wet with color issues and who aren't willing to invest in a more full-featured calibrator, it may be just what they need to finally hop on the color-calibration bandwagon.