February 20, 2006. This is a date I'm not likely to forget.
At 7:00 pm on that date I took my Gibson Custom Les Paul from its case and walked up the short hallway leading to the stage at the House of Blues in Hollywood, Calif. I plugged into a Marshall amp, turned up the volume on my guitar and hit a muted note to make sure everything was working okay. When I turned around I was standing face to face with one of the greatest Rock singers of all time: Roger Daltrey from The Who. We waited for the curtain to open to start playing our first song.
My odyssey to this night began five days earlier when I flew to Los Angeles to attend the Rock and Roll Fantasy Camp. Sponsored by long-time speaker manufacturer JBL and produced by industry promoter David Fishof, the camp brings together people from all walks of life to play with professional musicians and rock stars.
The first day is filled with auditions from the 100 or more attendees. The audition consists of getting up on stage in front of the other campers and panel of celebrity judges and performing a song. Judges included Doug Fieger (The Knack), Bruce Kulick (Kiss), Jack Blades (Night Ranger, Damn Yankees), Simon Kirk (Bad Company), Mark Slaughter (Slaughter), Kip Winger (Winger) and others.
Roger Daltrey and Jim Dalrymple.
I wanted to do a Zakk Wylde song, but settled on BTO's hit "Takin' Care of Business" which I performed with several other campers. After all the auditions are done the judges divide everyone up into bands and then the rehearsing begins.
I was assigned to Doug Fieger's band with seven other band members. We came from quite a variety of backgrounds—from owners of companies and financial planners to writers and pre-med students.
I feel very lucky to be in the band—we had a great time every single day, laughing and joking around and hanging out together. However, when it came down to rehearsal, we were all very serious about getting it right, and we did.
We practiced several songs including Cheap Trick's version of "Ain't That a Shame," which we ended up performing in the studio for Cheap Trick themselves.
Each band played two songs at the House of Blues. We played one song from The Knack called "The Hard Way" and the second song was The Who's "Summertime Blues."
For me, this was the experience of a lifetime. I could never have imagined I would walk into a studio and start talking to Mark Slaughter about how to play some of Zakk Wylde's guitar solos. Better yet, Mark took me into one of the rehearsal rooms and started tearing into solos. He is one amazing guitar player.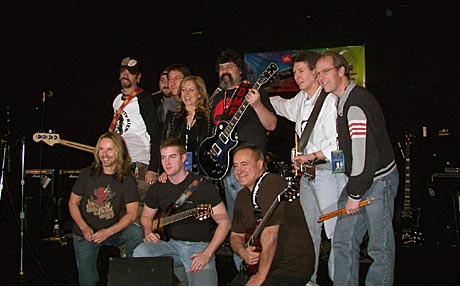 The Band: Front row – Tommy Shaw (Styx), Jared Martin, Dave Cudiner. Back row – Jimmy Pearl, Sonny Quintanilla, Doug Fieger, Karen Adams-Dimery, Jim Dalrymple, Bob Duncan, Paul Winkler. Photo by Deb Bush.
Gibson and JBL had areas set up and staffed to help anyone with their musical needs. I stopped by several times to chat and out of necessity to get things ready for my performance and they were always willing to help.
I didn't bring my own Gibson—I instead borrowed one from Gibson at the event. Everywhere you looked during rehearsals you saw a variety of Gibson guitars—being a huge fan of their guitars, I was happy to see that.
I have to give credit to the Gibson and JBL crews—no matter where you were or what time of day it was there always seemed to be one of them there with a new set of strings, a strap or a tuner waiting to help you.
Here's a tip of the hat to Gibson and JBL for all your help during the week.
If you are wondering if Macs had any part to play in the week's events, the answer is yes. I talked to Fieger about his recording and production studio and he uses all Macs and Pro Tools. I'll have more detail on his setup in a later article.
Karen Fishof was tasked with putting together the multimedia presentation to show at the House of Blues. I talked to her several times during the week and she was organizing the entire show using Apple's recently released iLife '06.
With photographers dropping off hundreds of pictures a day, Karen would import everything into iPhoto and organize the pictures for the slideshow. Because we had so many guest stars, she also wanted to change the music several times during the slideshow—GarageBand turned out to be the perfect companion to cut and edit the music.
All in all this was an incredible week. I hope to be at one or all future Rock and Roll Fantasy Camps.